Desiree Akhavan and Ingrid Jungermann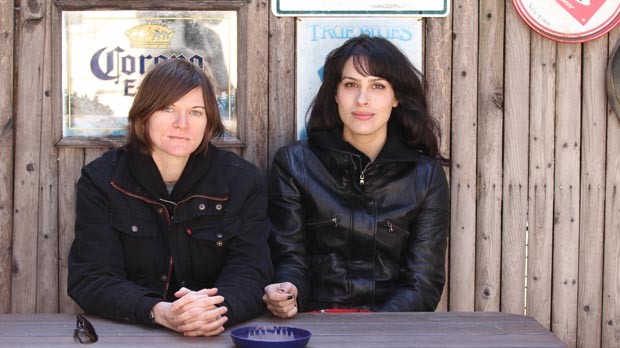 Desiree Akhavan and Ingrid Jungermann
Iranian-American New Yorker Desiree Akhavan and Ingrid Jungermann, a Florida native who came to NYC via North Carolina, first came into contact with each other a few years back as postgraduate film students at NYU's Tisch School of the Arts. "Ingrid and I met when I was shitfaced one night at a school party, and I seduced her," recalls Akhavan, who admits upfront to being "the talker" of the two. "I think it was comedy at first sight, because I brought her to my place – and then started projectile vomiting."
While they were dating and each working on their individual school projects, they decided to translate their interactions into a film. Says Akhavan, "All we did was talk shit about other people and other gay films. We just kept talking smack. Finally, Ingrid was like, 'What if we filmed us talking smack about gay people?'" The resulting short – shot in just two hours with a friend – was well received, and after they made a second, it morphed into a Web series, The Slope.
"At NYU, we're taught that what's important is action, action, action," says Jungermann, "but we said, 'Fuck that, let's just have two people on a bench talking.' And it worked, because I think the characters are so honest."
Influenced by Woody Allen and aiming to be a "gay Scenes from a Marriage," The Slope debuted online in August 2011 and quickly gained traction, helped by enthusiastic support from lesbian website AfterEllen.com. About self-professed "superficial, homophobic lesbians," this provocative and very funny show is anything but niche and reached an even broader audience when Michael Showalter (one of the creators' NYU professors) guest-starred on an episode during The Slope's Kickstarter-funded second season.
Opting to follow the lead of shows like Ricky Gervais' The Office, Akhavan and Jungermann have shuttered The Slope after two seasons. They are, however, planning to return with a big-screen version of the show. Akhavan, who's written the script and will direct it as her feature debut, describes it as "a gay Annie Hall, with us as the leads, looking at the course of our relationship, with the same dynamics, from beginning to end."
They each also have individual directorial projects. Akhavan has in the works Inappropriate Behavior, an Election-esque autobiographical comedy based on her close friendship (and subsequent falling out) with a teacher at the upper-crust Horace Mann prep school. Jungermann, meanwhile, is developing the satire Traumata, a "female Fight Club," about a biology professor who tries to eradicate gender inequality by teaching her young female charges to beat up men, which she says is "very violent and, I think, weirdly funny." This fall, Jungermann will also produce fellow NYU alum Stewart Thorndike's thriller Tacoma, which has Showalter and Patricia Clarkson attached.
Contact: Ingrid: bombshellfilms.org
– Nick Dawson
Photo By: Grace Chu
Links
Ingrid: bombshellfilms.org