Back to selection
"Find a Small, Possibly Unsexy Job You Can Do Well": At IFP Week, Directors and Producers on Getting Started in Indie Film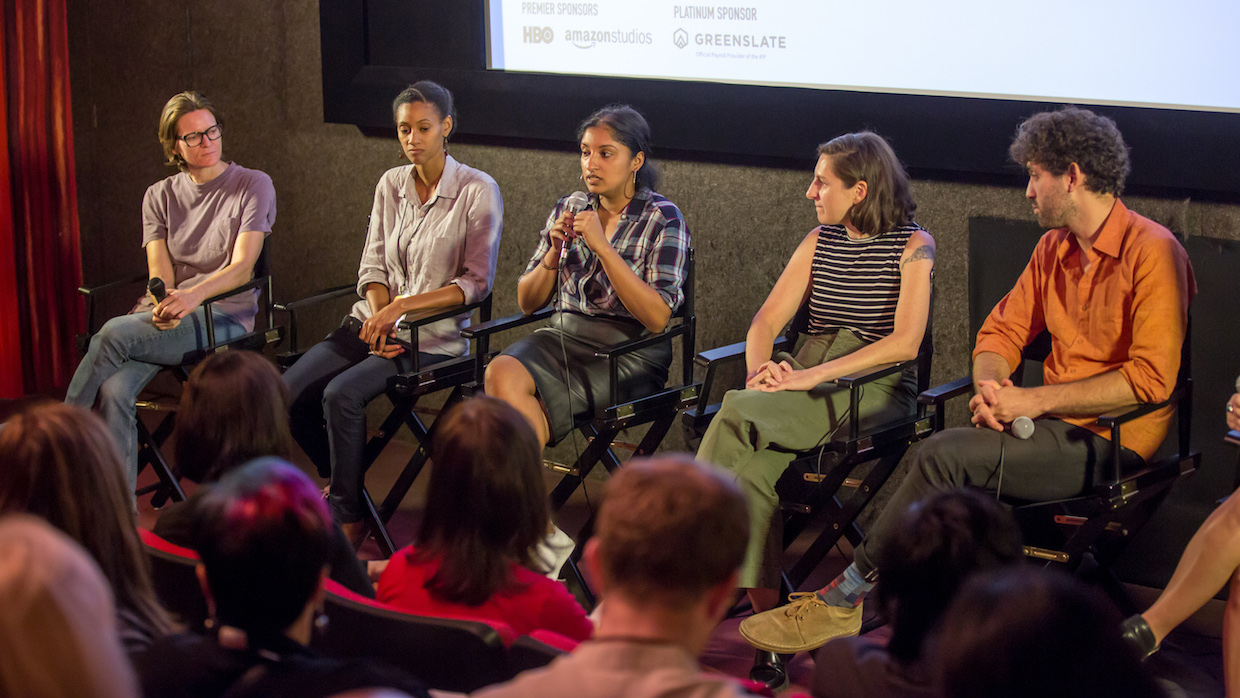 Left to right, Ingrid Jungermann, Chanelle Aponte Pearson, Kishori Rajan, Gillian Robespierre and Joshua Z. Weinstein talk about how to make independent filmmaking a career at IFP Week 2017.
So you've made a film. Congrats, but you're not out of the woodwork yet. You may never be. The four filmmakers and one producer who appeared on the IFP Week panel called "On Working (and Staying) in Indie Film Today" had vastly different stories to tell about how they turned movie-making into an actual job. The biggest name on the panel was Gillian Robespierre. Having directed and co-written the indie hits Obvious Child and this summer's Landline, she has more stability than most in her field, having parlayed those successes into TV work on top of a future making her own movies.
But it was hard getting there. Once out of film school, Robespierre initially took the work-on-sets route. She was a P.A. on films, the biggest being Ridley Scott's American Gangster. "I lasted three months, because I needed to be indoors," Robespierre said. Instead she took a desk job, doing clerical (which is to say non-creative) work for the Directors Guild of America in New York City. Her nights and weekends were spent writing. When she made Obvious Child, she did that on nights and weekends too, and when she took the film to Sundance, she used her vacation days.
"When I sold the movie, I went back to the desk job," Robsespierre remembered. "This is the practical nature of who I am, the way I was able to feel comfortable as a creator. I'm somebody who likes to visit doctors. Insurance is important, and a real fucking thing. I didn't leave my job, where I had health insurance, until after I sold the movie.
"I remember talking to A24, our distributor, and I said we had to schedule the press [days] for around my job. They basically laughed in my face: 'You're going to quit that job, you know that?' 'No, I'm not,'" Robespierre recalled. It was only after she and her creative partner, Elisabeth Holm, went to Los Angeles and sold a story to a company that she felt comfortable quitting the job she'd held for seven years. After all, she was then able to get health insurance through the Writers Guild.
Ingrid Jungermann, director of last year's Women Who Kill, is still haunted by her college years. "I took out a massive amount of student loans, which would probably make you all faint if you knew the number," she explained. "But I considered an investment in my career. It still gives me stress, but I feel it was the only way for me to write and direct while also taking other jobs." Jungermann pointed out she only finally directed her first feature — after several shorts and web series — last year, when she turned 40. "It takes many, many years of just doing the best you can and trying your best to not let money panic you. You have to think of worst-case scenarios, like if you run out of money. If you can handle that, you can handle pushing through."
Chanelle Aponte Pearson stressed the value of teamwork. This year, she directed 195 Lewis, a web series about queer black women in Brooklyn. Five years ago she produced Terence Nance's An Oversimplification of Her Beauty, and now at the production company MVMT she and Nance act as a tag team. "You say, 'I'll take the shitty jobs that pay the bills and the part-time work that gives me some kind of flexibility, while you go and get on the creative. Then we'll switch off,'" Pearson said.
Kishori Rajan, the lone producer on the panel — her credits include last year's thriller American Fable and the upcoming The Price — began her career desperate for work. "My philosophy was to say yes to anything that came my way," Rajan said. Even today she pays her bills through a mixture of movies, television and branded content commercial work, "which is a fast turnaround, very unemotional." But she realized that saying yes to everything didn't necessarily help her career in the long run. "I quickly realized you have to be known for bringing together stuff that's also good — stuff I can stand by in five years, even if it doesn't become a success. Learning what your tastes are is another part of all of this, apart from the luxury of staying alive."
Rajan also advised hopeful directors and writers to not only try to get jobs as directors and writers. "I'm a really big believer that you have to have a hard skill in order to survive. Directing and writing are not hard skills," she explained. Instead, find a small, possibly unsexy job you can do well, like line producing or assistant editing. "Be honest with yourself about what your hard skill is and understand that people aren't just waking up and thinking, 'Oh, I really need a brilliant director. Who is out there?' That will never happen. The same goes for writing."
Joshua Z. Weinstein certainly knows that. This summer, his drama Menashe opened in theaters. (He also made Drivers Wanted, a doc about NYC cab drivers.) But he hasn't quit his day job. His day job just happens to be a cinematographer for documentaries and short films and commercials — a job that allows him to be flexible and even travel around the world. (In addition to being a d.p. on docs like Elaine Stritch: Shoot Me, he wound up shooting footage of Hillary Clinton and Donald Trump on the campaign trail last year.) It's tricky finding the time for his own passion projects.
"When I get home, I don't want to write," Weinstein admitted. "I have to turn my phone off. I can't listen to the radio. I have a very precise coffee-making regiment. Then I close the door, sit there and I write for a few hours."
Being a professional filmmaker isn't easy. "It's the best job, but it's lonely and it's kind of depressing sometimes," Jungermann explained. "There are major ups and downs. You're always beating yourself up for not doing enough, and you're always beating yourself up for not being social — actually, I don't like being social. It's about trying to move through the down phases and understand that you will do the work because you've done the work before. If you checked your phone all day and accomplished nothing, it's a wasted day, [but you have to] move on. Just try to be patient with yourself. And [drink] wine."
Those fresh out of film school and wondering what comes next don't necessarily need to jump into the world of film sets, Robespierre advised.
"For me, it was helpful not to work 15, 16 hour days on somebody else's passion and dream," Robespierre said. "That's why I took a boring desk job. That allowed me to have nights and weekends and live my life and still go out — create a life to actually have stories to tell.
"But it's also good to dip your toes in the P.A. world and push yourself," Robespierre added. "It's good experience to work on a Ridley Scott movie and see what not to do to your P.A.s — and how a crew works, what other job titles are like on set. Try many things. There's no right job right out of film school. They're all going to suck. Might as well be prepared to quit them or be fired. But know in the back of your head that, if you do want to have the time and the bandwidth to write and direct your own stuff, maybe your day isn't best spent working on somebody else's dream."