Back to selection
"As Humans, We Will Never Settle": Five Questions for Human Flow Director Ai Weiwei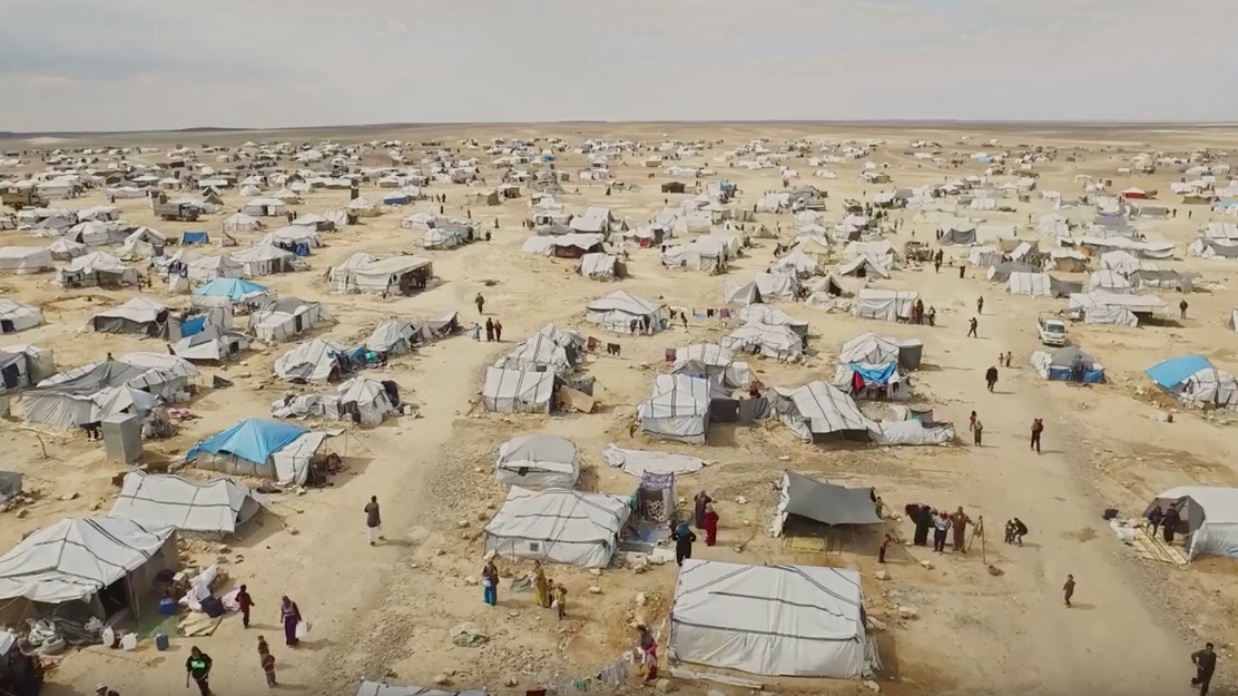 Human Flow
World-renowned artist and activist Ai Weiwei makes his feature-length filmmaking debut with Human Flow, an expansive documentary that shines a light on the global refugee crisis. Ai circles the globe to showcase the personal stories behind the sweeping headlines of fallout from war, famine and climate change in Afghanistan, Bangladesh, France, Greece, Germany, Hungary, Iraq, Israel, Italy, Jordan, Kenya, Lebanon, Macedonia, Malaysia, Mexico, Pakistan, Palestine, Serbia, Switzerland, Syria, Thailand and Turkey.
Today 65 million people have been forcibly displaced, more people than in the time period following World War II. Ai manages to show both the massive scale of the problem while at the same time putting a human face to the problem, something that news reports are often unable to do. The film is filled with a sense of urgency coupled with hope, revealing the shared human condition that unites us all. We spoke with Ai on how he tackled such a staggering story and how he found hope in the story against all odds.
Human Flow, a Participant Media/AC Films production is in U.S. theaters today via Amazon Studios.
What was most challenging for you making this film?
The topic itself requires a lot of research to get to know what you are talking about. I dropped in from almost ground zero. The story is so complex: in the reality but in the history also. Human history is the history of immigration, from the beginning until probably to the end. As humans, we will never settle. The more intelligent we become, the more motivated we become.
To understand the topic, it still takes time. You have to discover some kind of character in the language, which can illustrate your ideas. And I realize you can only learn it by doing it, to make a film watchable rather than to make a historical type of film, to still have human touch.
How did you get up to speed on a story that is constantly changing?
I watch everyday at least 20 to 100 news stories related to refugees for myself, to get familiar. I have to know the situation better than most people. I have to interview hundreds of people. I have to go to those camps to meet those people in their tents to see: what is the real situation?
It's so primitive. But film is about telling, to view the necessary connection between people. It's challenging. If I'm an artist and I do an artwork or sculpture, it can be just a statement and can also be [a] statement [just] for me. But with film you are inviting people to sit; you want them to sit down and see how many minutes they can still sit there. Ten minutes? One hour? You are wasting people's time, basically. It's quite crude actually. But I think any film is made very crudely; it's testing our suffering ability.
Was it difficult to find the right filmmaking approach to tell such a story?
You have to find a language; the old language doesn't work or it would be misleading to use old vocabulary. So that's why all those important historical moments are crying out for new language. Language is never born by itself. Language is a tool; only when there are problems the tool comes out, designed for the problem. So how to define the problem is challenging and yet meaningful to be involved for the artist.
How did you find hope in making this film? 
I feel horrible. In certain moments, you feel you are so close with deaths, in their deaths. It's not really danger — yes, danger is there, but you feel, my god, there is no way you can help this. It's too much; it's beyond physical help. But at the same time you say, okay, maybe from those refugees' eyes you share the same kind of fear. They are confused. They are far from how to really control their fate. They are powerless. And we often can feel the same way, even in this very civilized society. We can be made to drop into a situation like this. Only in that moment you understand we are as one. We have to recognize that.
Would you like to keep directing films?
Let's see. I don't know how effective this film will be. I'm always quite afraid choosing the media. I don't know what to do next. I have no clear goal in my life. If this is the right language, I don't know why not. Film is something that I love.