Back to selection
The 25 or So 2020 Features Shot on 35mm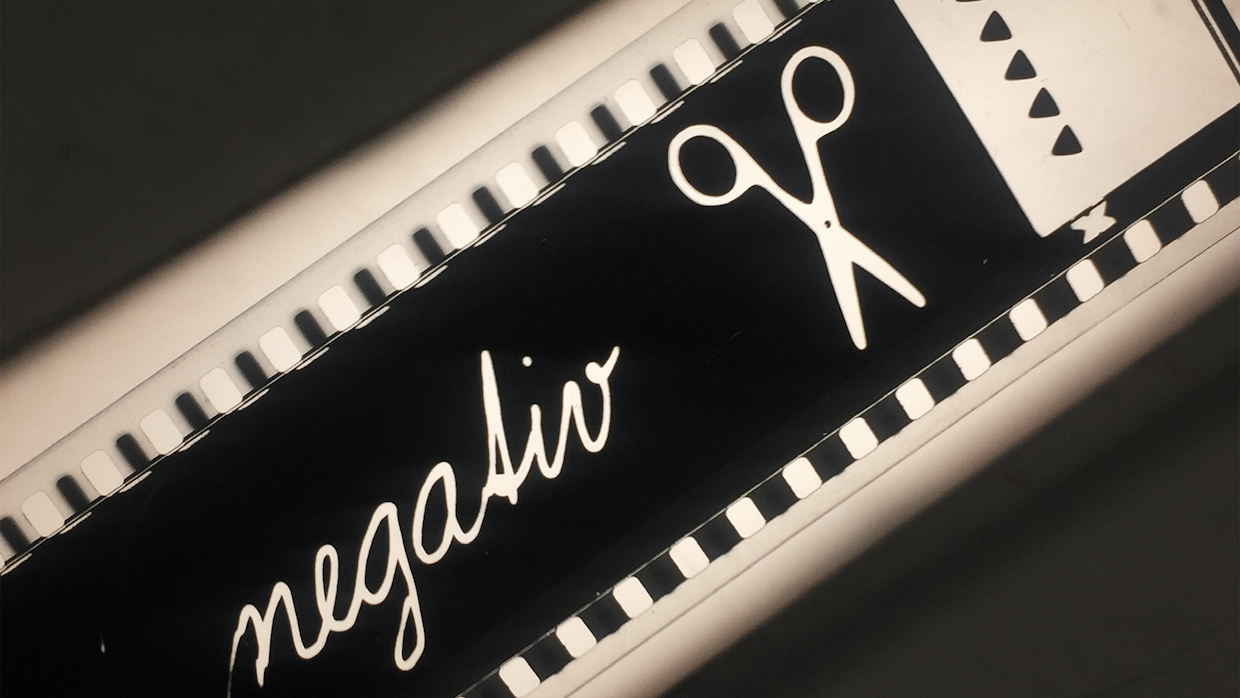 Image by Carolyn Funk
Since 2015, I've annually rounded up interviews and features covering the previous year's U.S. theatrical releases shot on 35mm, an inherently melancholy collation of (increasingly dead) links. ("This is your most quixotic project," a friend messaged recently.) The 25-ish 35mm releases of 2020 I've tallied this time are in line with each previous year's 30-or-bubbling-under features, a boutique fraction of the larger landscape. Each list builds toward a larger index of minor deaths. My first edition, covering 2014, noted the close of Australia's last commercial film lab and Bong Joon-ho's return home to South Korea after Snowpiercer, only to discover there were no labs to process his footage remaining there, either. Fuji's out of the celluloid business, leaving Kodak with a monopoly it never asked for. A director friend who trained on film recently observed that the lack of tactility when editing digital is a little unsatisfying: "It's like having a pet fish." Reed Bovee, whose Reflex Technologies provides scanning services, is blunt about the future on the company's website: "As long as film continues to be manufactured and people continue to shoot it, film is alive. Once both of those stop—and they are coming to an end—we will have an asset [digital technology] that will both appreciate—and deteriorate—over time."
Bigger-picture gloominess aside, there's an inevitable repetitiveness in the quotes I gather: what colors film is better for, how its qualities help unconsciously set the language for period films or how it makes crew and cast more disciplined. The matrix of explanations being drawn upon hasn't expanded significantly in a while.1 Charlotte Bruus Christensen (A Quiet Place, Far From the Madding Crowd), among the most prolific 35mm DPs since I began these lists, let the mask drop a little when discussing The Banker: "One of the things that pushed this toward 35mm film was that the script and the period and everything about it had a sort of heavyweight feel. One of the things that the director, George Nolfi, wanted was that it have a very graphic style." These not very specific reasons to use 35mm omit the usual "historical connotations" explanation, but eventually Christensen admits to her Variety interviewer, "I can always find good reasons for shooting 35mm, and for this one it became that."
For sheer novelty, then, I appreciate Darius Marder's explanation for why he shot Sound of Metal on two-perf 35mm. DP Daniël Bouquet is relatively circumspect in his interview with Kodak, citing "a highly filmic look, a little gritty but saturated and rich at the same time, just like the music." Speaking to Slashfilm, Marder is punchier, answering the question "How did you make that happen?" with "Because it's my goddamn movie, that's why." And he keeps going! "I basically hijacked the whole goddamn set," he fumes, "and that's the deal because no one lets you do anything in this business, and it's made up of absolutely cowardly people." Then, he offers an explanation for 35mm being less expensive than digital I haven't heard before: "When you're shooting digital, you can just shoot and shoot and shoot and shoot. What does that mean? Overtime. There's nothing more expensive on a film set than overtime." I have no idea if that reasoning checks out but appreciate the disruption nonetheless. 
Tentpole blockbusters and auteur loyalist projects make up a significant chunk of recent 35mm productions, and even with pandemic variables, 2020 was no different. The first Wonder Woman was shot on 35mm, as was Wonder Woman 1984. "Film looks glamorous, actors look better on celluloid, and it lends itself so much better to period films than digital," DP Matthew Jensen declares in his Kodak interview. Not all of the film was 35mm, though—the beginning and ending fights were shot primarily on IMAX 15-perf 65mm, with dialogue capture on five-perf 65mm because, as Jensen told Filmmaker's Matt Mulcahey, "IMAX cameras are sewing machines. They are so loud. You can't really record sensitive dialogue with those cameras." (In an email, Hoyte van Hoytema, DP of arch-celluloid-purist Christopher Nolan's all-65mm Tenet, told him to not even think about it.) In leaping from 35mm to 65mm for its climax, Wonder Woman 1984 shares a strategy with Xavier Dolan's latest, Matthias & Maxime, shot on film like all but one of the director's previous features—all 35mm this time except the climactic kiss, captured in 65mm. (Dolan and regular DP André Turpin had previously used a 35mm/IMAX 65 combo for their video for Adele's "Hello.") Turpin enthuses to Kodak that people will particularly pick up on film's distinctive texture on the 35mm print. DP Mátyás Erdély, who managed to shoot Son of Saul and Sunset on 35mm for László Nemes while entirely ducking a DI, similarly says of his work on The Nest that the 35mm print "looks absolutely fantastic!" The anonymous Kodak profile-writer he spoke with sets a gloomier tone, noting that all work on Nemes's films, including making the prints, was in service of "the inevitable 4K DCP."
Radha Blank, the year's sole first-time 35mm feature filmmaker, cited Woody Allen as a reference point for her black-and-white The Forty-Year-Old Version. The writer/director/star resigned herself to pandemic virtual distribution, although she noted to Variety that "nobody shoots a 35mm black-and-white film for it to end up on your iPhone." As for her Judd Apatow–adjacent title, she cheerfully observed that "I'm just like appropriating his (expletive). People appropriate Black culture all the time. I'm like, 'Hey, Judd. I'm comin' for you!'" Apatow, following his customary/unbroken preference, shot The King of Staten Island on 35mm. In his Kodak interview, DP Robert Elswit recalls being surprised they weren't shooting digitally: "Surely, the actors would have more time to riff and be less constrained if the camera were allowed to keep running? But [Apatow] said he didn't work that way. He did not want to walk into an editing room with two hours of material from a two-page scene, and felt that after shooting either 400 ft or 1,000 ft of film, the actors would usually be done anyway." All of Kenneth Branagh's blockbusters are celluloid based, shot on either 35mm (Jack Ryan: Shadow Recruit, Cinderella) or 70mm (his Poirot films), with the former used for YA adaptation Artemis Fowl. Both Staten Island and Fowl were originally planned for theatrical release, then redirected to become early (S)VOD release experiments on the same day, June 12. Making The Truth, his first non-Japanese film, in France, Hirokazu Kore-eda shot 35mm, as he almost always does. DP Eric Gautier observes to Kodak that, "I initially thought about shooting in Super 16mm but felt the larger two-perf 35mm frame would give the best balance between texture and the faithful rendition of skin tones, costume, location and change-of-season. Also, shooting two-perf 35mm means the runtime of the magazine is doubled, so it is amazingly cost-effective in terms of stock and processing." Another pair of 35mm stalwarts are French director Christophe Honoré and his regular DP, the admirably hyperbolic Rémy Chevrin, who testifies to Kodak about "the holy moments of the chemical process. [On A Magical Night] is a movie about love, and the best caress we could have ever given it was the loving touch of film."
Directors using 35mm for its period connotations this time around included Cory Finley, who said during a Q&A it was important to shoot Bad Education that way "even if only subconsciously to create this sort of nostalgia, as if it's the sort of movie that could have been made circa 2002." Guillaume Nicloux's Indochina-set 1945 war drama To the Ends of the World, was shot on 35mm in part because, according to a very familiar argument from DP David Ungaro published on IndieWire, the production "value[s] the discipline associated with 35mm projects of this size. Unlike digital, you can't do multiple takes, and it creates a tension when capturing the shots, with higher-level standards for the whole crew." (In the press kit, lead actor Gaspard Ullilel sees it slightly differently: "Guillaume gives the impression of finding his salvation in constraints; like, for example, shooting deep in the jungle with a 35mm in anamorphic.") Ilya Khrzhanovsky's long-brewing DAU. is doubly periodized: The ambitious experiment in recreating decades of Soviet history from the 1930s to 1960s under tightly controlled circumstances was shot on 35mm from 2008 to 2011, its first installments finally arriving on the internet for global rental last year. The project caused considerable commentary for its potentially abusive treatment of subjects, and it's interesting to see the source format raised in Russian critic and festival director Boris Nelepo's defense of Khrzhanovsky in correspondence with Daily Beast contributor Richard Porton. Because, Nelepo argues, it was "shot exclusively on 35mm…. It is almost impossible to forget that you are an actor when you're in front of at least three people, including the technicians changing the camera rolls and shooting the action." A differently ambitious historical project, Steve McQueen's Small Axe anthology, shot each of its five installments on a different format: Lovers Rock was shot on an Alexa Mini for a more contemporary feeling, Alex Wheatle on the Sony VENICE and Education shot on 16mm, the latter reminiscent of BBC productions of the period. There were also two types of 35mm in the mix, described by DP Shabier Kirchner in interviews with Aaron Hunt: two-perf, pushed and pulled for a more "handmade" look on Mangrove, and three-perf for an "unfussy" look that would highlight John Boyega's performance in Red, White and Blue. 
The most sustained engagement with 35mm among 2020 releases has to be Icelandic director Hlynur Pálmason's work on his sophomore feature, A White, White Day. Pálmason shot his first feature, Winter Brothers, on 16mm but tells Stephen Saito at Moveable Feast he wanted the larger format this time because "I wanted the [central] figure to work within a landscape, and I don't think 16 is large enough a format for a landscape." The film opens with a series of tableau shots of a house through the seasons, which Pálmason shot over the course of two years. As he explains to MUBI, "I told my producer I needed to see the passing of time; that watching the weather change, seasons pass by, would be a crucial part of the film. I had to experience time, so to speak. So, I began to shoot the prologue myself. I got a 35mm camera and carried it in the truck of my car for two years." That was shot on four-perf 35mm, with the rest shot on two-perf 35mm, as he explains in a ScreenDaily interview: "I developed the film with a 35mm still camera and a 35mm lens. So, it felt very natural and effortless to begin filming on the same format and the same size lens when we began filming." The effect was worth it despite the greater expense of film, which included shipping cost to the closest lab in Sweden. For The Lodge, their sophomore film as a duo, Austrian directors Veronika Franz and Severin Fiala likewise stress on an interview published on Austrian Films the greater expense of 35mm, "which wasn't so easy to push through because money is always short when you're making films, in Hollywood just as in Austria." They are, nonetheless, committed, noting that they got 35mm for their contribution to horror shorts anthology The Field Guide to Evil by "using film stock beyond its expiry date from a copying company in Budapest; we got it for virtually nothing." Another sophomore feature, Craig Roberts's Eternal Beauty, drew upon a number of visual reference points, including Persona and Three Colors: Blue, that, as DP Kit Fraser points out in his Kodak interview, were all shot on film—albeit sometimes on stocks long since out of print (The Conformist on a long-gone Eastman 100T, Punch-Drunk Love on Fuji.) The year's most obscure 35mm entry was Danis Tanović's poorly received thriller, The Postcard Killings. Kodak has a DP interview for almost every single 35mm feature on its site, but not so here. The London lab confirmed it'd processed the footage, but that's all I could find out. Likewise, I could find no comment from director Bruno de Almeida about his 2016-shot 35mm drama, Cabaret Maxime.
I'm making the judgment call that three nonfiction works involving the significant digitization of largely obscure archival footage, including 35mm, should be included here. Edited by Walter Murch, Coup 53 digitized 532 hours of archival material. "In film terms, it would have been impossible to try to wrangle that," Murch observes to ProVideo Coalition. "It would have amounted to 16 tons of 35mm film." Elsa Kremser and Levin Peter's Space Dogs is, in part, about the first canine in space, Laika, and drew upon "mysterious reels of 35mm" literally found in the basement where the titular space dogs were trained. "From the moment we were told about it to the time we digitized it, three years passed," they note in a Dirty Movies interview. In assembling Zappa, Alex Winter and his team drew upon the musician's archives, which included Super 8, 16mm, 35mm and video, all in rapidly deteriorating condition. Digitizing them necessitated a Kickstarter that raised $1.1 million—funds which, Winter notes in a Moviemaker interview, went entirely to that end: "After that, [producer] Glen [Zipper] and I had to separately go out and raise money to make the film itself." Adds Zipper, "To start all over again to finance the movie is something that I've never had to do in my career. Hopefully, it's a scenario that won't have to be repeated."2
For Chemical Hearts, Richard Tanne wanted 35mm in part, as he said in a RogerEbert.com interview, "because it's sort of how I see my adolescence and my childhood." Interviewed separately by CineMontage, his editor JC Bond grumbled that "I wasn't getting the dailies the next day because, let's face it, film has been relegated to a secondary medium. The film gets processed one day; then, it gets scanned the following day. I was almost three days behind the camera. That was the biggest hurdle. On a movie like this that had a very short shooting schedule, by the time I got dailies they had already moved on from a particular location. I did put in requests during shooting: 'It would be nice to get this,' and Richard would do his best to either go back to that location or fake the location and get whatever we needed." Not so for DP Philippe Le Sourd, reteaming with Sofia Coppola after their 35mm-originated The Beguiled for On the Rocks. "Kodak opened a new lab in New York, which was fantastic because we didn't have to ship to Los Angeles," he says (to Kodak). "I worked with Damien van der Cruyssen at The Mill. They processed in the morning, and it was scanned by the end of the day. I was able to grade the dailies on an iPad or give an indication to the colorist of how to grade them correctly." Working on Antonio Campos's The Devil All the Time, DP Lol Crawley found, per his Kodak interview, that reviewing digital dailies on set wasn't optimal: "The images are just very compressed. So, if you're being bold in exposure and you have a compressed image to monitor, you do lose detail and hope what you captured is on the neg."
Crawley's comment speaks to a different, common train of thought that's come up in these roundups before: 35mm is still there, but the production chain that once supported it as default is rickety at best. At this point, it occurred to me that a good way to check the received wisdom I've pieced together in these aggregations would be to talk to an actual film loader, which led me to Atlanta-based Will Whittenburg. An extremely jovial and forthcoming crew guy, Whittenburg worked on The Devil All the Time and had a lot of excellent stories to tell, like the time years ago he crewed on a Goodie Mob video that burned through 175 rolls in 22 hours. "I went to film school and came up through the rental house," he recalled. "If you've been there for a couple of years, a network of camera assistants know your name, have your number and are willing to hire you. Then, I left the industry in 2007 and got a job with the Air Force shooting high-speed film and digital—as the film business was transitioning to digital, so was the defense industrial business. Then, I left the Air Force job. Lo and behold, most things obviously are being shot digitally, but there's a severe lack of film loaders, or anyone who has loaded film has now moved up and on. So, I really fell into that slot here in Atlanta." Of his work on Devil specifically, he clarified an area of production infrastructure that's weaker than it used to be: "I was loading film in a dark room," he recalls. "I wanted to load film closer—I like to load on set, I like to load out of a changing bag. On a Kia commercial, I found myself loading next to a deer carcass. I don't mind. But the situation as it was, with the rain and weather, it was just safer to load in the truck. It was quite a trek getting back and forth, so I had to have two PAs taken from their regular duties just to shuttle mags because they were shooting two cameras simultaneously on 400-foot loads, and they wanted to keep on shooting. Productions have to be aware that this isn't like digital, where you just reload to keep shooting. We need more hands on deck. It's just more physical. There'[re] extra cases that come with it, there'[re] extra things to do. Studio-mode, long scenes need 1,000-foot loads. We go to handheld or Steadicam, you get 400-foot loads. So, we've got to have all the options on deck in getting the gear to the location, even if the trucks are parked somewhat close. Some of those hills and situations were pretty rough. Maybe that's the extra work of shooting film."
Whittenburg is skeptical of the oft-touted idea that shooting film inherently confers discipline. "Telling cameras to cut, that's the director's world," he observes. "Telling the cameras to cut is probably the last thing on their mind. Getting the shot is more important, and you end up burning some more film—which at the end of the day, I don't know if it's more or less cost effective. Back in the day, you could really micromanage it. But now, it's maybe cheaper just to shoot film because of all the other things that come with shooting digital—having a DIT and plenty of hard drives laying around, you know? I think the pace of productions that shoot digitally is a pace that's carried over to productions that shoot on film." All that said, Whittenburg has "always offered to train people to load film. Our union has workshops and things. Before COVID, they'd be in person, of course. I've been able to be a part of the training. But it also falls on an individual, so that's what I try to do. Another reason is, if you want to bump up, you've got to train someone to take your place. I had one guy tell me, 'You're going to train yourself out of a job.' And I'm like, 'That'd be mission accomplished.'" All this is exactly what I didn't know I wanted to hear: 35mm may remain the province of blockbusters and auteur efforts, but the apparatuses necessary to maintain it are being maintained, person to person, one year at a time. 
1. Obviously, a pandemic year raises questions about what might constitute a reasonable simulation of a U.S. theatrical release calendar. Per usual, I'm working from Mike D'Angelo's list of New York commercial releases, which for the pandemic era he's defined as movies reviewed in The New York Times in the week of their virtual release or addition to subscription platforms. This list has been supplemented by a small number of titles also accessible to the average US consumer—no fest-only premieres, in other words.↩
2. I set the rules of this list years ago and have kind of regretted not including 16mm in my survey. If I can include Zappa, surely 16mm productions should count. Here's a hopefully complete list of 2020's 16mm-originated features to receive U.S. release of one kind or another: Bad Hair, Bird Island, The Dead and the Others, Fire Will Come, Free Time, Ghost Strata, Ghost Town Anthology, Ghost Tropic, The Grand Bizarre, Martin Eden, Never Rarely Sometimes Always, Premature, S01E03, So Pretty, Sorry We Missed You, Sylvie's Love, Technoboss, The Tree House, Wendy and Those That, at a Distance, Resemble Another.↩