Back to selection
"I Like To Edit Ideas, Not Sequences": Editor Geraldine Mangenot on Other People's Children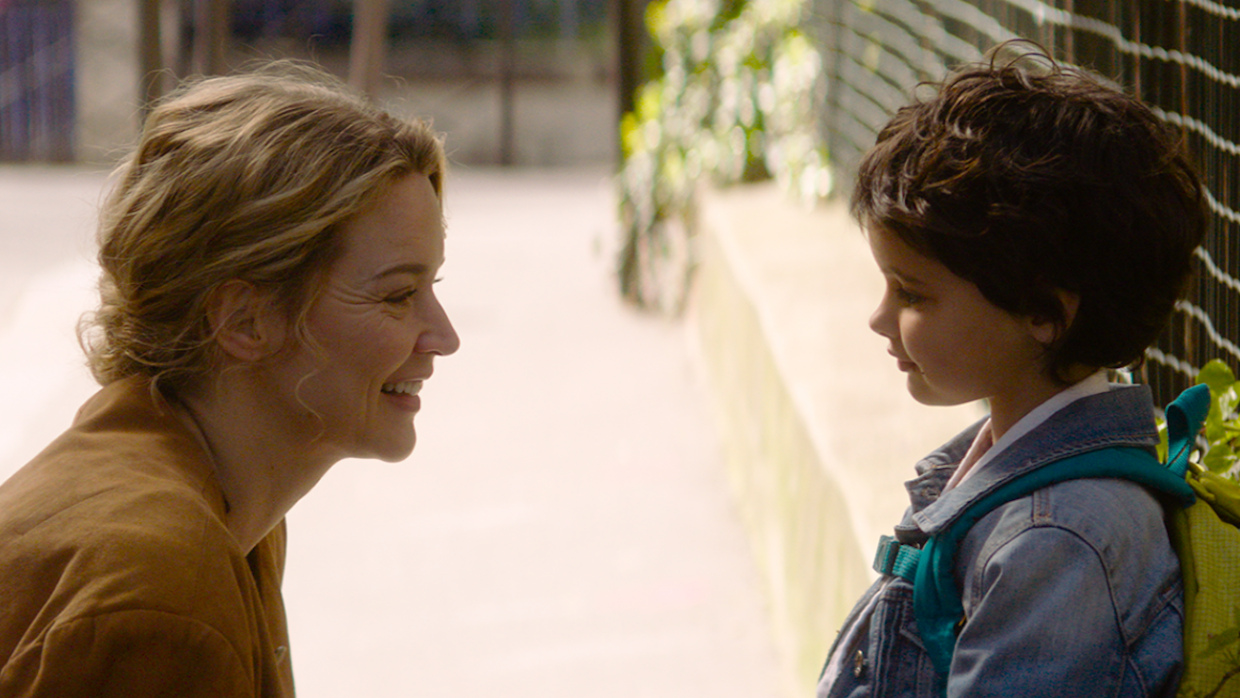 Virginie Efira and Callie Ferreira Goncalves in Other People's Children
In Other People's Children, the latest from director Rebecca Zlowtowski, a woman in her 40s named Rachel (Virginie Efira) grapples with the idea of being a mother—as well as the idea of going down a child-free path. Editor Geraldine Mangenot, who's worked with Zlowtowski since her 2019 film An Easy Girl, discusses how being a mother herself influenced the film's edit.
See all responses to our annual Sundance editor interviews here.
Filmmaker: How and why did you wind up being the editor of your film? What were the factors and attributes that led to your being hired for this job?
Mangenot: My first collaboration with [director] Rebecca [Zlowtowski] was in 2019 on An Easy Girl, and since then, we never stop working together. What makes her hire me for this job is pretty mysterious to me; I would say [whatever] the movie I made before [was], and my point of view on cinema.
Filmmaker: In terms of advancing your film from its earliest assembly to your final cut, what were goals as an editor? What elements of the film did you want to enhance, or preserve, or tease out or totally reshape?
Mangenot: To be honest, I barely edit assemblies, I don't like to work like that. What I like is to think about what the objective of the movie should be. I like to edit ideas, not sequences, so I never edit assembly — neither do my assistants. The way I work with Rebecca and with a few very close directors is to confront the movie we both have in mind. And from that moment, we start to work together. It makes us equal in this lively cinematographic discussion. 
When I first showed the movie to Rebecca, my first cut, I totally cut out the character of Paul. Finally, we kept just a few scenes of him and I think that's a good example of a character that has been totally reshaped.
Filmmaker: How did you achieve these goals? What types of editing techniques, or processes, or feedback screenings allowed this work to occur?
Mangenot: I don't have any particular techniques in editing. It's always a matter of time and trust in your own emotion into a narrative process. Maybe not. I'm wrong, actually, I have one — I do a lot of screenings, inviting editors, screenwriters, and producers (approximately two times a week). I love to present movies to a professional audience and sometimes to a real audience… its the final goal.
Filmmaker: As an editor, how did you come up in the business, and what influences have affected your work?
Mangenot: I came up very late in this business. I had another life before, working as an assistant photographer, and in an art gallery business in China. My mum used to be a costume designer and once, she asked me to help her on an HBO movie called Sometimes in April, shot in Rwanda, and directed by Raoul Peck. It was my first experience in the industry, I was 23 and from then, I never stopped working on Peck's movie, because we really like each other. I knew costumes were not where I wanted to end up. I did a three-month edit training to learn how to manipulate the editing software and I jumped into this new world. Very quickly, I ended up being the assistant of Juliette Welfling (editor for Jacques Audiard, Julian Schnabel, etc…) and a few movies later, I edited my first movie by Thomas Bidegain and Noe Debré. All my work, my travel, the books I read, etc… Having kids also has affected my work. And it keeps being affected.
Filmmaker: What editing system did you use, and why?
Mangenot: AVID because I am used to it. 
Filmmaker: What was the most difficult scene to cut and why? And how did you do it?
Mangenot: The breakup scene between Ali and Rachel, where Leila shows up. When you edit sequences with a child, unless he is very very good in acting, you have to build his character. And in this scene I had challenges: make Callie sound like she was natural, and to make people cry. To do so, I watched the sequence every morning and didn't leave it alone unless my body couldn't take it anymore. I have to cry several times watching it to be sure it might be fine.
Filmmaker: Finally, now that the process is over, what new meanings has the film taken on for you? What did you discover in the footage that you might not have seen initially, and how does your final understanding of the film differ from the understanding that you began with?
Mangenot: I didn't have any new understanding of the movie. Maybe one thing that came to me, while thinking about the theoretical gap between the script and the final movie, was that the movie is very political. The way it ends is very political. It symbolizes all the kids the State (and the School) is in charge of taking care of. The movie has a very strong democratic speech about our responsibility, and the school's responsibility in raising kids. Being a mother is not just having a kid, it is to raise a kid (that's what the last scene tells us too). We all have, as citizens, a duty in raising the kids of others.