Back to selection
Mission Accomplished: Lorrel Manning and Michael Cuomo on Happy New Year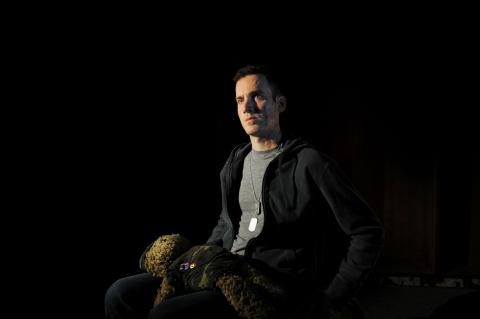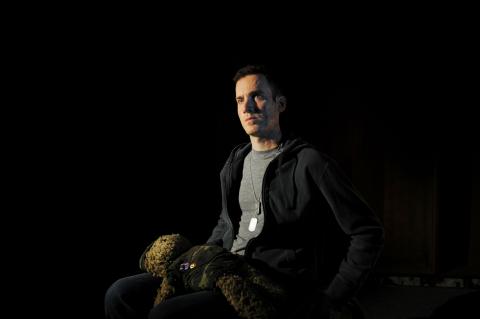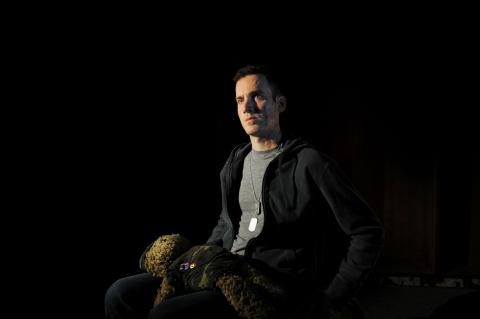 I first met writer/director K. Lorrel Manning and actor/producer Michael Cuomo at the Santa Fe Independent Film Festival, where we found ourselves the fish-out-of-water New Yorkers in a sea full of Southwest cinephiles. Their SXSW 2011 (sold out) hit Happy New Year is grounded in star Cuomo's nuanced portrayal of a fictional outsider named Cole Lewis, a sergeant who served in the Iraq and Afghanistan wars and now finds himself battling demons both mental and physical in the psych ward of a veterans hospital. I spoke with the two about their veterans outreach effort, Indiegogo versus Kickstarter, and the best places to start a revolution over breakfast.
Filmmaker: Over the past couple years, there've been a slew of nonfiction flicks – such as Danfung Dennis's Hell and Back Again and Heather Courtney's Where Soldiers Come From – that address the difficulties encountered by Iraq and Afghanistan war vets returning home. What firmly sets Happy New Year apart from these movies is that it's a fiction film. I know your feature sprang from a play that birthed an award-winning short, but did you ever toy with the notion of shooting a doc, especially since your research introduced you to so many potential characters?
Manning: That's a great question. And the films you mentioned are absolutely incredible. Most people mistake Happy New Year as a documentary – even after they see it. Michael and I interviewed over 80 veterans (from Iraq/Afghanistan, Desert Storm, Vietnam and WWII) and their families for this film. Neither one of us was a veteran or had any military experience. Thus, I wanted to ensure as much accuracy as possible in telling this story. I even gave drafts of the script to some of the interview subjects for feedback.
Even though it is a fictional story, a lot of it is based in truth and heavily inspired by many of the interviews that we had. The majority of veterans that see the film praise it for its accuracy – the script, the dialogue, the relationship, and most importantly, Michael's performance. I watched just about every war documentary I could get my hands on as I developed the script and conducted interviews. And I have to say that, honestly, the idea of making a documentary never crossed my mind. It was always to be a fictional story to me. My goal was to reach as broad an audience as possible – for any vet or non-vet to see themselves in the character of Lewis or some of the other characters. They're all composites of people we met on our journey. With this being a fictional piece, I was able to shed light on several issues that veterans and their loved ones face coming home. I had the freedom to create situations that emphasized the theme of the story. You can't really do that with a documentary. However, Soopum Sohn, my cinematographer, and I intentionally set out to create a sort of fly-on-the-wall experience with our shooting style, much like a documentary. There are no fancy shots or overly dramatic lighting. The majority of the shots were improvised on the spot. I wanted to highlight the performances as much as possible. So, in a sense, we did take a documentary-like approach to the shooting.
Cuomo: While the research process for the feature was a life-changing experience that could certainly have warranted a documentary, our desire for the interviews with combat veterans was directly related to engendering as much reality and accuracy into the story, narrative screenplay and actor characterizations. During Happy New Year's development stage several narrative films were released that depicted combat veterans from the Iraq and Afghanistan wars, many of which were widely criticized for inaccuracies and gross exaggerations, so we were highly sensitive to this, especially since neither one of us come from a military background. We were incredibly fortunate to meet the brave men and women who opened up about their war experiences, the difficulties of their reintegration process, and the sense of division between the military community and civilian life. And many times, we were the only individuals to ever hear these stories.
Filmmaker: Like myself originally, both of you hail from the theater world. What are the similarities and differences between touring with a production (or in Lorrel's case, even a band) and playing the festival circuit?
Manning: Hmmm. Another great question. I would say that, for me, touring the festival circuit has been way more difficult and challenging than touring with my band, La Res, or even with a play. Michael and I are usually completely drained after every festival. We work nonstop while we're there. Iraq War-themed films are simply not very popular, so we do everything in our power to get the word out about our film. Even before we get to the festival, days are spent pitching the press (radio, television, print, blogs) and contacting various veterans groups, as well as updating our postcards and posters. When we arrive at a festival we usually spend time following up on all the leads that we've made beforehand and try to meet as many new people as possible and get them to our screenings. We often don't sleep very well on the road. The last year has been incredibly draining, but extremely rewarding. We've met some truly amazing people in the process and had some great experiences.
Cuomo: Premiering at SXSW last year was an incredible start to what has been a thrilling and, at times, exhausting adventure on the festival circuit. The beauty of cinema is that one can take several years of blood, sweat and tears, and package it onto an HD tape or Blu-ray, hop a plane and share it with the waiting world. As a producer, I think this is a definite advantage of film vs. theatre. I mean, this is really amazing! However, as an actor, there's no better feeling than performing to a live audience, whether you're in a NYC theatre or on the road. The film festival circuit is very much about shopping a film to buyers, audience and press, making contacts for the next projects, and trying to find the parties that actually have some food to complement the free Stella – while touring with a play is a wildly, more purely creative experience. In both instances, one is sharing art with new audiences, but the theatre production is literally different every night, while the film remains a finished work.
Filmmaker: Could you talk a bit about your outreach effort? I'm quite impressed that you've managed to connect with so many veterans' groups, creating a dialogue between your film and their experiences.
Manning: Well, the first thing we try to do whenever we decide to actually attend a festival is to research all the local veterans organizations and charities in the area. We make a list and hit the phones to let them know about the film, then email them the press release, etc. We then try to get the festival in question to offer free or discounted tickets to these organizations if they can. The festivals usually have no problem doing this and are more than happy to give back. We've had some amazing post-screening panel discussions as a result. Actually, that's been my favorite part of the festival experience – having a real dialogue with veterans and civilians and hearing their reactions to the film. Happy New Year has won several awards, but, for me, the greatest reward is when a veteran or someone from a military family comes up to me or to Michael and truly thanks us for making the film. They then usually talk about their own struggles with post-traumatic stress (PTS/PTSD) and how well they connect with the story we told. Many times the civilians are in shock. The majority of them are simply not aware of the challenges that many of our vets face coming home. They don't know that 20% of today's veterans are affected with PTSD, or that veterans make up 23% of the homeless population, or that 18 veterans commit suicide per day. But it's not completely their fault. When the majority of our media outlets are focused on Kim Kardashian instead of some of the dire issues facing the 1% of the population that serves in the U.S. military, what can you do? Our intent with Happy New Year was to not only make an entertaining film, but to also create a dialogue about PTSD. Intimate moments like the one I described make it all worth it.
Cuomo: The demand for Happy New Year at SXSW was so high that Janet Pierson added a satellite screening of the film for over 150 veterans, their families, local VA personnel and military organizations. The response was overwhelmingly positive and this experience really set the stage for how we've approached every festival across the country. We even had veterans in the audience in Germany at the Oldenburg International Film Festival. And while the film is very hard-hitting, controversial and painfully authentic at times, over 95% of the veterans and military service organizations that have experienced it have said, "You guys nailed it – this is our story. It is tough to watch at times, but this is the real deal. Thank you." We think that Happy New Year has the potential to create a real dialogue, and reduce the stigma of post-traumatic stress disorder as it relates to combat veterans, or frankly anyone who has experienced a traumatic experience and is trying to regain a sense of normalcy in his or her day-to-day life. One of our most powerful screenings occurred in Providence at the Rhode Island International Film Festival, where we screened two public service announcements about PTSD and suicide awareness produced by our strategic partners Blue Star Families and the Creative Coalition. This was truly an opportunity to not only talk about the issues raised in the film, but to also provide a possible solution as to what can be done for those men and women currently suffering in silence.
Filmmaker: It's also interesting to me that you chose to crowdsource finance Happy New Year through Indiegogo rather than via Kickstarter. Can you discuss why you decided to go this route and whether you feel it was ultimately the right choice?
Cuomo: Our Indiegogo campaign was directly related to supporting our SXSW premiere week and some outstanding post-production costs. And while there was a ton of buzz about Kickstarter at the time, we ultimately opted to go with Indiegogo because of the fact that we could still receive a high percentage of our raised amount even if we didn't reach the final goal. We were confident that we would achieve our $25,000 goal, but the sheer fact that a Kickstarter campaign would not materialize unless we reached the goal was just not a risk we were interested in. In addition, we met Slava Rubin at a friend's birthday party and he made a compelling argument as to why Indiegogo was the best choice. Many friends have been successful with Kickstarter, but for us, Indiegogo just made the most sense.
Manning: Raising money is hard. Sending out weekly email blasts asking people for money in this economy can get very tiresome. However, we tried to make our Indiegogo campaign as fun and engaging as possible for ourselves and for our followers. Every two weeks we'd send out a new fundraising video featuring a different cast member discussing his or her experience with shooting Happy New Year and their connection to the material. Each short featured previously unseen footage from the film. The video shorts were a way for our fans to get to know some of the cast members on an intimate level. Many of the shorts were quite moving. For instance, actress Tina Sloan talked about her real-life son Remy serving in Iraq and how well she could relate to the role of Grace, the mother of a gravely wounded Marine. The campaign was incredibly successful for us. We raised over $26,000 in the end. And Slava and the rest of the Indiegogo crew went out of their way to assist us with anything that we needed.
Filmmaker: Speaking of community, the experiential environment was one of the highlights for me of the Santa Fe Independent Film Festival – besides meeting you two, of course! We were all able to just hang out in cafes, to share ideas, in addition to talking shop. (And really, that's how art is born.) I mentioned that that artist-friendly atmosphere is what I used to adore about NYC (pre-Giuliani) – and that its near-extinction is one of the reasons I've fallen out of love with the city. Continuing our conversation, what creative capital does NYC still have to offer that other cities don't?
Manning: Yes, I remember that conversation very well. Santa Fe was one of my favorite stops on our festival tour. Besides our own screening, Kirby Dick's very informal two-hour retrospective of his work at the Aztec Café was probably the highlight of the festival for me. I mean, the guy showed clips from his films on a laptop(!), and everyone simply crowded around to watch and listen. I remember sitting there pinching myself because it was such a cool experience. That would never happen in New York – at least not like that. I still love NYC, and think it's still the greatest city in the world, but I do wish it had more of an artist-friendly atmosphere. It's incredibly expensive to live here. That said, I often long for the days of film school where you were surrounded by other talented artists, you sat around and talked and debated about art and films and you pitched in with each other's projects. It was just about the work. That world simply doesn't exist outside of school. At least, I haven't found it. Everyone is so competitive, and doing whatever they can to get into Time Out or whatever blog is hot that week, instead of focusing on making truly good work. I'm also a musician. My band, La Res, has been on the circuit for five years, and the music scene, even on the local level, is way worse. 100 times more cutthroat. Ha!
However, I think my inability to find a "collective" to belong to as an artist has actually fueled my creativity more. I've been forced to really dig deep within myself and create work that really moves me and gets me excited. Never in a million years would I have imagined my first feature film being something like Happy New Year, especially when I was at Columbia. In fact, everyone told us we were crazy to try and make this film. Many people in the industry told us that we should make some sort of low-budget quirky comedy because that's what was selling at the moment. We knew that wasn't the route for us. So we stuck to our guns. And I'm so glad we did. It's been an incredibly hard road but so worth it. I have a film that I'm incredibly proud of, that will possibly help tons of people. I'm not sure this film would exist if I hadn't been forced to spend so much creative time alone.
Cuomo: The "clean-up" of NYC certainly had some negative ramifications, mostly that the arts and music scene that served as the identity of downtown NYC has slowly and systematically been devoured by the reality of increasing rents by landlords that are less concerned with authenticity than higher revenue streams. I mean, when CBGB is closed down and turned into a John Varvatos megastore – or the Bottom Line becomes an NYU classroom or whatever – the words "there goes the neighborhood" never ring so true. But I would still argue that NYC possesses a pulsating energy and flair that I have not experienced anywhere else in the world. And it is this energy that fuels me as an artist. I mean, I walk out of my apartment on the Lower East Side at 8AM on a Tuesday and the streets are teeming with people from all different walks of life who have this hunger in their eyes. They live, work and bleed for this city. Whether they specialize in fashion, theatre, music or film – they are here to create, be heard and make an impact. And while it is perhaps more difficult to break through, some of the world's best new work still originates in this town we call NYC. Sure, the Aztec Café in Santa Fe is stellar, but I'd say that our MUD Café (on East 9th Street) is a strong rival if you're looking to start a small artistic revolution over coffee and eggs.
Photo Credit: Nina Berman