Back to selection
Director George LaVoo on A Dog Year
In A Dog Year, the feature film directed by George LaVoo from Jon Katz's memoir, Jeff Bridges plays Katz, a midlife crisis-stricken writer who, impulsively and in an act of near-deliberate emotional self-destruction, adopts a rambunctious and unsocialized border collie, flying him cross country to his family's split-level home and their two other dogs. And while Lavoo's movie has its share of Beethoven-esque moments as the collie sprints down suburban streets or mischievously jumps rides on passing automobiles, the film is less about canine hijinks and more about the complex and unexpected emotional roles that dogs play in our lives. Bridges brings his customary outsized warmth to the character, but there's also a damaged and emotionally occluded aspect to Katz that the actor tugs away at. Depicting Katz's problems through his understated notice of the absence of his wife and daughter, LaVoo has made a film that will appeal to dog lovers while also prompting thought about the ways in which we all mediate our place in the world.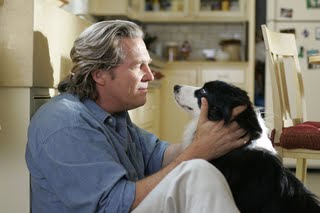 A Dog Year is the directorial debut of LaVoo, who is well known in the independent community for writing and producing Real Women Have Curves and producing Getting to Know You. Produced by HBO Films, it's also the last film from the shingle's independent division headed by Maud Nadler and responsible for movies like American Splendor and Maria Full of Grace. A Dog Year premieres tonight on the channel and will replay several times this month. I spoke to LaVoo by phone several days before his broadcast premiere.
Filmmaker: Do you have or did you ever have a dog?
LaVoo: I did have a dog growing up. I love dogs. Now, I live in New York City in a fifth floor walkup and I have a cat. Making the movie was my way of spending a lot of time with dogs.
Filmmaker: How did you come across Jon Katz's book?
LaVoo: I had met Jon Kat online because I had been interested in another of his books, and while we were corresponding he said," I have this new book…" He let me option it before it was published.
Filmmaker: And what was it about this material, aside from wanting to spend time with dogs, that interested you?
LaVoo: What drew me to the story is my fascination with the whole "dog experience." My father's generation would get a dog from the pound, a rescue dog, and then would keep the dog outside all night. Now there are dog behavioralists. Dogs have play dates. Dogs have become a key emotional link in our lives. That's probably because we as a society have become more lonely and isolated from ourselves, and that's a theme that I saw in Jon's book.
Filmmaker: What happened after you optioned the book?
LaVoo: I took it to HBO, and they said, "Let's try and get an actor on board." That's what HBO calls their "flashing green light." I've always admired Jeff Bridges because he seems like the kind of actor who is never afraid to expose any part of himself. He's always so fully human. We got the script to him, and that was a long process. Jeff is not someone who makes a decision quickly, and, of course, he shouldn't. He said he was interested and wanted to meet, and we wound up sitting down in New York for a six-hour dinner at the Four Seasons. The restaurant closed down around us and because it was Jeff some people on the staff stayed. It was an incredible conversation. He asked a million questions of me personally, of the character, of how we would approach things. He talked about his experiences with his wife and talked about his memory of dogs when he was a kid. His father had gotten him a border collie when he was young. At the end he said, "Sounds good, but I'm not saying 'yes' or 'no.'" We talked or corresponded for three more months before he said, "I'm ready."
Filmmaker: Watching your film I realized the particular challenges you faced in directing the dog. Not only did the dog have to do the action specified by the script, but the dog also had to act. The dog's expressions, behavior, and energy level were all quite important.
LaVoo: I was really excited by that challenge, I knew this film was going to involve a lot more than just actors and a camera. In terms of working with a dog – I did the research, talked to other directors, and I learned from them that making a movie with a dog as a lead is like making a special effects or stunt movie. I researched dog trainers and found an incredible dog trainer, Mathilde de Cagny, who had a whole team of people. She came on board before Jeff was cast. We started casting dogs before any of the actors, and that process was like an all-state casting call. We searched on the internet, and made lots of calls. She traveled to South Carolina and to Minnesota to meet dogs. She looked at dogs who are not trained movie dogs because there were so few trained dogs that were specifically right for our part. We just had to go out and find young dogs that had the right kind of sensibility and personality.
Filmmaker: How many dogs were used in the movie?
LaVoo: We cast one lead dog, Ryder, and then around him we cast six other dogs who looked as close to him as we could possibly get. For the movie, we had the dogs dyed so their color markings would match, and the dogs that had different eye colors got dog contact lenses.
Filmmaker: And were different dogs used for scenes with different emotional temperatures?
LaVoo: This movie is the story of a dog who goes through an emotional journey, and I paid careful attention to mapping out the steps of that journey. One of the dogs we was more skittish and nervous, but he exuded what we needed in the beginning of the movie which was a damaged dog.
Filmmaker: What has happened to the dogs after the movie?
LaVoo: What's interesting about the dog training world, the trainers become so attached to the dogs, and now these dogs are going to be taken care of for the rest of their lives by the trainers. Our lead dog has been in a couple of new movies, some big Hollywood movies. But even if the dogs aren't in another movie, the trainers keep them.
Filmmaker: I would have imagined that the dog and Jeff would have spent time bonding, but with seven dogs playing the one role, I guess that wasn't the case.
LaVoo: My first idea was that Jaff and the dog would spend a lot of time together so they would have this personal rapport, but because of the technicalities of how you have to make a movie with dogs, [that didn't happen]. But Jeff did spend some time with each dog. He said to me, "I've done so many kinds of movie, I'm always looking for a new challenge. And I have never had to be real and honest [in scenes] next to a dog with trainers off screen yelling commands and throwing treats."
Filmmaker: I was struck by the elliptical portrait of Katz's relationship with his family. We know he has a wife and daughter, but they are off screen. And while we know from the answering machine messages from his wife that things seem off between them, we're not told much more. Obviously, all of this relates to Katz's decision to adopt the dog. How did you approach balancing the story of Katz and his dog with the backstory of his relationship with his family?
LaVoo: In the book Jon Katz talked in just a few sentences about the relationship with his wife and family. But one thing that I observed that was happening in his life was that he leaves society and moves with the dog to the countryside, to an isolated spot in upstate New York. How does that effect his relationship with his wife? Well, he makes her an office and said she's going to love it up here. As the movie developed I wanted to be very careful about how I handled this [aspect of Katz's story]. I wanted to explore that relationship between Jon and his wife, so in the movie we go a little bit farther and show that it's a marriage that's in trouble. Here's a guy who is most real when he is with his dog. He's a guy who can't even talk to his wife — he calls on a payphone and he basically hangs up on her. Part of what interested me about the story is that Jon is irresponsible, he is acting from his gut, he is angry and disconnected. He does an irresponsible thing by bringing another dog into his household. He does it with a good heart — it is an abused dog — but also because he is in such an isolated and mixed-up place in his life.
Filmmaker: What's Katz's situation now?
LaVoo: After we finished the movie, Jon had gotten a divorce. Now he has a new woman in his life and he is very happy. It was a very amicable split [with his ex-wife] but it was still painful. Jon looked at the movie and said, "You understood me better than I knew myself. This is true and honst, but it's difficult for me to show my daughter this movie."
Filmmaker: What about the film and literature about dogs? Were you inspired by any works in particular?
LaVoo: Well, Umberto D. It's a really emotional and beautiful movie. And I did a lot of research about dogs and literature. There is one quote from Samuel Butler, the 19th century British novelist: ""The great pleasure of a dog is that you may make a fool of yourself with him and not only will he not scold you, but he will make a fool of himself too." I think that sums up why I loved the process of making the movie.