Back to selection
A Child's Journey
Though her short-film and documentary projects have a clearly articulated social conscience, director Patricia Riggen says she prefers to make moving films that tell a story with "big emotions." Born in Guadalajara, Mexico, Riggen began writing scripts for television after a stint in the world of newspaper journalism, and eventually became vice chairman of short-film production at the Mexican Film Institute. In 1998, she moved to New York City and attended Columbia University's MFA program in film studies, focusing on screenwriting and directing. While still a student, she made La Milpa, a 27-minute narrative short set during the Mexican Revolution, for which she won an Ariel Award. Next came Family Portrait, an intimate and heartbreaking documentary about a Harlem family living in extreme poverty that was inspired by Gordon Parks's hugely popular 1968 photo essay for Life magazine. The film won a Grand Jury Prize at the 2005 Sundance Film Festival, screened on HBO, and has found international distribution through Direct Cinema Ltd. and the Independent Film Association.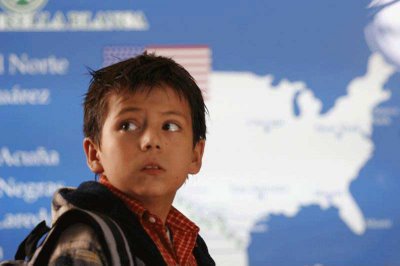 For her feature-film debut, La Misma Luna (Under the Same Moon), Riggen draws equally from the wellspring of Mexican soap opera and the American road-movie genre to tell the story of Carlitos (Adrián Alonso), a young boy who makes the perilous, illegal journey across the U.S. border in order to find his mother, Rosario (Kate Del Castillo), who works as a housemaid in a tony Los Angeles neighborhood. As in many road movies, Carlitos's odyssey is a checkered one, as he encounters human traffickers, border agents and fellow migrants, some of whom help and some of whom ignore or exploit his plight. While Riggen says she did not set out to make an issue film, her deft handling of Carlitos's harrowing, too-common predicament and touching emphasis on the universal bond of mother and child is clearly resonating with a broad spectrum of viewers: La Misma Luna (co-distributed by Fox Searchlight and The Weinstein Company) received a standing ovation last year at Sundance and again more recently at the opening night of the Miami Film Festival. And in an election year when illegal immigration is the subject of white-hot debate and xenophobic news-hour editorials, this humanistic, well-observed melodrama of love and migration may find a berth in the hearts of many mainstream filmgoers, too, regardless of which America—North or South, urban or rural, bilingual or English-only—they call home.
Filmmaker spoke with Riggen about the timeliness of La Misma Luna, the politics of acting in Mexico, and why Latino filmmakers working in the States need to maintain an independent voice.
TOP OF PAGE: ADRI&#193N ALONSO IN LA MISMA LUNA. PHOTO BY: FOX SEARCHLIGHT. ABOVE: LA MISMA LUNA DIRECTOR PATRICIA RIGGEN. PHOTO BY: CHECCO VARESE
Filmmaker: Did you feel that a child's journey would allow you to tell the story of Mexican immigration in a more powerful way than it had been told before?
Riggen: Well, when I started making this movie, immigration was not the hot topic that it is now. And actually, I had my doubts about making a movie set in the immigration world, because I had seen some that I didn't like, and I felt that maybe people didn't want to watch movies on this subject anymore. I also didn't see this as an immigration movie, but as a universal story about family separation, so I felt it really allowed me to explore big emotions. I just wanted to show the human side of the immigration story, and stay there, you know? In a way, I think that's even more powerful, because it has really allowed people to experience this story without any particular agenda, any particular message, and just stay on the human side. I think it's working well.
Filmmaker: The brother and sister who transport Carlitos across the border are Latinos from the U.S., yet there's a tension between the Mexican and Chicano worldviews that gets expressed in the way Carlitos's employer deals with them.
Riggen: Mexicans are discriminatory, sometimes, against the people who leave. I wanted to touch on that and show that other side—because I'm showing the other side of everybody. But also, through the character of Martha (Real Women Have Curves' America Ferrera), I wanted to show what the second or third generation of immigrants live like. Many times, the struggle is not over—they are still struggling to survive. In this case, to keep themselves in school. I tried to make all the characters unfold, even if they were small, to show their complexity. [Martha's] doing something bad for a good reason. That makes her very human.
Filmmaker: Did you at any point, given all your experience as a scriptwriter in Mexico and in New York, have the inclination either to tell a story that you had written or perhaps even to make a documentary about this subject?
Riggen: I developed the screenplay very closely with Ligiah Villalobos, during a year almost, we did many drafts. I think her original screenplay was very strong and working with her was very enriching. We did a good collaboration. I'm also a documentary director, but no, this was perfect as a narrative because it allowed me to do exactly as I wanted. I think documentaries are beautiful but reality is reality, you know? You get what you get, and then you construct from that, as opposed to narrative, where you construct from zero.
Filmmaker: How did Villalobos's script first come to you?
Riggen: Ligiah saw my doc Family Portrait and loved it, so she started sending me some of her screenplays. Eventually, she sent me this one and I immediately connected with it. We are both independent filmmakers working without a salary, and it all came about very nicely. The screenplay was blessed with a big star, too, because by the time I was ready for the script to be shot, I had already secured the financing. For an independent film, that's very hard, as you know. It only took us a year.
Filmmaker: Did sources of funding come from Mexico as well as the U.S.?
Riggen: Yeah. I think it's a very cool binational production. I was able to access a fund that is the same one that financed the first films of Alfonso Cuarón, [Alejandro González] Iñárritu, and Guillermo Del Toro. And also we had private money from the U.S., so it was good. The way I financed it was great because it allowed me complete creative control. I was able to cast exactly who I thought was best, shoot where I thought was best, for the amount of days that my budget allowed, with final cut and everything else. That just made the movie better. And now we have the fortune of having a studio distribute it, which is the best of both worlds.
Filmmaker: Was Adrián Alonso your first choice for the role of Carlitos, or did you audition a number of child actors?
Riggen: I knew Adrián was special because of the fact that he was in so many movies. At the same time, I wasn't convinced by the work I had seen, so I auditioned him and a bunch of other kids, and he was okay—nothing special. But then I started some improvisations, and that's when Adrián really came out. And he is so smart and so quick, and just destroyed everybody around him with his quick dialogue and his wit. I knew that he was a real star. I wasn't going to make this movie if I didn't have the right kid. That was something I was very clear about. No matter how good the screenplay was or how well I could direct it, if I didn't have the right kid, I wouldn't even attempt it because it would fail. Everything is on his shoulders.
Filmmaker: In your decision to give the role of Rosario to Kate del Castillo, were you ever concerned that her extraordinary beauty could somehow make her performance as a Los Angeles housecleaner less believable?
Riggen: Well, I faced a bigger obstacle than her beauty, and that's the fact that she's a former soap-opera star in Mexico. She's a big telenovela queen. So she's perceived as a lesser actor in Mexico. She's not fully respected yet as a movie star. I was questioned by colleagues about her, and they also had that problem. Like, are we going to believe that she's a cleaning lady in L.A. when we know she's a rich, beautiful girl from Mexico City? Well, I think she's an excellent actress, and I think she had a very challenging role because she doesn't have the journey; she doesn't have the adventures, the encounters. She's in one place and she has an inner problem, an inner dilemma, and that's very hard to play. It's very hard to make a character interesting and lovable when you don't have anything to do but sit there and suffer. I was very conscious of that from the beginning, and I think she did a very nice job. So I'm happy with my choice.
Filmmaker: You took a lot of risks with casting: Eugenio Derbez, for instance, who plays Carlitos's road companion, comes from the world of comedy, right?
Riggen: He was an even bigger risk than Kate. She's a proven actress—she's really good, extremely experienced and very natural. Eugenio, on the other hand, this was his first dramatic role. People I respect in the film business were saying, "Are you nuts? Are you crazy? It's a huge risk." I just followed my instinct. I felt he could do it. Of course, I auditioned him, as I auditioned Kate and everybody. I think he brought a little bit of his comedy into the character, which makes it light and interesting. It's the other stuff, not the comedy, that's really compelling in his character. In Mexico, I think we're very narrow-minded [about actors]. And that's why we don't have a very strong film industry.
Filmmaker: You mean there's a perennial divide between film and TV that persists there?
Riggen: I think it's a problem that has kept both television and film from being able to – what's the word in English? – enrich each other. And that's one thing I'm trying to do with this movie. I brought in actors from television who are loved by the people and who are delivering good performances. Many filmmakers have also got the talents of the television actors, but then we have all these film actors who are not known and are not loved by the audiences. So now I'm doing that combination, and I think it's going to help the film industry a lot in Mexico. Hopefully.
Filmmaker: Have you been screening this film either for unions of domestic workers or smaller communities that are not necessarily film-oriented?
Riggen: That's an interesting question and I should ask. Fox Searchlight is very smart, they're very good with small movies. They believe this really has strong word-of-mouth potential. I can tell you that during my editing process, I organized several screenings for little groups of people to see their reactions and get a feel for the movie. One of the screenings that I organized, Ligiah and me, was with illegal immigrants. [laughs] We got a group of 20 people in there and it was very interesting. They thought the border crossing [depicted in the film] was very simple—very easy! [laughs]
Filmmaker: The music in La Misma Luna is such an important texture in the film. And I think that a lot of people here in the States don't realize there's such a diversity of Mexican popular music, like narcocorrido and norteño, and that it really has a social dimension, reflecting the realities of life on the border and within the country. Why was it important for you to have such a diverse cross section of music in the film?
Riggen: You're very well informed! [laughs] As you say, there are so many songs, so many musical styles that refer to the border experience, that I thought we had to have it. The more you can put of the context, the more the movie is richer and fuller and more interesting for everybody. For example, the decision to bring in Los Tigres del Norte [who have a cameo] has to do with the fact that, first of all, they are like the Rolling Stones of Mexico: They are super famous, they have a private jet, and they throw 300 concerts a year on both sides of the border. But beside that, they are considered the number-one group that sings about the immigrant experience. They are immigrants themselves. They came to this country when they were young and played their guitars in the street. So I immediately thought Los Tigres would be interested in the subject matter of a kid crossing the border. And of course, I was right, because they came in for no money when they are very hard [to book] and very expensive, and they made a song especially for the movie. I tried to also show more of the spectrum of the music. On this side of the border it's not only Mexicans, but [people] from different countries of Latin America, so I tried to show a bit of that diversity in the music.
Filmmaker: I loved the song by Kinky, "Superman es ilegal."
Riggen: They made it for me! I had them record it. Kinky is like an electronic, supermodern Mexican band, and that song we found in the archives—it hadn't been recorded before, but the lyrics were very cool, very interesting, so they came in to sing it. Kinky is cool. And we also have a song by Jaime López, who is like Bob Dylan in Mexico. He's a guy with a guitar and very alternative–never mainstream, never on the big networks–and he has songs about the immigrant experience because he's from the north of Mexico himself.
Filmmaker: What are your thoughts on the challenges facing Latino filmmakers here in the States?
Riggen: One of the challenges is to keep an independent spirit. If Hollywood decides to believe that there's an audience and to invest, it's a good thing, but the important thing is that their movies do not blend and become bland. That they are able to be strong and to keep that interesting point of view, that different point of view. And at the same time, be very rigorous and have very good craft and make a good movie. I think that's a challenge: Be very good as a filmmaker and keep that particular voice. You don't want an executive from Hollywood telling you what the Latin audience wants to see. You want to tell the studio executive what they want to see.
Filmmaker: Do you feel like you're accomplishing that with this film?
Riggen: I don't know. Let's so how the movie plays. So far it's gone really well when they've tested the movie. I think ultimately you have to be really honest with your choices and not try to, you know, feed into anybody's idea of what's marketable and all of that. Just be very honest with the experience that you are telling, whatever that is. That's the best choice—it makes for the truer story.