Back to selection
Director Jamie Travis on For a Good Time, Call…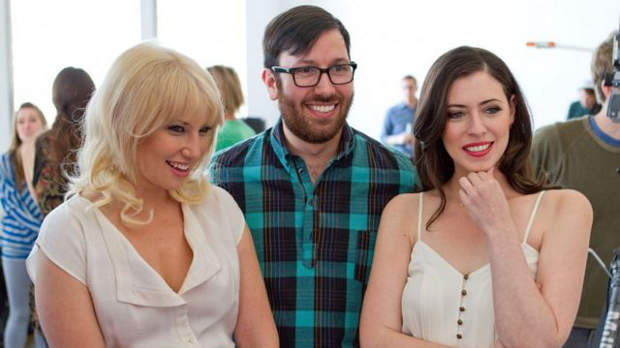 Journalists are often privy to inside information when a film deal goes down at a festival, but rarely do they take place on the other end of my dinner table. Nor do they generally concern one of my friends, as was the case at a certain dinner party on a snowy night at this year's Sundance Film Festival. Actually, until now, that has never happened.
My friend is director Jamie Travis, and it was during a cast and crew dinner at a fancy pop-up steak restaurant when his little, low-budget indie, For a Good Time, Call…, was picked up for $2 million by Focus Features, a dream come true for any first time feature director.
It's been a long road for Travis, who over the past 10 years has hard-earned a golden reputation as an award-winning short filmmaker and commercial director. Today, he's back home in Toronto, taking time just hours before the film's debut here to fill me in on his adventures since the moment James Schamus crashed our dinner party and changed his life.
Filmmaker: So, tell me about that night, what went down when you left me with Seth Rogen's mom at the table?
Travis: We had heard earlier in the day that Focus was interested. So, I remember we were at a dinner party, and we were sitting around this big wedding-like table that probably seated like, 40 or 50 people. All of a sudden these guys in suits entered, and we were kind of one by one called up to move to another part of the restaurant. It definitely felt surreal.
So they came in – James Schamus and his troop – and they basically told us again and again how much they loved the film, how they would be the best place for us to go. I guess they were aggressive, but they appealed to us, at least to me from an artistic perspective. Focus is known for really taking into account the voice of the filmmakers. You don't worry that your baby's going to be snatched from you and re-edited and they're going to slap new music on it, give it a terrible poster and push it out into the world. We knew with Focus, we would be treated well. Our baby would be dressed in designer clothes.
Filmmaker: Why do you think this film stood out at Sundance and attracted a buyer like Focus?
Travis: It's a typical independent film in terms of how it got made, and the spirit behind it, and its very small budget, and very short schedule. But the script is not your average independent film script. The script is designed to engage a large audience, and it's a comedy. Independent films are more often dramatic or dramedy. And this film really is a comedy. I think that's rare in the world of independent film and the world of Sundance.
Filmmaker: You've previously made a name for yourself as an art film director with shorts like The Saddest Boy in the World, and The Armoire. What was so great about this sex comedy script that you were willing to veer in such a wildly different direction?
Travis: When I think about projects I don't think about them as art-film projects or commercial ones, I think about them as stories I want to tell. For a Good Time, Call… presented a story that was surprising and special to me. It was a female-driven story, and I'd read a lot of testosterone-driven scripts before it. And I liked that it cast the female friendship in a very realistic light — in a way we don't usually see in movies.
Ari was also attached to the film and that was absolutely a draw for me. I'd been a fan of hers — she totally stole Nick and Norah's Infinite Playlist.
Filmmaker: Your previous films were all written, directed and produced by you, so you obviously had a lot of control on those projects. What was it like working as a director for hire with a team of writers and producers?
Travis: Well, I was never able to view this film as a singular artistic project like my short films, and I've actually become accustomed to that from working in commercials for the last five years. You know, having a team of people with ideas, a lot of ideas, sometimes conflicting. In this case, our ideas often were conflicting but we formed this really great collaborative unit. Before we even went to set, the producers and the writers and our lead actor, Ari Graynor and I knew we were all on the same page in what we were trying to do.
I don't look at directing as a job, I look at it as… I don't want to sound pretentious, but I look at it as my life. It's like the relationships that you choose to be in your life. I put that kind of weight on it, and I could never direct a script that I didn't like, because to me that's treating directing like a job. I've never done that. I feel like I've been able to establish a voice through my short films, and I've been developing that voice for the last 10 years. If I find a script that either I don't like — even if there's money attached — or that my voice just isn't right for, then I'm not going to do it. So I think this was a great experience because even though I was technically hired, I never felt like a director-for-hire. I was working with other creative people who gave me a real opportunity to design the film and give it its voice.
Filmmaker: But there must have been challenges. What was the biggest issue for you making this film versus making your own short films?
Travis: Time. When I was in film school at the [University of British Columbia] and I didn't know anything about filmmaking, I shot Why the Anderson Children Didn't Come to Dinner in 16 days. It was a 16-minute film and I shot a minute of film per day. Fast forward to this film which is 90 minutes and we shot it in 16 days. I mean, sure, as I got more experienced and especially as I started working with more experienced producers on the short-film front, the schedules became tighter because when there's better organization, and better allocation of funds, and you're actually paying people, you're forced to do things quickly. We shot The Armoire in six days. I remember when I was first told I had six days I nearly crapped myself. And we shot most of that in studio, we hardly had to move around, so in retrospect, that was just downright luxurious.
Filmmaker: What do you hope for in terms of your next project? I know you've been reading a lot of scripts…
Travis: Well I hope that the next film I make has more money and more time. It couldn't possibly have less money or less time because then it wouldn't even be a film.
Yeah, I'm reading a lot of scripts. I've got one in particular that I can't tell your readers about, but I'm completely in love with it. It's the best script I ever read, and it moves me and it makes me laugh consistently. Again a difference between this script and what I was making in my short films, it has a lot of room for a playful tone and at the center of it is this beautiful character. Three beautiful characters… um, I probably shouldn't talk too much about it.
The hybrid is definitely what I want next. I'll never say I'll never make another sex comedy or I'll never make another friendship comedy or I'll never make another film as commercial as this. I'm always going to choose my projects based on what's interesting to me and that's going to change always. But right now, I'm at a place where, you know, I want to do something that's less straight-up comedy and of a surprising combination of comedy and drama or comedy and thriller. You know, these are the things that I explored in my short films — finding comedy in other genres or combining comedy with sadness. And that's, you know, my takeaway from this film. That's kind of the next direction I want to go in.
(Photo of Ari Graynor, Jamie Travis and Lauren Miller by Jim Shelton. Courtesy of Focus Features.)