Back to selection
Director Ted Kotcheff on Wake in Fright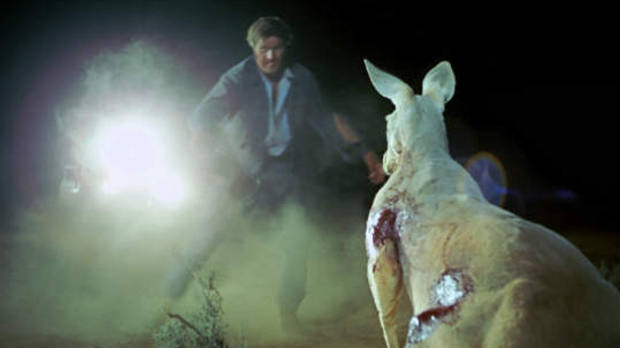 Ted Kotcheff's Wake in Fright was a hit at the Cannes Film Festival in 1971, but as the film made its way across the Atlantic, its stateside distributor decided to do a bit of rebranding. Against Kotcheff's will, his intense fish-out-of-water tale was released in New York the following winter as Outback, a perfectly bland title for a movie that's anything but. If the new name threw some film-goers off the trail, United Artists' failure, as Kotcheff recalls it, to "spend 25 cents on publicity" made certain that the rest of its potential audience never heard about it in the first place. Despite praise from influential critics, almost nobody in America saw it, and it soon closed.
But now Wake in Fright is back, and the story of its revival is almost as interesting as the film itself. Decades after its release, a member of the original filmmaking team began to wonder what had become of the negative and the first print. His hunt was circuitous, and it led him to a Pittsburgh warehouse, where he rescued two crates that were scheduled for a date with an incinerator. After a multi-year restoration process, Wake in Fright has returned to the big screen, and on October 5, Drafthouse Films brings it to Film Forum in New York City for a week-long run. Kotcheff will be on hand to talk about the film after the 7:30 p.m. screenings on October 5 and 6.
The film focuses on a character named John Grant (Gary Bond), an effete schoolteacher who briefly falls in with a gang of rowdies after he's waylaid on his trip to the big city. Together, they drink their way across the Australian countryside. They stop every so often to do manly stuff, like wrestling and kangaroo hunting. And amidst all the boozing, brawling and animal blood, John becomes emotionally unmoored. Martin Scorsese, who saw the film at Cannes all those years ago, still raves about it—"Visually, dramatically, atmospherically and psychologically, it's beautifully calibrated," he says in the movie's press notes—and Aussie musician and filmmaker Nick Cave has called it "the best and most terrifying film about Australia in existence."
Speaking by phone from Fantastic Fest in Austin, where Wake in Fright played in late September, Kotcheff, 81 and still as sharp as could be, discussed the film's unlikely resurrection; the thematic links between the movie and the geopolitical backdrop against which it was made; and where it rates in a career that saw him direct films starring everyone from Jane Fonda (Fun with Dick and Jane) and James Mason (Tiara Tahiti) to Gregory Peck (Billy Two Hats) and Sylvester Stallone (First Blood).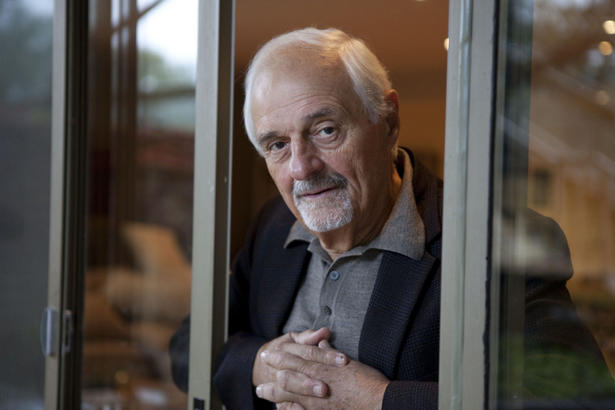 Filmmaker: What's the first thing that comes to mind when you think about making this movie more than 40 years ago?
Kotcheff: I think about the frame of mind, and spirit, that I was in. It was the time of the Vietnam War, one of the stupidest wars we ever got ourselves involved with, and I thought civilization was on the point of committing suicide. Russia and America, with their H-bombs, could've just destroyed the whole world, and human beings as we know them. I was in a very despairing frame of mind. When I see the film, I don't have that attitude any more. But I think about the person who made this film and what he was thinking and feeling at the time.
Filmmaker: You were born in Canada and were working in Britain in the early 1970s. How did you come to direct Wake in Fright in Australia?
Kotcheff: I wanted to be a film director, and of course Canada had no film industry whatsoever at that time. So the choice was either to come to Los Angeles or London. People like Norman Jewison and Arthur Hiller went to Los Angeles, so I decided to go to London because I thought I might work in the theater as well. And I did. I did a play by Doris Lessing, the Nobel Prize winner. And I did my first three films. I did a social comedy with James Mason, and Life at the Top with Laurence Harvey and Jean Simmons. Then I did a picture in '69 called Two Gentlemen Sharing, which was about the racial situation in London, and the man who wrote the script was called Evan Jones. He did a lot of Joe Losey films like Modesty Blaise, and other ones. We became fast friends, and that's how I came to do this film, because one day he came to me and said, "You know, Ted, I've been hired to adapt an Australian book called Wake in Fright, by Kenneth Cook." He said, "This book is right up your alley. You could make a great film out of this. Read it, and then we can persuade the money people to hire you." I did, and that's how it came for me to direct the film.
Filmmaker: Did you know that you wanted to make the movie as soon as you finished reading the novel?
Kotcheff: Oh yeah, when I read it I was deeply impressed by the intense atmosphere and the central character and the setting. At first I was trepidatious about doing a film about a culture and a society that I knew nothing about. But when I went out to the outback, being Canadian I thought, "Oh, this is similar to the Canadian north, the famed, incredible, vast empty spaces that don't liberate one but are claustrophobic, and imprison one." And there was also the same kind of intensely masculine society that was created by this totally inhospitable circumstance that they find themselves in. I used to describe Canada as Australia on the rocks.
So I spent about a month just observing, going around to pubs. And I found that the mores and the attitudes and the values of these men were not too hard to plumb. I felt relieved that I was able to understand what was going on.
Filmmaker: The kangaroo hunting scenes are pretty brutal. There's a note at the end of the film that says the footage was shot during a government-sanctioned hunt, and that "because the survival of the Australian kangaroo is seriously threatened, these scenes were shown uncut after consultation with the leading animal welfare organisations in Australia and the United Kingdom." What was it like to shoot these scenes?
Kotcheff: That was a big problem for me, because I don't believe in killing animals, and certainly I would never dream of killing an animal for the sake of a film to prove some point about the inhumanity of man, or something. I wasn't going to do that. And then one of the Australians said to me, "You know, Ted, they kill hundreds of kangaroos in the outback." I said, "They do? Why?" He said, "Well, they get these big refrigerated trucks and then guys go off in several directions and they kill dozens of kangaroos and they take their skins, which are very valuable, and are used in all those cuddly toys of koala bears that we give to our children. And then they deliver the carcasses to the refrigerated trucks." And I said, "To what end?" He said, "They ship them to America for the pet food industry. Very big business." I said, You mean to say that it's an open-air abattoir out there?" He said, "That's right. Why don't you just go out there and shoot it like a documentary film?" I said, "That's a great idea." So all that stuff, that's real. My producer came out with me. He's a sensitive man, and he fainted. I'd never seen a man faint. When they started slaughtering the kangaroos, he passed out and I had to take him back to civilization and then went out again.
Some of the footage was so gory that I couldn't use it. What happened was that the Royal Society for the Prevention of Cruelty to Animals encouraged me. They said, "Ted you've got to show this." Many years later they succeeded in stopping the slaughter of kangaroos for the American pet food industry.
Filmmaker: Did you use non-professional actors in addition to your more experienced cast members?
Kotcheff: Yes, I did, and they had a very strong effect. The guy at the end who says, "You're mad, ya bastard!"—he gave me that line himself. I had written another line. He was a real character. I tried to use as many people as I could. It gives it an intensity, and a reality.
Filmmaker: The film played at Cannes in 1971, and was in contention for the Palme d'Or. Did you feel like it was generally well-received?
Kotcheff: A young director, your film is accepted at Cannes—I was thrilled. And the French loved it. Man under existential stress, being stripped of civilization—they loved all that stuff. There was one guy, a major film critic who was on television, and he interviewed me two or three times, and he said, "This is a masterpiece, everybody must see it!" and it did extremely well. It played nine months in Paris in a major theater. It was the only country in the world where the film was a success.
It came to New York in 71, and it got great reviews. Pauline Kael and other critics of equal stature gave it great reviews. But United Artists, who were distributing it, just didn't believe in it. They said, "Nobody will want to come and see this film. They'll be horrified. They'll be totally alienated by the kangaroo hunt." They opened the film in January in a small cinema on the East Side of Manhattan on a Sunday night during a heavy blizzard. And of course nobody came, and United Artists said to me—and I think seriously—"You see, Ted, we told you nobody would come."
They changed the title, you know.
Filmmaker: I read that. Did you agree with the name change?
Kotcheff: No, I didn't. I had an argumentative disagreement with them. They called the film Outback. I said, "Outback? That makes it sound like a National Geographic documentary about Australia. What's the matter with Wake in Fright?" They said, "It sounds like a Hitchcock film." I said, "That's bad?"
Filmmaker: So what happened next, after the snowstorm?
Kotcheff: They didn't spend 25 cents on publicity. So it died and it went away, and like all pictures, if they don't succeed commercially people forget about them. Nobody cared about the negative. But everybody assumes—I assumed—that a negative is a valuable thing. People spent a lot of money making that thing. Why would you get rid of it, or throw it away? And you know, it happened to my film—it disappeared. And I discovered that it's not an uncommon experience, that they just get rid of negatives. It's not worth spending any money maintaining them, or saving them in warehouses.
Filmmaker: When did you begin to look for the negative?
Kotcheff: One of the Australian producers said, "What the hell happened to the film?" They couldn't find it. That was in 1995, 25 years later. They couldn't find it in Sydney. The film had been processed in London, but they couldn't find it there. Another 10 years go by, and finally the editor of the film, who loved the film, a guy called Tony Buckley, he spent on his own time and money, spent two years looking for it—he went new York, he went to London—and finally he found it in a warehouse in Pittsburgh. The negative was in two huge boxes and on the outside of the boxes they said "For Destruction." They were going to incinerate it and there'd be no film.
Filmmaker: How did it get from there to here?
Kotcheff: The Australian archival people immediately jumped on a plane with lots of money, they bought the film. There's a wonderful man at Deluxe Labs called Anthos Simon. He spent two years, because he loved the film, digitally restoring it frame by frame. He created the most incredible negative, producing the most incredible print, with colors and shapes and things I'd never seen before. Everybody heard about it, and Cannes asked to see it again. It was of course Martin Scorsese who was head of the Classics department. He had seen it in '71 and remembered it. And it played at Cannes Classic in 2009. And then it was screened at the Sydney Film Festival, other film festivals screened it, and it kind of snowballed.
To me it's a miracle in my life and the most amazing experience, to see this film rise from the dead and have a whole different, incredible second life.
Filmmaker: You made Hollywood action movies like First Blood, offbeat comedies like Who Is Killing the Great Chefs of Europe?, sports movies like North Dallas Forty. Where does Wake in Fright rate among your list of accomplishments?
Kotcheff: I always felt that this was one of my best films. You always aim for 100, right? And sometimes you get to 65, sometimes 75. This one I got up to 95—I came very close to putting on the screen exactly what I had in my mind.