Back to selection
Giving Good Press: Advice for First-Time Interviewees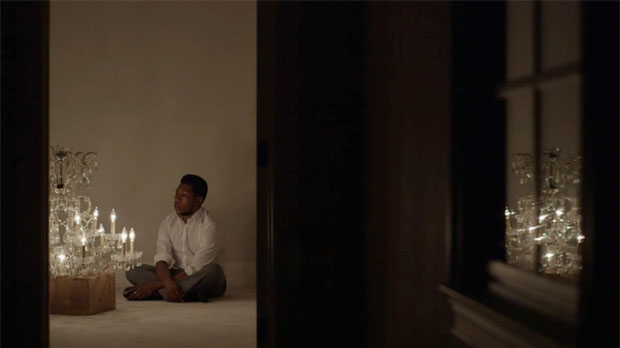 Tim Sutton's Memphis
For some, it is what they've been waiting for, a dream come true, a chance to finally make good on years of lonely work. For others, it is a terrifying minefield of certain humiliation.
It is: TALKING ABOUT YOUR FILM.
A theoretical dream come true – finally, someone wants to hear me talk about my film! Giving Good Press is a fine art, and, in some cases, a blood sport. The blog machine, the Twittersphere, the critic ratings, the Gray Ladies of print reviews — at a film festival, perhaps for the first time, directors are expected to satisfy their needs with interview after interview (and interview after interview after interview… if you're lucky).
As you head into the line of flashbulbs and tape recorders, perhaps this introductory guide from a panel of Sundance veterans will help keep you on message.
First, a glossary (with notes):
STEP & REPEAT
(aka 'S&R')
The vinyl backdrop of company logos hung behind a red carpet or press line area, in front of which the interviewee will "step" from one photographer or journalist to another and then "repeat" the same pose or interview.
Q&A
The post-screening question and answer period between director, film team and audience, usually moderated by a programmer or other third party.
For some directors, Q&A's are the most high-pressure press opportunity of all. You're vulnerable because your film just screened, and you might not be used to speaking on stage, in front of hundreds of people. (For more on Q&A's, check out Scott Macaulay's guide here.) Chiemi Karasawa, a veteran doc producer (The Betrayal, Billy the Kid) and director of the upcoming Elaine Stritch, has this advice: "Audiences really want to be put in a good mood, they want to laugh." She recommends coming up with (and practicing) a few anecdotes, even jokes, to put the crowd at ease. Jason Springarn-Koff, Sundance vet (Life 2.0) and now a journalist for the New York Times, warns: "During your Q&A's, assume that people will tweet. Everything is on the record, even if you don't think there's any journalists present." (Sometimes controversy at a Q&A can be leveraged into a news item itself, as with the Sundance screening of Compliance.) Even enthusiasm can be taken out of context. Director Tim Sutton (Memphis) is at his first Sundance this year, but he learned some things from his Pavilion premiere at SXSW in 2013. "At my first Q&A, I made the mistake of saying, 'I just wanna say, I really love this film.'" I was trying to be passionate. But the headline was, 'Director loves his own film.' I was just psyched and proud, but it came off as conceited."
PRESS DAY
A pre-scheduled day of back-to-back interviews, photo shoots and other press. Typically arranged when as many members of the film team can be assembled together. At Sundance, a press day can mean starting in a hotel suite for interviews, then walking down Main Street to hit the various photo studios and gifting suites set up in various store fronts. (See also "Press Junket.")
Press days can turn your brain into a pile of mush. Imagine being asked a variation on the same five questions ("How did you come up with the idea?" "Did anything funny happen on the shoot?") 50 times in five hours. David Lowery, director of last year's Sundance hit Ain't Them Bodies Saints, looks at it positively. "I look on the bright side – after 1,000 times of being asked the same thing, you can refine your answer into a perfect little gem. It's also a chance to think about and understand your own intentions – the first time you're asked, 'Why did you make this film?' your answer is going to be totally muddled and full of contradictions. But in the process of honing your response, sometimes you can actually understand yourself better." Says Karasawa, "The pitfall is that once you come up with an anecdote that's really well-received, it's hard not to play that card over and over again. Everyone always wants to know how I met Elaine Stritch. So I tell them the hair salon story, and now she tells it too. But people love stories."
PRESS BREAK
An aggregation of any and all news items and reviews related to the film, often aggregated into a digest, and emailed to the entire film's team as available.
PUFF PIECE
A shallow, often praise-filled profile or feature article. (Side note: on the flip side, it's important to recognize that not all press is created equal. In the days of Metacritic and Rotten Tomatoes, a tiny blog that no one's ever heard of can drag down your score, and their poorly-written interview filled with misquotes will live forever on the internet..)
"OFF THE RECORD"
"Assume that everything is on the record," says Lowery.
"Especially at somewhere like Sundance, there is so much crossover; journalists are filmmakers, filmmakers are journalists, everyone is friends with each other," says Strategy PR publicist Michael Kupferberg. "Filmmakers always need to remember that what they say at a party or on the street can easily turn into a news item."
ROUND TABLE
A group interview with multiple journalists. Antonym: ONE-ON-ONE.
DO'S AND DON'T OF GIVING GOOD PRESS
DO: KNOW WHAT YOU WANT.
"No matter how big or small your film is, there should be some set of talking points arranged in the beginning," says Kupferberg. "What do you want to say, what do I want to avoid?" Arrange practice interviews and prep sessions with your producers, friends, publicists and sales agents. Finally, think about your audience. "Think about what information works best to get people excited to see the movie. If they hear the wrong piece of information first, you can scare them away."
DON'T: TELL ANYONE YOUR BUDGET.
In terms of sales, "The worst thing you can do is tell someone the budget," says Amanda Lebow, formerly part of the sales team at Submarine Entertainment and now working for Bond / Strategy. "Oversharing is always the biggest problem [for directors]." Especially after the premiere, avoid the press — your sales agent may be weaving a story to the buyers that an ill-timed tidbit of information could undermine.
DO: STAY POSITIVE
One question you'll hear over and over: "What was the hardest thing about making the film?" Unfortunately, your best stories about the movie are probably the ones that nobody should know. "Every film goes through struggles," says Kupferberg. "For the sake of the film, put your gripes behind you."
DON'T: TRY TO ENTERTAIN THE JOURNALIST
"Everyone is excited to talk to you, you're excited to talk to them. 'I'm a very open person, and after 30 seconds, I feel like I'm best friends with every journalist.' So you just tell these stories without thinking about what it's going to look like in print, how it might hurt someone's feelings," says Lowery. "You have to memorize in advance anything that you don't want people to know or you don't want to say,"
DON'T: SPEAK FOR SOMEONE ELSE?
It's tempting to try to answer the question, "how [x actress] feel about [y]," but it's always better to say, "I don't want to speak for them."
DO: FEEL FREE TO PASS ON A QUESTION (OR AN INTERVIEW)
A point reiterated by every person interviewed for this article: you don't have to answer a question you don't want to. "Just take a second and consider what you have to gain and what you have to lose from every interview and every question," says Springarn-Koff.
DO: ENJOY IT
"My goal is just to be honest. I consider myself an art filmmaker and I think it's OK to be an art filmmaker, and I want to be honest about that, about who I am and what I'm trying to do with the film. I spent so many years as a filmmaker in a vacuum, working by myself, so now that I've found an audience, I'm so excited to talk about filmmaking to people who are interested in filmmaking. It's a special thing."