Back to selection
DIY Previs: Developer Dan Fearing on ShotPro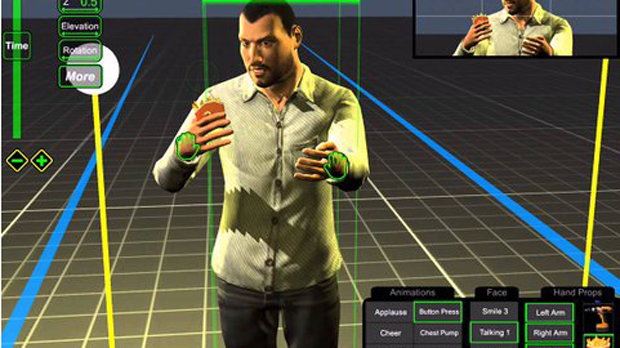 Just as pencil-and-paper storyboarding has by and large given way to computer-based previsualization software, high-end previs suites are now confronting much more budget-friendly software and apps. The newest of these is ShotPro, an iOS app from WebGames3D.com that premiered on the App Store late last year. Developed by Dan Fearing and a small team of Sacramento-based designers and coders, ShotPro already looks like a game changer in the world of DIY previsualization. It launched loaded with characters, props, settings, lights and even lenses, and two updates have already followed, adding scalability for onscreen items, animatable cameras, new camera models, moveable keyframes and other features. Version 1.5 is about to launch (hopefully during NAB this week) with additional aspect ratios, improved object selection, individually posable legs for actors, a gyro camera control — and, most importantly, a launch on Android devices and Mac and PC computers.
How well does it work? From what I've seen thus far, pretty darn well. The interface is smooth and intuitive, and the breadth of objects available to populate the frame is already impressive, certainly enough to establish a reasonably specific idea of a set or location, with more on the way. Storyboard frames can be extracted from animatics, and the latter are exportable as MOV files. Most importantly, the app produces detailed previs — both quick experimentation and carefully designed compositions — with a very low learning curve, allowing anyone to quickly see different options for staging a scene and then communicate that with the rest of the crew and postproduction team. There's still a time and place for quick stick figures on a napkin, but ShotPro will make sure any filmmaker with $30 and a mobile device isn't stuck there for long.
I talked with Fearing about the app's development process and its current — and future — features.
Filmmaker: Can you tell me about your background and how you journeyed from corporate videos to previsualization software? What was the app's development process like?
Fearing: Our team consists of three individuals: myself, Andy Mileusnic, and Daniel Mileusnic. Andy and I have backgrounds in video productions from commercials to music videos, and Daniel has been coding from a young age. Actually, the app came about in a funny way when we were all at a meet-up for filmmaking in northern California. I had been trying to use a few storyboarding apps which turned out to be relatively useless. So, I pitched the idea of creating a new app to the group. Andy happen to be in the app development world with his son and said we can totally make something new that can help the filmmakers in a way never done before on mobile devices. The next week the coding adventure began!
The development process was really a creative joy. We all pitched ideas throughout the process and deliberated in terms of how the app should be laid out and what features were to be included. With Daniel's expertise in coding he was able to build an extremely powerful application, rapidly in comparison to other applications in its class. This app grants all filmmakers access to previs on mobile devices. This is a first for the industry. Daniel is eager, as we all are, to upgrade the app for our users on a continuous basis. Because Andy and myself had done video production as a career, we knew what the basis of the app needed to cover. We also formed a solid development road map for the future in terms of updates and the expansions to other platforms.
Filmmaker: What needs are you trying to meet with ShotPro? How do you envision filmmakers incorporating it in their preproduction process?
Fearing: What we are doing here is not only bringing previs to filmmakers at an affordable cost but also ridding the world of bad stick figure storyboards. This really is stepping up the storyboarding game and the ability to explain your vision to cast, crew and clients. ShotPro is quick and easy to use with little to no learning curve. (BTW, you can take full screenshot stills from playback mode and use them as storyboard art.)
Filmmaker: Users can create storyboards — essentially animatics — that can be exported and shared. What's your goal for making this material accessible to the team during preproduction and production, and for serving as a template during post? Previs has always done this, but I wonder how having it on a phone or tablet affects its utility.
Fearing: We have currently designed the app to be a preproduction tool only, really. But we do have plans to make the app projects easily accessible through cloud sharing across other platforms in the future. Not only can this app be used for previs of specific shots, users can use the app for blocking and set design.
Filmmaker: The website also includes a community forum. Is this primarily for product feedback, or are you trying to facilitate a broader conversation among users?
Fearing: We really take into consideration what users are asking for. Currently it is set up for feedback and answers to questions or concerns. Our next update, version 1.5, addresses many of the issues or features people have already requested. Eventually we would love for people to share their projects and help each other with questions they may have.
Filmmaker: What features would you still like to see added?
Fearing: Like I mentioned, we already have a roadmap for development laid out. Our big steps for the future are making the program available on Mac/PC and Android, facilitating cloud sharing as well as fine tuning of apps UI. Many of the features that our users have asked for will be available in update 1.5 and above. We also are including things that users have not yet thought of like positioning the camera with gyro (accelerometer) control.
Interested in trying it out? The first three readers to email vadim@filmmakermagazine.com will receive a download code.