Back to selection
Distribution Transparency: Four Filmmakers Reveal Their Numbers, Part Two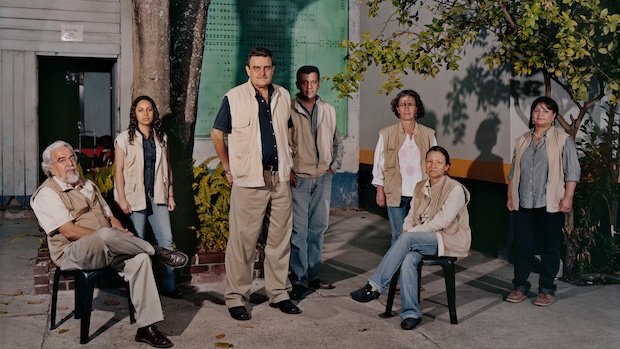 Granito
Tuesday's post looked at Neil Berkeley and Judy Chaikin as two filmmakers who wanted to create a theatrical release for their films to boost visibility, increase ancillary value and learn for themselves how to operate in the new hybrid model of distribution and marketing. Today we will look at Paco de Onís from Skylight, the company he runs with creative director Pamela Yates and editorial director Peter Kinoy, and their film/media project Granito 
Paco de Onís, Skylight and Granito
According to de Onís, Skylight is "as much a filmmaking organization as a human rights organization." Hence their goals are not about monetary gain but about social change, specifically in the realm of social justice. To do this, according to de Onís, "we've had to develop a model where we can work without a distributor," he explains. "A distributor is looking for financial dividends, but we're out looking for social dividends."
In this quest for change and larger audience, they often give their films away for free. They gave their film Granito, about genocide in Guatemala, away to a major Guatemalan bootlegger, who then spread it across the country in a way they never would have been able to. "There's no better distributor in Guatemala. We don't make any money from that but our film gets seen everywhere."
In addition when the film screened on PBS, they persuaded the broadcaster to take off geo-blocking from the PBS streaming feed so that anyone in the world would be able to see the film. Skylight also creates indigenous language versions of many of their films which are given directly to that community.
Skylight also makes its films available for free to groups that want to screen them. Whether for a community group or a local human rights organization, you simply have to fill out a form on their website explaining why you want to show it, and they'll provide you with a copy. They also ask that you let them know how the screening went after it's over, but Paco says this often doesn't happen.
It is very hard to track eyeballs and impact, but here are some of the statistics they have collected for Granito:
* One million PBS viewers.
* For ancillaries – 65K views in English, 8K views in Spanish.
* 35,000 Unique visitors on the Granito Website
* 78,000 Uniques for the PBS companion site.
They have also collected 8,000 email addresses from their website over the years including 5.000 email addresses garnered from 300 screenings and festivals.
Much of the money that Skylight earns from their films comes from broadcast and educational sales. For educational they sell their own films working with the New Day Film Co-Op. Here are some of their monetary figures:
* $410K from ITVS and LPB for the broadcast of Granito
* $90K from NatGeo for State of Fear
* $50K from POV for The Reckoning
* $80K in Educational Sales for Granito
* $80K-$100K on educational sales for all of their titles each year.
Their transactional VOD sales are not that significant, partly because the film was released on iTunes several years after release — after being available on free streaming for all of that time. Total iTunes revenue: $4K.
Skylight's unique business model makes it extremely clear as to why it's crucial to determine the goals for your project before you decide on a path of distribution and how you will execute that path. Of note: one year after the release of Granito, the dictator of the title was charged with genocide and put on trial in Guatemala. Footage from the documentary was used as evidence in court.
Jon Betz, Collective Eye Films
Like Skylight, Jon Betz, Director of Collective Eye Films, also had a social goal in mind for the film Queen of the Sun: What are the Bees Telling Us?, which he produced with director Taggart Siegel. The film is a profound, alternative look at the bee crisis, and from the beginning, Betz and Siegel's goal was to bring awareness to this issue. Siegel's previous film, The Real Dirt on Farmer John, was nationally broadcast on PBS Independent Lens, but Siegel felt that his theatrical distributor didn't effectively engage grassroots audiences for a theatrical campaign. Siegel felt that through Collective Eye Films, he and Betz could do a better job pursuing a hybrid grassroots distribution approach on Queen.
Collective Eye Films booked their own event theatrical release, including traditional open-ended bookings, one-night and community screenings. Betz: "We couldn't find a theatrical deal that would make financial sense for us as filmmakers. So we chose to grow our own business and non-profit reach by booking and conducting outreach for theaters on our own." By doing this, instead of paying someone else for their institutional intelligence, they used the release of Queen to build their own institutional intelligence.
Here are the numbers from the total and event theatrical release:
* Total cost of release including theatrical, and all DVD, VOD, broadcast deliverables, staff and expenses for the last four years: $338K
* Total gross revenue from release: $473K
* Total net income: $135K
* Total box office gross for traditional theatrical: $245K
* Net revenue to filmmakers from traditional theatrical $108K
* Net revenue from community screenings: $82K
* Total number of screenings: 400
Note that their expenses not only include a staff to release the film but also a salary for Betz, who also functioned as the Producer of Marketing and Distribution on the film. They not only broke even but actually made money from both their theatrical and their non-theatrical release. Part of this has to do with their audience cultivation which I will address below.
Betz:
We started where we knew we could draw audiences, in Portland, in the Northwest and in areas in the West and Northeast where our audience demographic was strong. The Hollywood Theater in Portland had a great opening that ran for ten weeks and grossed over $30K. After Portland, we did a filmmaker tour in the Northeast to understand firsthand how our outreach efforts would work promoting both one-day events and week-long runs. Then we staffed up and led a very interesting 'reverse' roll-out where we booked over 100 cities in North America in the course of 2011. We ended in New York and L.A. and made the connection with Music Box after our Cinema Village screening in NYC." Collective Eye opted not to have a tight focus of release in all theaters over just one or two months as they knew they couldn't do the proper outreach city-by-city with that volume and a small staff. They conducted all of the outreach and PR, with the exception of working with a publicist in Chicago, San Francisco, New York and L.A.
Music Box handled the DVD and VOD of the film, but Collective Eye carved out direct to fan rights. Here are the numbers from the ancillary sales:
* Total gross distributor DVD sales: $100K
* Net revenue from distributor DVD sales: $50K
* Direct-to-fan DVDs sold: 5,800
* Direct-to-fan net revenue from DVDs: $96K
* Educational sales: $38K.
* Total gross distributor VOD sales including Netflix: $74K.
* Netflix sale: $60K
* Net revenue from distributor VOD sales: $52K
Note the much higher net revenue for direct to fan DVD sales over what the distributor sold.
So let's talk about audience. Collective Eye is working to transfer their audience from film to film – including carrying it over to their new film Seed: The Untold Story.
Email list progression:
2005-2008: Real Dirt on Farmer John
* Audience grew to 3,500 over two-to-three years.
* Sources: sign-ups, screenings, handing out clipboards.
2008-2013: Queen of the Sun
* Started with 3,500 from Real Dirt
* List grew to 9,000+
* Sources: website signups, screenings, website, purchases across all direct distribution methods, additions of key organizations and partners.
2012-current: SEED
* Started at 8,175 (Queen list lost names due to unsubscribes/old e-mails)
* Grows to 12,376. Kickstarter campaigns in 2012 and December 2013 for Seed brought in 2,534 new e-mails.
* Note: at this point the amount of audience still intact from the original 3,500 from Real Dirt is in the realm of 1,227. Note the importance of updating and growing your email list.
Facebook
* Queen created a Facebook page after festival launch in summer/fall 2010.

* July 2011 – 6,000 likes
* April 2015 – 25,000 likes

* Seed During first Kickstarter in 2012 – 300 likes

* Start of second Kickstarter in late 2013 – 1,200 likes
* After cross-promotion with QOTS – 20,000 likes in just over one year.
Collective Eye is a great example of filmmakers making a connection with an audience and working hard to carry it from film to film. Instead of relying on an all-rights distributor who owns the connection to their audience, they decided to create their own distribution business so that they would own that relationship and could cultivate it as they saw fit.
Betz:
The hybrid method of release was key for us making a profit in the long run, and we had to do much less work to get those DVD and VOD sales through existing platforms. However we wouldn't have made that money had it not been for our grassroots approach to theatrical and community screenings. By raising the profile of the film our aggregator was able to do what they do best (sell to Netflix, iTunes, Amazon and other wholesalers)." This also allows them to use the revenue from their films not only to pay themselves a salary but to also invest in their next project as they have done with Seed. Betz: "You really have to focus on how you build on each film and discover what works. This comes from listening to your previous films and their impact, the side effects of what happened that was unexpected, and then harnessing that on your next film and pushing it out in a really strategic way.
Some takeaways from these four case studies: Even though there has been quite a number of changes in platforms and companies over the last several years, it is surprising how many basic tenets of the hybrid distribution route have stayed constant:
* Knowing your goals is essential to creating a release strategy.
* Know your audience and target your release to where they are, offer your audience products (event, digital or merchandise) that are interesting to them.
* Split rights have a greater advantage of control and profit for filmmakers over all rights deals.
* Work with distribution partners to get films on major platforms.
* Engaging in distribution and marketing is very hard work and generally involves a staff or at least someone full time managing the process.
* Email lists are gold – develop them constantly.
* Events motivate people to go to theaters.
* Events are excellent ways to connect with audience.
* Event theatrical is a good/great way to promote ancillary sales.
* It is possible to break even or even make a little money from an event theatrical release.
* If you can, carve out direct-to-fan sales since this will give you the following advantages:
* Higher profit margin per purchase.
* Audience data for future projects
* Ability to package the film with merchandise and extra content for higher price points or to make purchasing direct to fan more attractive.
* Most importantly, focus on long-term audience development since it is possible to transition audiences from one project to another if you reward them for their continued interest and keep them engaged.
I would love to hear from any filmmaker who would like to talk at length about their release — especially how they are using their work to create a career. Even more importantly, if you are a filmmaker and have released film in the past, please participate in the Sundance Transparency Project. The more filmmakers that participate, the more robust the results will be. If you would like to have a copy of the PowerPoint from the "From Distribution to Sustainability" Panel that these posts are based on click here. Note: As you will see this is called "gated content" which is one method for collecting email addresses that you can use too. The concept is simple – you exchange a piece of content for an email address. You hope that the person will value the connection enough to give a valid email address and not unsubscribe. Perhaps it should be a subject of a future blog post.
Reach me at Twitter or on Facebook and if you are in LA come to my IDA Masterclass on Distribution and Marketing May 9th.