Back to selection
New Innovators in Distribution: Talking Trends and Hybrid Models at IFP Film Week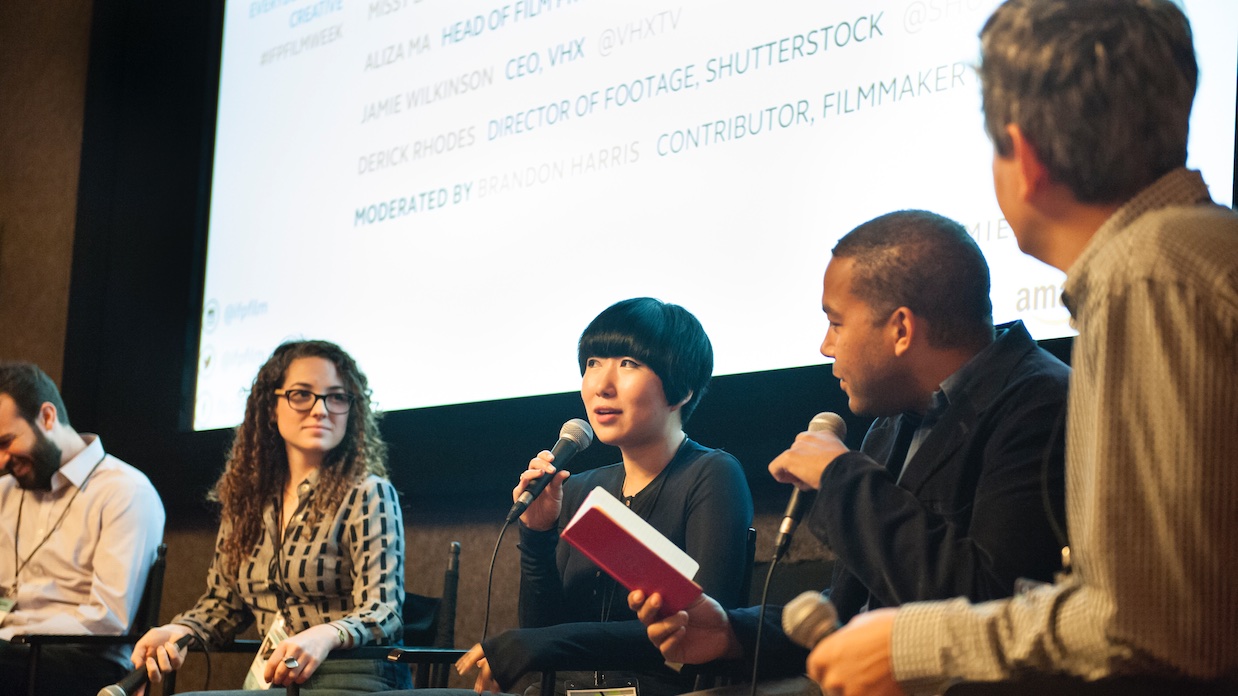 Aliza Ma, flanked by Missy Laney and Brandon Harris, at IFP Film Week
Film has been a dying industry for as long as I've been making, selling and distributing them. That's what they say. And there's certainly evidence that sales agents and distributors are having to re-think how they do business. The recent news that respected arthouse distributor Fortissimo Films had filed for bankruptcy left many saddened, but it seems that news of this nature is increasingly frequent.
One of yesterday's first panels at IFP Film Week, "New Innovators: Distribution," moderated by Filmmaker Contributing Editor Brandon Harris, brought together industry members who are working innovatively in film, TV, and online distribution to discuss the future of their respective platforms (theatrical, streaming, bundle packages, and more), and how filmmakers can get their work in front of audiences.
One of the first topics was that of the theatrical model, and whether screening films in theaters is becoming quaint relic of bygone days. Both Ryan Krivoshey (Founder and President, Grasshopper Films), and Aliza Ma (Head of Film Programming at Metrograph, a two-screen Lower East Side theater with a restaurant, movie-related bookshop, lounge and café) disagreed with that take. Krivoshey noted that while releasing to VOD and online platforms is a financial necessity, not only do most filmmakers want a theatrical release, but theatrical screenings seem to be having a resurgence. He quickly rattled off a list of new or expanding indie cinemas in the area: Alamo Drafthouse (opening soon), Nitehawk, IFC (expanding from five to 11 screens), Landmark (opening a new theater on the Upper West Side), and Metrograph, where the adventurous programming has been a hit since it opened in February.
Ma added that for many titles theatrical screenings are a necessity in terms of building awareness. She relayed the story of Kaili Blues, an experimental Chinese film made by a first time, 24-year old filmmaker. Word on the film went viral after its Metrograph screening, with filmmakers who saw it there, including Guillermo del Toro (@realGDT, a great follow for filmmakers), blasting their support across social media. In fact, that's how I myself found out about that film: on Twitter, from someone whose taste I trust. I went and saw the film, loved it, and recommended it to anyone who would listen. That tiny film, playing in one theater, went on to screen in over 24 markets, and several months later, is still screening.
According to Missy Laney, Director of Creative Initiatives at Bit Torrent, smaller venues allow smaller films to find a home while still having a life online. She noted that digital is only ten years old, and there are more options today than ever before. Jamie Wilkinson, Co-Founder and CEO of VHX (recently acquired by Vimeo), expanded on this, saying that the internet is incredible at reaching into the smallest pockets of rural Arizona, for instance, and that digital distribution enables global, as opposed to territory-by-territory, distribution — especially as more and more of the world speaks English, obviating the need for subtitles.
All the panelists agreed that filmmakers need to find a distribution strategy tailored to the needs of their films, their audiences, and their goals as filmmakers. For example, Laney suggested that filmmakers intent on building a base for future DIY distribution might want access to data about their online audience. Releasing a film on YouTube might garner a million views, but filmmakers won't know anything about who the viewers are. Sites like BitTorrent and VHX, however, hand over to filmmakers demographic and contact data about their viewers.
Many filmmakers today will start or end up with some sort of hybrid theatrical/online/VOD distribution strategy. Here are a couple nuts and bolts takeaways:
Windows: they still exist, kind of. A digital release will make it difficult to later do theatrical, but putting your film on YouTube or Vimeo's paid platforms is not necessarily going to stop you from working with a TV, VOD or online distributor. For example, VHX had a film on their platform and the broadcaster then released it.
Exclusive windows can generate audience excitement. The creators of the web series Under the Table did a one-week exclusive with BitTorrent before going wide with it. The series was shared 200,000 times in that first week, which allowed the creators to identify and build on the series' fans.
Marketing is essential. Some filmmakers, who are more entrepreneurial, can take a tool like VHX, which Wilkinson describes as "the plumbing that lets people set up their sites and apps and work as the distributor or with the distributor," and handle for themselves all the business and marketing that goes along with releasing a film. Others will need partners to do that. VHX themselves, once a company that primarily worked directly with filmmakers, is increasingly partnering with distributors and other platforms and also moving from transactional video models to the subscription streaming models that viewers are favoring.
Multiple storefronts help. Some projects, with recognizable subjects or stars, or built-in marketing power, will benefit from having distribution on their own sites. But placing titles in multiple big stores with foot traffic — whether that's physical, like WalMart, or virtual, like iTunes or Amazon — is also probably a good idea.
Distribution is a process, not something that happens all at once. It's a long slog, and, in the beginning, it's very hard to get people to pay attention to what you're working on. Crowdfunding campaigns are an excellent way of drumming up legit market-tested grassroots support; if people are willing to give you money, you have a viable project, and it seeds the base of the audience you're building. But for it to work, you need to feed them with content, and that's a long, ongoing process. Consider giving away behind the scenes content as promo for the project you're building, instead of saving it for the DVD release.
The Q word: quality. Derick Rhodes, Director of Footage at Shutterstock, noted that wherever you're distributing, you want the best production value and quality that you can manage. There's a lot of content out there, and audiences are more discerning. If you're skimping on cinematography or color correct, people know. By the same token, distributors may be willing to overlook the fact that a film or series has already debuted online, if the quality is high. The obvious and unavoidably pun-inflected example there is High Maintenance.
And that seems like a good place to leave this.