Back to selection
Just Let Go Already! 12 Takeaways After Making the Microbudget Feature, The Purple Onion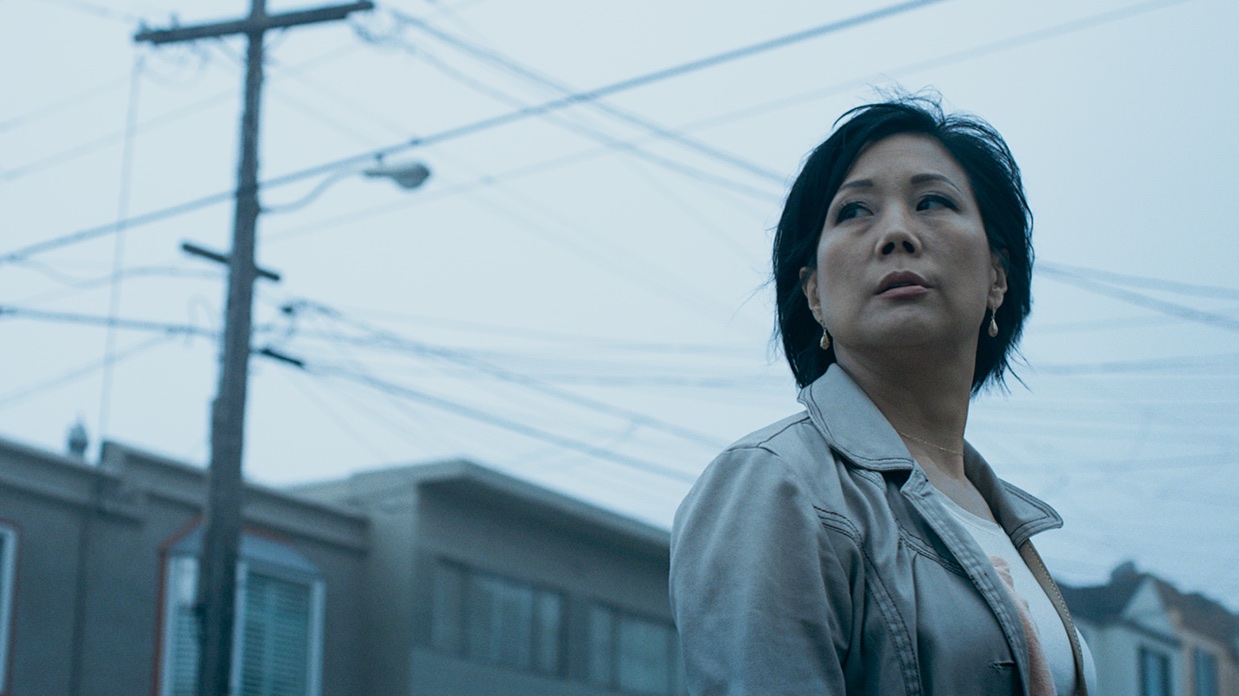 The Purple Onion
After four years of working on my first feature film, The Purple Onion, it's now ready and available online. You can read two earlier articles on Filmmaker where I chronicle the filmmaking process here. Dtill, my nurturing of this film could continue indefinitely with more festivals to submit to, more promoting to do, more distributors and agents to contact. But how long can this go on for? Especially when it's just one person, me, doing all the work? That's why the time has come to let go. I'm releasing my film on VOD today. And I'm walking away.
The experience of making The Purple Onion has given me super valuable hands-on experience in every step of the filmmaking process. Here are 12 epiphanies, reflections, coincidences and lessons I want to share about this process so that perhaps you, dear filmmaker, will be better prepared to make your next (or first) microbudget film.
You're Never Ready
You finished film school, made some pretty good festival-bound shorts, and, really, you embody what a filmmaker is. But there's more to it than that. To be a filmmaker, you need to make films. You are not a filmmaker if you just say you make films and read about films and watch films. There should be a fire inside you, and making a film is what should soothe this burn. It doesn't have to be your dream project — just any project. So start writing. Pick up a camera, get your friends together, and start shooting already. Only when you are doing it can you really call yourself a filmmaker. I created this pressure for myself early on, leading me to write and write, get a few people together, and finally make a feature film. I wasn't ready at all, and the cliche of "had I known then what I know now…" keeps coming back to me. Yet, at the time, I convinced myself and enough people to join me, and together we did it.
Listen to Mark
Mark Duplass, at his SXSW keynote address a few years back, said something that stayed with me: "The cavalry isn't coming." Remember this, filmmaker. More often than not, you're waiting for someone to arrive and help you. You want to hear from somewhere that your idea is good, that you'll get support, that you're doing the right thing. You think you need to hear this from the gatekeepers, money people, production companies, potential investors, producers and collaborators, workshops. You think you need validation, so you give these people power over you. You want to prove yourself to them, so you feel you need to explain yourself, in a pitch presentation, in a elevator pitch, in a synopsis, treatment, logline, or with a handshake. Even if your film looks and sounds amazing on paper, even when you're on fire and ready to make it, these folks will most likely give you reasons why you're not ready. You do not need these people. All that matters is that you do what you must to make your film, by whatever means necessary.
When in development on The Purple Onion we went through this exact laborious process — meetings, conversations, emails, pitches 00 for nearly a year. We needed to go through it to convince ourselves that we never needed it at all. My collaborators were hungry and ready, so we decided we're going to do it ourselves. Again, listen to Mark, and understand that "the cavalry isn't coming." And listen to John (Cassavetes), Robert (Rodriguez), Joe (Swanberg), and all those others that also didn't wait for anyone to make their films.
Create Your Team
When you finally commit yourself to making a film, when you really dive in, you are going down a very personal path. Just when you thought you were going rogue, suddenly, the world aligns with your efforts. People start showing up, not the gatekeepers, but real people eager to help: family, friends, friends of friends, family friends who you haven't heard from in years, even strangers. They all want to help. There is a kind of law of attraction that happens. Accept all the help you can get because without a proper budget and resources, you'll need it.
We raised $20,000 on Indiegogo, not without a small village of volunteers, friends and family all working together. My DP, Bartosz Nalazek, who I knew from when I studied at Polish film school, flew in to work for free. People who I met at festivals, at artist residencies, students at the school where I taught, all suddenly became trusty collaborators and cast members. In the post process we had friends with a successful post house in Poland, Fixafilm, come onboard as co-producers, doubling our budget with in-kind services. This energy continued through our festival run. While most people fell off after a few months, their efforts were invaluable. Mostly, mutual trust and enthusiasm with a few key people, namely my leads, Edwin Li and Noreen Lee, kept us moving forward.
Make Commercials
Most of us need to keep working to live. As a storyteller your skills are in demand to marketers and advertisers. Understand the term "branded content." Low production costs, affordable technology, the need for stories — these are reasons why filmmakers are finding a home in the low-budget commercial world. Advertisers know that with stories they'll successfully connect with an audience. There's also money to be made in advertising while you pursue your passion projects. Filmmaker, it's a good time for you, really.
It's also easy to lose sight of your goals. You went to film school because of films that have been imprinted on your worldview. And when the world of commercial production offers great pay, lots of perks, shorter project timelines, less heartache, it can be difficult to go back to the uncertain world of indie film. Lots of filmmakers I know have straddled both worlds with relative success, yet I think it's impossible to fully serve both with total conviction. If you really want to make feature films, you have to just go out there and do it.
Teach
Having worked as a producer, director, editor, cinematographer before, during and after making your feature, you've got a lot of experience. In the eyes of many, you're qualified to advise, consult, and especially to teach. Film schools big and small are looking for working filmmakers as instructors, so look around and find a fit. Dishing out anecdotal moments from the front lines of filmmaking can be very satisfying, too. The eager students consume these tidbits voraciously, which reminds you of the time you were a student, eager to jump in, tell stories, and make films.
Get Reviewed
When your film's not in any of the top festivals, there's a slim chance you'll get press approaching you, let alone agents and distributors. So you approach them. Hiring a publicist can be helpful but you should also create your own press strategy, especially when your publicist's efforts backfire and the reviewer he knows at The Hollywood Reporter doesn't understand your film and writes a scathing review. Fortunately, there are lots of young and hungry budding reviewers at niche festivals where your film's playing. It's extremely valuable to find your camp of people at these festivals. Connect with them. Stay in touch. You should also be scouring online for all the bloggers, writers, podcast hosts in the city where the festival is hosted in advance to your screening. You'll come across a writer who calls your film "masterfully crafted" and another who says it's "a perverse, Asian-American Napoleon Dynamite." From then on you'll be using those blurbs on your trailer and marketing materials. If your film has a targeted audience, like ours (Asian-American, Indie Dark Comedy) you must find cinephiles who exist in that niche space. Without visibility, it'll be tough for you to get much needed buzz or interest.
Unexpected Opportunities
Less than a year into your festival circuit you get an out-of-the-blue opportunity for a full-time producing job in Los Angeles. A boutique production company working in branded content is looking for someone like you. They see value in your ability to produce a feature film, create your own boutique brand, work as a creative director and producer directly with clients, not to mention all the other hats you've worn. It seems a fitting position and a good change after you've worn yourself thin juggling the feature and everything else. You see the value in making the move to L.A. from San Francisco, your graduation to the next level of filmmaking. Now you see a direct connection between your efforts and your progress in the industry, which feels great. The flipside is that as a company man, 99% of your time is spent working. Your film is not moving forward, and your other projects are not either. After a few months you realize you're not where you need to be. After less than a year you leave because you can no longer pretend it's working out.
Fall in Love
Your film is still making the festival rounds after nearly a year. With full-time work, you've stopped scouting out press opportunities, so when the festivals come and go there are no new connections and doors opening, which is where the value is in screening at any festival. You can't even think of working on your film after a full day at the office. You need an outlet. You try online dating (again). You're not totally surprised when not everyone in L.A. is working in film. You don't mention your film on most dates. Connections are fleeting but you're hopeful. Then you meet a gal who works in film. She loves all of your work. Hers is good, too. The mutual chemistry gives you a new sense of vigor. At this point you've left the full-time gig. She moves in after two months and you're now both working from home. Quickly you realize it was all too hasty and forced. She moves out, and that's that. You get the clarity to finalize matters on your film, and you are able to complete this article.
Love Your Life
Your short-lived relationship taught you to stop stressing about filmmaking and "making it." There's life to live and it doesn't have to be centered on film. No matter the movies you watch, no matter the directors you study, you realize you must open yourself up to living, and to loving the moment. Forget filmmaking altogether, just for a second. Ask yourself these questions: What do you want to experience in this life? What do you want to explore? What do you want to feel? When you've answered these questions, when you've dismissed filmmaking as the end goal, consequently, the films you will make will likely be better. Then perhaps, in your later films you'll not only portray people and life with more depth, but your audience may also experience something more profound.
Post Your Film Online
Your lawyer told you that you won't make any money from your film. It was naive to think otherwise. Without agents and distributors, not totally convinced that iTunes and Amazon are your best bet since you'll still have to pay for your own marketing, you consider the few remaining options. Netflix keeps raising the bar of entry so that's not a realistic option either. Vimeo On Demand is where you'll put your film. If you have a pro membership it's free to upload to their VOD service. And since you can't give your film away on their platform for free, you'll charge one dollar. Sounds fair. You knew this wasn't about making money, you were just eager to make your first feature. And you did. Now you need to get it out there. And again, you know your audience will be more intrigued when they read that your film is "masterfully crafted" and "a perverse, Asian-American Napoleon Dynamite."
Share the Process
All the highs and lows of everything happening simultaneously to the filmmaking process, the relocating to L.A., starting a full-time job, then leaving it, dating — all of it has made you better, more aware, more experienced as a filmmaker, as a person. By reflecting on this process you wish that other filmmakers will find their specific takeaway. Anyone can read about what goes into making a film, including the technical prep, the logistics, on and on, though oftentimes, the most helpful advice can come from a personal place with some more context.
Begin Again
What now? Simple. Start your creative process again. Even if that means going on hiatus for awhile, maybe even specifically avoiding the "creative process" all together. Let that be your new non-process. Whatever it is, listen carefully, to the world, to the little voice inside you, and open yourself up, read, watch, discuss, analyze — it could be anything that gets you in your flow. Whatever it is you need to do, begin envisioning that next project, and start moving towards it today.
Buy or rent The Purple Onion for one dollar on Vimeo On Demand today.
Here's our logline: A young amateur comedian from San Francisco spirals downward until he finds solace in a brief sexual encounter with an older woman.
The Purple Onion premiered at the Cinequest Film Festival and has played at a dozen film festival worldwide. It won the Best Feature: Drama-Comedy at the Indie Gathering International Film Festival.
Matt Szymanowski is a writer, director and producer based in Los Angeles. Follow him on Instagram and Twitter.