Back to selection
A Step Into the Mainstream
Canada's Patricia Rozema has had an eclectic career, spanning films as diverse as her 1987 debut Cannes feature, I've Heard the Mermaids Singing to her Yo Yo Ma feature, Six Gestures: Suite No. 6 for Unaccompanied Cello to her 1999 Jane Austen adaptation, Mansfield Park. The themes and approaches of these films — Rozema's concentration on adult eroticism, feminism, religious skepticism, and social revolution — would not seem to be the kind of interests which would speak to the upright members of the American Girl enterprise, protectorate of the indomitable Kit Kittredge and her wholesome doll sisters. Yet, the sweetly toned Kit Kittredge: An Amerian Girl — which is about the value of love and loyalty, is set in the Great Depression, and stars the wonderful Abigail Breslin in the title role — has proven to be a bright, happy coupling, especially for the director.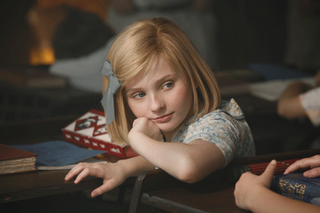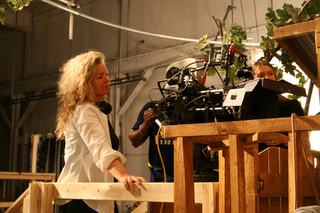 TOP OF PAGE: ABIGAIL BRESLIN IN KIT KITTREDGE: AN AMERICAN GIRL. PHOTO BY: CYLLA VON TIEDEMANN. ABOVE: KIT KITTREDGE: AN AMERICAN GIRL DIRECTOR PATRICIA ROZEMA. PHOTO BY: CYLLA VON TIEDEMANN.
FILMMAKER: Given your arthouse reputation, you'd seem an unlikely prospect to direct a project as mainstream as this.

ROZEMA: I had shot [the relationship drama] Tell Me That You Love Me for HBO, which I think convinced everyone I was not crazy and could do all the things a "mainstream" director could do. [laughs] At any rate, previously I had called Julie Goldstein at HBO, who I had known and loved since my days with Miramax and Mansfield Park, to let her know I was open for business. I was stuck on my own script, called How To Be Unbearably Happy — it's this mock self-help program love story — and she contacted me not long after with Kit Kittredge. It really hit a chord in me.

FILMMAKER: You must have appreciated the story's political and social awareness.
ROZEMA: They are close to my heart. After all my work in news, I still have a great hankering for fact-based work. And the script has children banding together, working hard and taking care of the weak during the Great Depression. They are told that poverty is nothing of which to be ashamed, and the only thing that can take you away from the "good" is not getting out there and trying to do your best.
FILMMAKER: Given the popularity of the franchise, were you pressured to conform to the company's idea of the characters?
ROZEMA: I do prefer to be the Queen of the Castle in all situations, but we were all unified in being accurate, and the story is so rich with history and detail that there wasn't much issue there. What bonded us was Kit. She is a leader, a smart girl and I am known for having a facility towards strong female characters. So, I think they knew I could handle drama and comedy, that I could talk to kids… and that the film wouldn't end of being an air bubbled-head thing, which was important to everyone. And that this project would be additionally affirming if a woman would be chosen to direct it is a mild [rebuke] of sexism. And at the core of the film, tonally, there is my own personality, in that it is infused with a real tenderness, a sense of humor, and I hope a bit of wisdom.
FILMMAKER: Even so, were you surprised to be directing a children's movie?
ROZEMA: It would be more unexpected of me to do an action film. First off, I cannot do a film if I cannot love it, or else the audience will not feel the story. And then there are my own children. I have two girls, four and twelve years old who have changed my life. They have no idea how deeply they have nourished me. Through them, I'd become very open to doing a children's movie. I wanted to show them what skills I had picked up, to involve them in what it takes to make a film and I wanted them to be a part of the process. And this is where I have gotten my chance.
FILMMAKER: You have said you feel somewhat "out of step" with a normal filmmaking career. What do you mean by that?
ROZEMA: I try not to think of what I am doing as a career. It feels like a reduction to view it that way. I have had no strategy at all. I just respond to what has come before me, create what comes from within, and work with people who let me explore in that way. I am of my time though. But on the other hand there are whole [other] streaks of my artistic personality that I can't seem to get funding for!
FILMMAKER: Back in the '80s you worked as an a.d. for David Cronenberg on The Fly. What did you learn from him?
ROZEMA: Most importantly I learned how to control a set without being a jerk, and that by using civility and graciousness you can still explore strange corners of your mind. Also, he says he does not have a precise plan shooting plan, and in the beginning I used to have a document with a rigid shot list. Taking in his approach loosened up my work, helped me be alive to the moment. My work became more fluid, not so obsessive about "here is where we move towards the window for the three-shot." It was also when I learned I didn't want to do horror!
FILMMAKER: Do you think the success of this film will lead you to more Hollywood ventures?
ROZEMA: Probably not. I just finished a script for the [dramatic version of the Maysles' documentary] Grey Gardens. And most of projects I want to make, are… well, let us say no one will give me money to make those things. Which is part of the reason I continue to make short films for 10 cents. I shot one a short while ago, cut it on iMovie — it's going out to festivals. It's called Suspect, and it's about life, the ordered structures of mystery stories, and how that relates to our own unordered world. Purposely, it has a very, very unsatisfying ending.