Back to selection
Five Questions with Let My People Go! Director Mikael Buch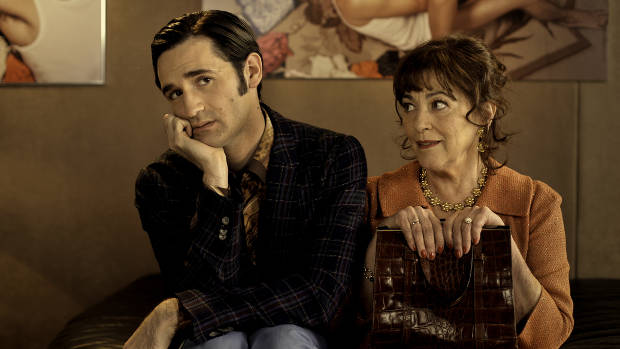 "On a set I feel like the strongest person in the world," says Mikael Buch, quickly adding, "In real life, things are far more complicated!" Buch's new film, Let My People Go!, is his first full-length feature. But in directing and co-writing this frisky combination of sexual farce, romantic comedy, and family drama revolving around a young, gay, Jewish Frenchman named Ruben (Nicolas Maury) and his international misadventures, Buch had some stalwart support, including co-writer Christophe Honoré and actor Carmen Maura (of Women on the Verge of a Nervous Breakdown fame). "All these people gave me the confidence I needed," says Buch, "the shooting of this film has been one of the happiest times I have ever had." In Let My People Go!, Buch attempts to cast off hidebound notions of sexual, religious, and national identity by presenting "a film that would be liberating for the audience. I think we should all feel free to invent our own identity and not to be subjected to it. There are infinite ways of being gay, Jewish, French, or American… You just have to invent yours."
Filmmaker: How much of Ruben's story and background is rooted in yours or Christophe's?
Buch: I'd say that the setting is autobiographical in terms of identity but the characters are mostly fictional. I've grown up in a Jewish traditional family like the one in the film. I am Jewish, I am gay, but I am not Ruben. Nicolas Maury has created a character that is halfway between him and me. Christophe and I wanted to make a film that would be the opposite of a "coming out" movie. For people of my generation, there is something rather dated in the way homosexuality is systematically depicted as a social issue. We wanted to show a more joyful, personal, and liberated vision.
Filmmaker: What other films would say were stylistic touchstones for Let My People Go?
Buch: Ok… Here goes an improvised top five of my main influences, in total disorder:
Torch Song Trilogy by Paul Bogart and Harvey Fierstein. Because the character played by Harvey Fierstein is one of the best gay characters that have ever been created. Because it makes me cry every time I see it. And because it's a film about how difficult it is to become who you want to be without denying who you were, which is also the theme of Let My People Go!
Women on the Verge of a Nervous Breakdown and Law of Desire by Pedro Almodóvar. These films were very important to me when I was a teenager. The performance that Carmen Maura gives in both films was a real inspiration…not only concerning her part. I wanted to create characters that would be as generous, as human, and as crazy as she is in these two films.
The Royal Tenenbaums by Wes Anderson. I love the way in which Wes Anderson turns a kind of retro aesthetic into modern cinema. It gives his films an atemporal feeling that I wanted to give to Let My People Go! It is also a great film about family and about failure.
Annie Hall by Woody Allen. The most important film of my life. I was truly inspired by the freedom of this film; by the way Allen keeps navigating between different genres and even different styles.
Brigadoon by Vincente Minnelli. In this film, finding love means discovering a new landscape. Gene Kelly doesn't just fall in love with Cyd Charisse, he also falls in love with her world. I wanted Ruben to feel the same way about Finland. I also wanted the film to have the kind of "bigger than life" quality that musical comedies had in those days.
Filmmaker: Can you talk a little about working with Carmen Maura, and what that was like?
Buch: I grew up in Spain, where Carmen is not only an actress but also a national icon. Since my teenage years, she has been my ideal actress. So, when I started the casting, I sent her the script not knowing at all what would happen. She immediately understood the project and I think she felt moved by the fact that a young Spanish boy had managed to get his first feature film produced in France. For the first time in my life I directed an actress in Spanish. To me, it's a language of intimacy, almost of family. As a result, a very strong sense of familiarity grew up between us and she became a kind of "cinematic godmother" to me. During the shooting, she was always making sure that I'd have everything I needed to make the film I wanted. I hope we will do more films together.
Filmmaker: How did you come to work with Christophe Honoré?  Had his previous work had any influence on you?
Buch: When I was finishing my studies at La Fémis, the national film school, I had to choose a tutor for my final studies project. I had just seen and loved [2006's Honoré-written/directed] Dans Paris. That film made me feel instantly close to Christophe. I contacted him, he agreed to be my tutor, and later he offered me to do some different jobs on his films, which was a terrific experience. When came the time to write my film, it felt natural to work with him because nobody could understand better the kind of cinema I wanted to do. Also, Christophe is a very go-ahead type and that was inspiring to me.
Filmmaker: This is a rather international kind of film – it takes place in two countries (France and Finland) and there are three languages spoken – do you still consider it to be a "French" film?
Buch: My mother is from Morocco, my father from Argentina, I have grown up between Taiwan and Spain and I make films in France. Obviously this has an impact on the films I make. I think Paris is one of the best places in the world to make films and I feel lucky to live and work there. But I don't think of myself as a "French filmmaker." For example, the career of Roman Polanski is inspiring to me. He has done films in Poland, in Britain, in the USA, in France… and he has never lost himself as a filmmaker. My dream is to have the freedom to be not only a citizen but also a "filmmaker of the world."
Zeitgeist Films' Let My People Go! makes its New York City premiere on January 11 at the Quad Cinema and is showing in select theaters nationwide through April.