Back to selection
"Don't Go Through The System": John Singleton Talks in Toronto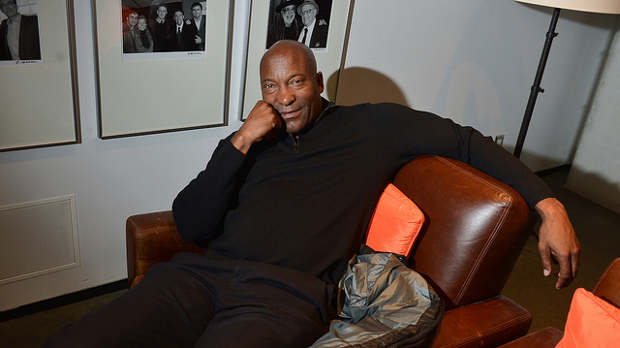 John Singleton (Courtesy Canadian Film Centre)
John Singleton was raised on silent movies. The 45-year-old director of Boyz in the Hood and the Shaft remake grew up next to the Century Drive-In in Inglewood, California. As a boy, he'd literally peek out his window and watch his heroes Bruce Lee and Billy Jack's Tom Laughlin battle on-screen without sound.
"The first breast I saw was Pam Grier's," Singleton confessed to a rapt audience at Toronto's TIFF Bell Lightbox Tuesday night, hosted by director Clement Virgo as part of the city's Black History Month celebrations. "Every time I see Pam Grier I tell her, 'You made me want to make movies.'"
Actually, Star Wars inspired Singleton. "I saw it again and again," he revealed with a smile. "I started breaking down why movies were made. That's when I thought, 'You know what? This is what I want to do. I want to be a filmmaker.'"
He was a nine-year-old kid from the ghetto, a place where his friends reacted to his dream with a curt, "Yeah, right." Singleton found a warmer reception from Spike Lee, who encouraged him to put his vision on screen. "He was the first person I met in the film business who was friendly to me," said Singleton who continued as the audience chuckled, "and Spike can be a little stand-offish."
Singleton recalled the late-eighties as an exciting time. "The possibility was there. I have to give a lot of credit to Spike Lee who came out with She's Gotta Have It in 1986." Lee even offered Singleton a crew job straight out of high school, but Singleton went to USC's  film program instead, something he doesn't regret: "Thank God the motherfucker didn't give me a job! A powerful movie. I thought, 'I'm gonna make a blacker movie.' Spike opened the door to make more serious pictures."
Singleton focussed on completing a screenplay entitled Boyz n the Hood, about the lives of innocent black men and brutal gang members in South Central L.A. Singleton recalled acting out the scenes as he typed them in the campus computer room. "Fuck you, motherfucker!" he would hiss out loud as fellow USC students were completing their dissertations and term papers.
Singleton's dramatic writing method would earn him a $7-million budget to direct 1991's  Boyz n the Hood. He became the first black director to score an Oscar nomination, and at just the age of 23. Just as importantly, the film ushered in an overdue renassiance in African-American cinema, launching the careers of Cuba Gooding Jr., Angela Bassett and rapper Ice Cube, all in their twenties.
"After Boyz, I wanted to make something more romantic," Singleton explained. He needed to avoid the sophomore jinx. In a bold move, he offered Janet Jackson the lead. When meeting her skeptical manager, Singleton reasoned that the release of Poetic Justice in 1993 could coincide with the release of her next record to create synergy. The manager responded with a hint of admiration, "Are you a little Jewish man in a black body?"
While Singleton could have been the Bard of South Los Angeles, he wisely chose to diversify the films he made such as Hollywood action flicks Shaft and 2 Fast 2 Furious; Rosewood, a historical drama about racial violence in Florida; and the coming-of-age comedy-drama Baby Boy. Of the latter, Singleton considered the film a catharsis. "At the time I broke up with my boy's mother, Tupac got killed, and there was literally war on the streets of L.A. …It was a real personal movie for me."
During question period, an audience member inevitably asked Singleton about Django Unchained. After some mock groaning, Singleton surprised the audience by admitting that "I felt like I helped to make it." Over 20 years ago, he met a young screenwriter who showed him something called True Romance. Impressed, Singleton wanted to hire the young Quentin Tarantino to author the remake of The Good, The Bad and The Ugly where the hero journeys south to find gold. Of course, Tarantinto went into directing and never wrote it.
"Django is a great Western," pronounced Singleton who has seen the film several times. "But his films aren't serious. Privately, a lot of black filmmakers are angry becuse no one will give them $100 million to make a Western." Singleton said this as a fair observation and not as an angry outburst. "If I was going to make a movie about that period [American slavery], it would be a horror movie."
Despite two decades of success, Singleton still finds the same barriers facing him and all filmmakers of color: "We live in a multi-ethnic, pluralistic society. In Toronto, you guys see it everyday… but they [Hollywood] don't want to admit this." Racial diveristy on screen, added Singleton is "not something that has to be forced." He advised young filmmakers in the audience: "Don't go through the system. Do it yourself. Do something you believe in."