Back to selection
Jared Moshe on Dead Man's Burden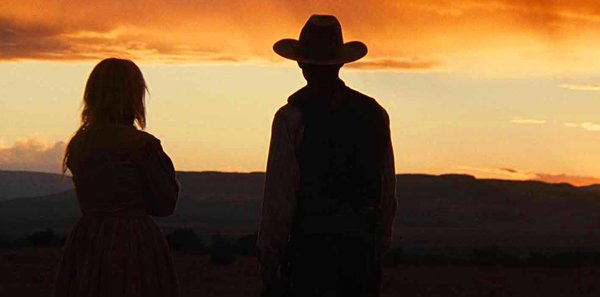 Sumptuous and evocative, Jared Moshe's Dead Man's Burden is the rarest of species in specialty film, a Western. More importantly, it is a fine addition to the genre, a complex meditation on the wages of sin and the burdens of family, a chamber drama with more than a hint of noir. Set during the years after the Civil War in and around a rural New Mexican ranch, the film initially focuses on a young couple, Martha (Clare Bowen) and Heck (David Call). They plan to sell the ranch after the death of her father, a struggling farmer, and use the money to move to San Francisco.
Their plan is upended, however, when her brother Wade (Barlow Jacobs), an assumed casualty of the conflict between North and South, mysteriously returns after many years away. As he learns more about the circumstances of his father's death, he grows suspicious that foul play may well have been involved and with his neighbor Three Penny Hank (a magnificent Richard Riehle) he begins to question the official narrative of events. With an oily mining entrepreneur (Joseph Lyle Taylor) waiting to pounce on the land and happy to pay a pretty penny for it, tensions quickly emerge that may only resolve themselves in bloodshed.
Dead Man's Burden premiered at last year's Los Angeles Film Festival. Cinedigm opens it in New York and Los Angeles today.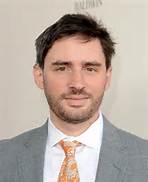 Filmmaker: The movie feels very much steeped in a scholarly appreciation of Westerns past. They're important to you?
Moshe: I love Westerns, they are my favorite genre. I always knew I wanted to make a Western, and when it came time to go make my first movie I was pretty sure it was going to be a Western because you're never sure when you're going to get another shot at this. So it was great to do something that you really love when you start out. In 2011 I'd just produced the film Corman's World and I remember watching that movie and thinking about all these guys and what happens when you have the opportunity to make these films. I remembered I wanted to make a Western and I said, "You know what, I'm going to figure out how make an independent Western on a budget." I was thinking about some different story ideas, and I was really inspired by the Civil War and how that still affects our country today.
Filmmaker: You focus specifically on veterans of Quantrill's Raid, a particularly gruesome chapter in the history of the conflict. Was that just something you found in your research or had you long been interested in what had happened to those men?
Moshe: I'm a huge Western and Civil War buff, so these are long-term interests. I'm a guy who takes my fiancee to go to Civil War battlefields and runs around like I'm at Disneyland. It happens a lot. So I've always been interested in how Quadrill's Raiders continued fighting the Civil War after the war ended, and really how they managed to become robber bandits or these mythological heroes while they were fighting these battles. But by the same token Wade's character was really inspired by this Union general from Virginia, and his family labeled him as a traitor and never spoke to him after the Civil War ended. He died of a stroke in 1869 and not a single member of his family went to his funeral.
Filmmaker: You have a background as a producer, and I can't imagine this was the easiest film to put together given that the actors, as gifted as they are, are not terribly well-known and it's a genre that's been out of fashion for quite some time.
Moshe: I wrote the script with a lot of that in mind. Because I had a background as a producer I was able to know how to make a project available. So I started off [thinking] that no matter how much money I could raise I was going to make this movie. If I could make it for a million, I'd make it for a million; if I could make it for two hundred thousand, I'd make it for two hundred thousand. And it wasn't a traditional means of raising money in terms of we didn't do pre-sales, but our budget wasn't high enough to do that.
The genre creates value because there's a huge market for Westerns in this country. I could go to investors [who had invested] money on projects I'd done before and I could say, "Look, I haven't led you wrong, and the Western may not seem like a huge market but there is a big genre of direct-to-DVD Westerns. If I fuck this up horribly and make a terrible movie, you'll have that as a backup." So doing that I was able to raise a third of the money really quickly. I worked with a lot of people I'd worked with before who trusted me, which made it go faster as well. It was a very quick process. I started in February, the first draft was done by end of March and we were shooting that October. I think when you're making an independent film like this it's very easy to get a chicken and egg situation where you're starting and stopping. When I approached people I was telling them we want to finance the movie for the fall, do you want to be on board?
Filmmaker: How did the cast come together? They're terrific, but I imagine at some point given the desire to make it for more money you were reaching out to more well-known actors?
Moshe: You know, we were sort of trying to figure out how to cast a little bit, some of the smaller roles, we were trying to figure out who could be cast with a major name that would be in for a very short period of time. But I didn't want a situation where I was going to bring in a big-name actor who didn't look like they belong in that period. So I think the realest thing you can do in a Western or any period piece is if you have a modern-day look or feel and you pick them up for financial reasons, the audience doesn't buy the world you've created. But first and foremost I wanted actors who felt like they belonged in the world. And secondly, I knew even if we had more money this was going to be a short shoot. We weren't going to have a lot of time. So I wanted to get my actors on board early, I didn't want one of these things where you have a mainstream actor and he doesn't show up until two minutes before you're shooting and he just kind of shows up on set and says, "What are we doing?" I wanted to take advantage of time before we had to go to really talk through the characters and script with each actor. So by the time we were in our first rehearsal I really felt like we all trusted each other and really knew where we were all coming from. I think getting a big name can be hugely helpful in getting yourself put together and getting yourself out there and financed but it's not always what's best.
Filmmaker: You get tremendous work out of your cinematographer Robert Hauer as well. Can you talk a bit about the visual design of the movie? Were you more intrigued by doing a lot of designing beforehand or did you work in a more instinctual fashion?
Moshe: Well we didn't have storyboards because we didn't have the budget for a storyboard artist so what I did was I drew a very in-depth shot list for the movie and I looked at other Westerns to show Rob what I was thinking in terms of the vision that was in my head. Then we sat down again, I wanted to have Rob on very early and I think we got him on in July or June, five months I guess, before we started shooting. And we would sit down and he would look at my shot list and we would discuss overhead and how we were going to shoot it. So we went in with a very good understanding of what we wanted to do with the film and how we wanted to make it work. And then once we got there my rule was I didn't want to rule out anything improvisational, so I was open to ideas. People could tell me what they think, I wanted everything to be a collaboration.
Filmmaker: Once you started shooting, what were the aspects of production that were most difficult, that you didn't maybe anticipate at the beginning?
Moshe: We did not anticipate the freak storms in making a Western, the road was undriveable so we had to walk two miles to the set a couple of days.
Filmmaker: Did that cost you guys days?
Moshe: It never cost us any days. We finished on schedule, in 18 days, though we definitely lost some time and there was a sense that this was not going to be the easiest shoot. But everyone knew that going in. The second to last day before we were kicked out of our location where we were shooting a gun fight, and the gun caught fire and somehow the piece that creates the spark had gotten worn down. So we couldn't actually shoot the gun fight because the guns weren't firing, there was smoke and no fire. We couldn't just wrap up for that day, so we spent all night welding these plates onto the guns. It was awesome.
Filmmaker: Once you finished shooting and got into the cutting room, were there aspects about what the film means or is doing to the audience that surprised you and maybe weren't in the writing and that you found while you were shooting?
Moshe: Yes. I mean, it was interesting. While I was writing the script I found that I overamplified things in the writing that once we were watching the edit we realized we didn't need to explain as much. We cut out whole scenes that really involved talking about the backstory and we really tried to nail home this point. I think the other thing that we noticed was that in the script format people relate equally to Martha and Wade but what we see in the initial cuts of the film were people are relating to either of them. So we had to find a way to get that balance.