Back to selection
"To Make an Independent Movie is Delusional in a Way": Alaska is a Drag's Shaz Bennett and Melanie Miller at US in Progress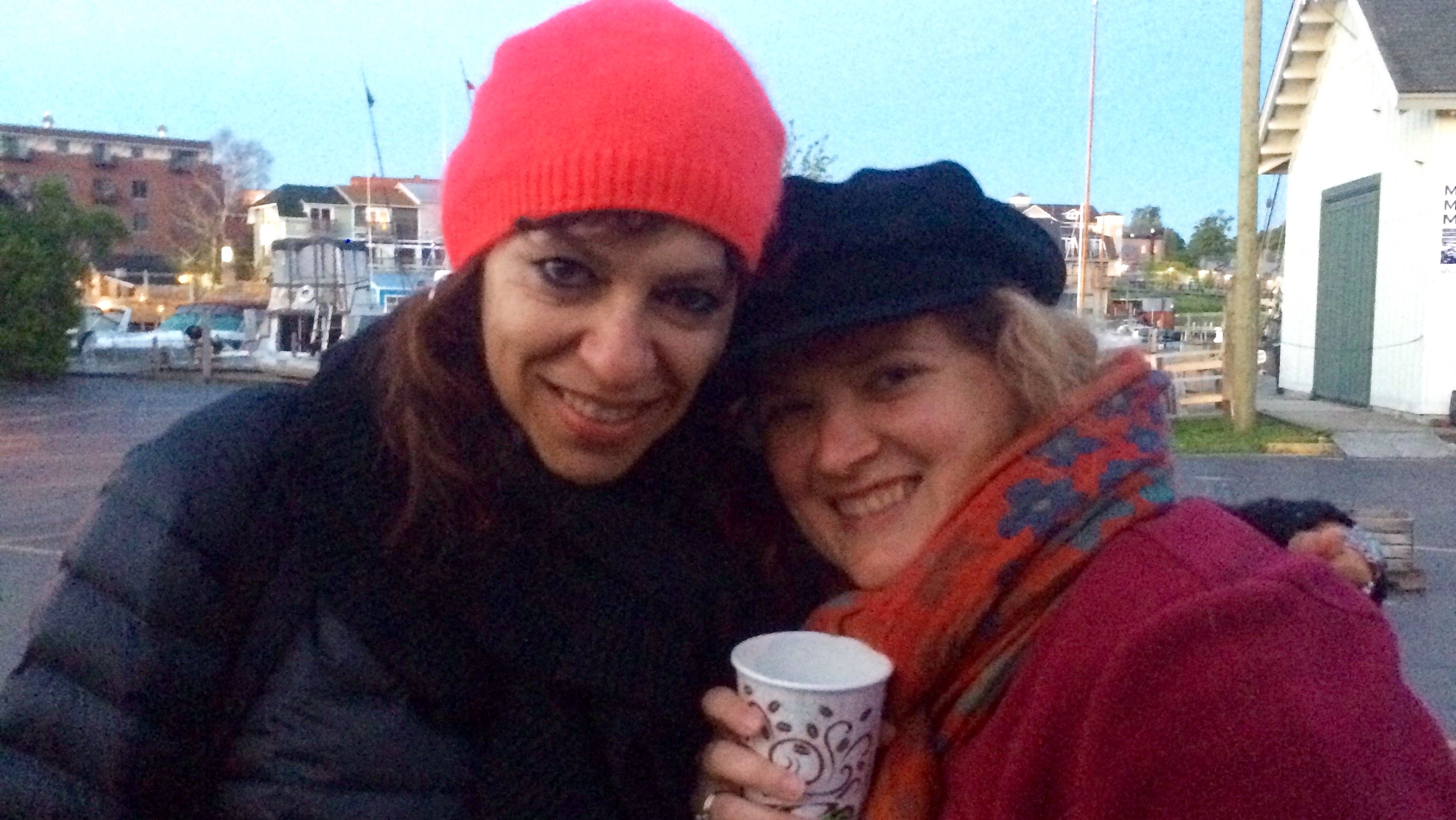 Shaz Bennett, Melanie Miller
US in Progress is a biannual event held in June during the Champs-Elysées Film Festival in Paris and in October during the American Film Festival in Wroclaw. It's a five-year-old industry event that aims to strengthen transatlantic film collaborations and partnerships between European industry and emerging American filmmakers. The fifth US in Progress recently held in Wroclaw featured six films in various editing and post-production stages. The participants included:
Mike Ott and Nathan Silver, Actor Martinez
Shaz Bennett and Melanie Miller, Alaska is a Drag
Zachary Shedd and Daniel Patrick Carbone, Americana
Benjamin Kruger, It Had to Be You
Joel Potrykus, The Alchemist Cookbook
Daniel Y Grove, Seth Caplan, and Reza Sixo Safai, The Loner
Over the course of three days in Wroclaw, amidst the American Film Festival, the participating filmmakers and their producers watched each other's private screenings and attended one-on-one meetings with European buyers and festival programmers from Tribeca, Locarno, Edinburgh, and Wroclaw's New Horizons Film Festival. At the final night's closing celebration, three films were awarded various awards, including a TV acquisition offer for Actor Martinez (Ott and Silver) and digital post-production services for The Loner (Grove, Caplan, and Safai). The biggest prize of post-production services, including a 5.1 sound mix, a TV acquisition offer, and an original score composition, went to Alaska is a Drag (Bennett and Miller).
Written and directed by Bennett and produced by Miller and her Fishbowl Films partner Diane Becker, Alaska is a Drag tells the story of Leo and his twin sister Tristen (Martin L. Washington Jr. and Maya Washington) as they overcome their hometown struggles in Alaska and plan to find their long-lost mother in LA. It's the first feature film for Bennett, who has worked as a television writer and film festival programmer. She is also the current LA co-chapter leader of The Film Fatales, a collective of female directors that was founded in New York in 2013 and now has over 400 members.
A native "Mormon kid" from Salt Lake City, Bennett has been devoted to film since she saw her first movie at the Sundance Film Festival when she was fourteen years old. When Bennett and her producer sit down with me in Wroclaw, Bennett identifies the shift in her life trajectory as this first movie experience at Sundance with strangers in the dark. And though 2,000+ submissions vied for sixteen slots in the US dramatic competition this past year, Bennett dreams of premiering her own work someday at her hometown festival. The idea for her film itself emerged from a daydream she had during her time working in a fish cannery in Alaska. Bennett sets her protagonist at a similar job in a fish cannery, filling his working hours with the daydreams he shares with his sister in his free time. Otherwise, he's rehearsing for a drag karaoke contest and learning to box.
Daydreams may have inspired the film, but I quickly learn during my conversation with Bennett and Miller that a nightmare of nefarious financiers has spoiled much of the process. But after braving through some of their financing cobwebs with me, revealing an honest but unglamorous reality of indie film, Bennett and Miller end our conversation, and their trip to Poland, on a high note. They may have endured some setbacks in the making of Alaska is a Drag, but having just won significant prizes from US in Progress, they're now giving karma a run for its money. And for a project that began as a dream, it seems that Alaska is a Drag is now one step closer to landing on a screen in a dark room somewhere, inspiring the dreams of others.
Filmmaker: How did you two meet and start working together?
Bennett: I had gone through the AFI Directing Workshop for women when I was making the short. After I did the festival circuit with the short, I was looking for producers for the feature. We had already raised $55,000 on Kickstarter when I was connected with Melanie and our other producer, Diane Becker, through AFI. They came on in January and we shot in June.
Filmmaker: And you only shot the film in 18 days?
Bennett: It was really fast and a lot of work between the fight scenes and the drag scenes. There were certain days we'd cover 13 pages with 50 setups. And we shot all the scenes with Jason Scott Lee and Margaret Cho, and all the fight scenes and drag scenes in the first two weeks. It was such a challenge. It was very ambitious for a first feature, but I wanted to do something that wasn't just two people talking in one room. I think that'll be my second feature though…
Filmmaker: Did you make a lot of creative sacrifices to accommodate the time constraints?
Bennett: Yes, and because of the budget, I knew I had to ground the movie and make it as real as possible. In another iteration of the film, I'd have huge fantasy sequences and background dancers. But with our budget, I knew that that wasn't going to be possible.
Filmmaker: What was your budget?
Miller: I think it's always been understood that the filmmaker is never going to tell you exactly what she made the movie for, at least prior to it being sold to a distributor. A lot of sales agents will tell you "don't disclose the budget while we're looking for the best deals(s) for the film." I definitely experienced this firsthand when working on the acquisition side.
Bennett: We also lost some money too — money that was promised to us never came through, so that's why winning the color and sound prize here is so huge.
Filmmaker: Does financing normally just fall through like that?
Miller: This has happened to more people than anyone wants to admit. It turns out that so many women we know have also admitted to experiencing this when producing films. Top executives whom I've known for more than twenty years have told me similar stories about this happening to them.
Bennett: I've heard this story happening to almost every Film Fatale I know. I know it happens to men too…it's all just so shocking to hear, that people promise money and don't send it. It feels like Sisyphus pushing the rock up the hill, and then the rock falls on top of you… I'm just so proud of what we've been able to accomplish given all the hurdles, and it is kind of thematic to film. It's an underdog story, about someone who is a fish out of water, who has to get up and fight everyday, and I feel some of that myself.
Filmmaker: How do you feel now after participating in US in Progress?
Bennett: Seeing it on the big screen here was so amazing, but because it's a work in progress it's very hard to put the movie in front of people before it's finished. But after hearing the feedback and all the notes, many of which were positive, I'm really looking forward to getting back in the edit bay to finish the film. I still feel like we have so much further to go.
Filmmaker: How will you know it's ready for the next step?
Bennett: I used to be a film programmer, and I always caution people not to submit to festivals too rough because you only get one chance to make a good impression. We've submitted to a couple festivals, but I probably won't submit again until we get a stronger cut. We're also having some conversations now about pre-sales in Europe and in the Asian market. Ultimately, I just want the film out, for people to see it.
Filmmaker: Are you considering online distribution?
Bennett: Our lead actors, Martin and Maya Washington, who aren't related even though they have the same last name and are both half-black and half-Filipino, are very popular on YouTube. Because of that, there will be an online component we'll want to use to get the film out into the world. It's an unusual world of drag and boxing that makes the film unique. People in film have boxes to tick off, but the YouTube generation doesn't think like that. So, hopefully this will help us in getting it out into the world.
Filmmaker: Is that the most important end goal?
Bennett: I think when you make a movie, your goal is to touch somebody, whether that's a festival or a financier or a journalist or a random audience member who wants to talk about the movie because she liked it. That's the whole reason people make movies in the first place. So delusional or not, this is all I want to do. I've always been a storyteller, and nowadays, it's just about matching my storytelling skills with the appropriate medium.
Filmmaker: Making movies is delusional?
Bennett: To make an independent movie is delusional in a way. You have to keep believing and fighting the fight until it's finished.
Miller: Well it's a battle no matter what. If you believe in the project, then you have to be willing to fight the fight.
Filmmaker: Or be less delusional and work in TV?
Bennett: I'd love to have a career doing both, but I do think my heart is in independent films. That said, I think the best independent films are on television right now. There's nothing quite like the communal situation watching a movie in a dark room, so the experience of film and the experience of TV is different. But, television today is very character driven because there's so much time to develop the characters, so in that sense, television can feel very cinematic for me. Hopefully, I'll continue to do both. But on a small independent movie, like ours, it's just so incredible to be inspired by the people who stuck around, who've never given up on us. And that's what keeps me going.