Back to selection
Five Questions for Miss Stevens Writer/Director Julia Hart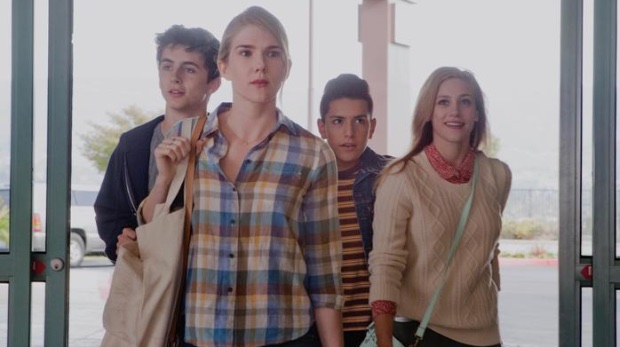 Miss Stevens
We've seen our fair share of films about teacher-student relationships, but they tend to fall into either the titillating or inspirational categories. Miss Stevens is neither. It's a quiet drama which is powerful in its subtlety. The plot itself is understated, but the execution is surprisingly compelling.
The set-up involves Rachel Stevens (Lily Rabe), a lonely high school teacher who reluctantly chaperones three teens – including the troubled and charismatic Billy (Timothee Chalamet) – to a drama competition.
In her directorial debut, Julia Hart, who co-wrote the film with her husband Jordan Horowitz, exhibits an aptitude for working with actors. Rabe won the Best Actress Prize for Narrative Feature at SXSW earlier this year, and Chalemet excels as Billy. Hart wrote the critically acclaimed civil war drama The Keeping Room, which starred Brit Marling and Hailee Steinfeld. With Miss Stevens, she has successfully transitioned to writer/director.
Filmmaker recently asked Hart about her inspiration for the film, whether she identifies as a female filmmaker, and more.
Miss Stevens opened in LA and NY earlier this month and is now available on VOD platforms.
Filmmaker: Lily Rabe perfectly embodies Miss Stevens. Did you always have Lily in mind for the role? How did you initially connect with her?
Julia Hart: I didn't know Lily when I started to create Miss Stevens, but now it's so hard to imagine a time when Lily wasn't Miss Stevens. She so fully and exquisitely inhabits her body and her life, and I no longer remember when she wasn't her. Lily and I first met because Jordan Horowitz (my husband, who is also the film's producer and co-writer) and Lily went to college together. The three of us went out to dinner one night by chance and she and I fell in love. And then it clicked: she had to be Miss Stevens. So we sent her the script hoping she would agree and now, well, there's a movie.
Filmmaker: Like Miss Stevens, you've worked as a teacher. How much of your life experience did you draw on for the script?
Hart: I became a teacher right out of college and started teaching high school when I was 25. I was very young and these kids, 16, 17 and 18 years old, are looking to me to be the responsible adult, the role model, when I don't even really know what that means yet myself. And that was something I had never seen before in film or on television. I had seen the inspirational teacher. I had seen the "bad" teacher. But I hadn't seen an exploration of the fine line between what it means to be an adult and what it means to be a kid. I hadn't seen the teacher who is sometimes inspirational and sometimes bad. I wanted to show a flawed, complex teacher. A flawed, complex woman. I wanted to take the idea of "your teacher is a person too" as far as I could. However, Miss Stevens is not me. I like to say she is inspired by my days as a teacher, but not based on them. I was young, yes, but I wasn't lost and I wasn't grieving.
Filmmaker: Miss Stevens is your directorial debut. Was it always clear to you that you would direct this project? Why or why not? What were your biggest fears going into the project?
Hart: I definitely had not given myself permission to be a director when I started to write. I was a teacher for eight years and then I quit to be a screenwriter. I was literally in the supply closet at school taking phone calls from agents. I finished out the school year and got my first job sometime that summer and I've been writing ever since. Someone else was originally attached to direct Miss Stevens. And then I watched a film get made of the first screenplay I had written (The Keeping Room) and I was suddenly very ashamed of myself.
I realized that there are far too few female stories and far too few female storytellers for me to let someone else tell my story. It was being on that set that inspired me to direct Miss Stevens myself. As women, we are socialized to not seek out roles of power. I am embarrassed that I fell prey to that myself and I won't let it happen again. Once I gave myself that permission, there was no more fear.
Filmmaker: At one moment in Miss Stevens, I needlessly worried that Miss Stevens' relationship with Billy was going to cross the line into illegal and unethical behavior. I love that you manage to create sexual tension between the two characters without it feeling titillating or sensationalist. What was your approach to directing the scenes between the two of them?
Hart: Our approach from start to finish, from writing to editorial, was authenticity. So it wasn't even a matter of thinking about creating that tension, it was just the realistic and honest portrayal of how people feel and what people do. The one very conscious choice, which was also the authentic one, was to never have anything happen between them. That was a bottom line for me from day one. And there were times when I had to fight for it.
It's incredible how many audience members squirm and think the worst will happen because we've been trained as an audience to expect that a young man gets what he wants from an older woman. It was everything to me to have the woman be the powerful figure, that the older woman be the one to say "no". That for all of Miss Stevens' flaws she is not a male fantasy. At the end of the day, she is a real, authentic, good-hearted woman.
Filmmaker: One of the reasons I found Miss Stevens so refreshing is that the lead character is a real woman with genuine flaws and desires and needs. It's so rare that we get to see a realistic female lead on screen. Did you set out to tell a female story or just a human story? Along those lines, do you identify as a "female" director or just as a director?
Hart: Yes yes yes yesyesyesyesyesyes. Yes. I'm here to tell female stories. I'm here to tell human female stories. I'm a female director. I wear that title with so much pride. I'm a mama director. I need to have a T-shirt made that says that. As I said before, there are so few female stories and so few female storytellers that we need to shout it from the rooftops when one comes along. Maybe someday there will be an equal amount of female directors to male directors, but until that day comes we need to call it out. It needs to be reaffirmed that THIS MOVIE WAS MADE BY A WOMAN. So that we begin to normalize it. And people will start to look around and realize that there are SO many more female directors than they thought. And if we just say director, they won't know. But even if that day comes, even if there are equal numbers, I'll probably still want to be called a female director. I'm just so damn proud to be a woman.