Patrick Wang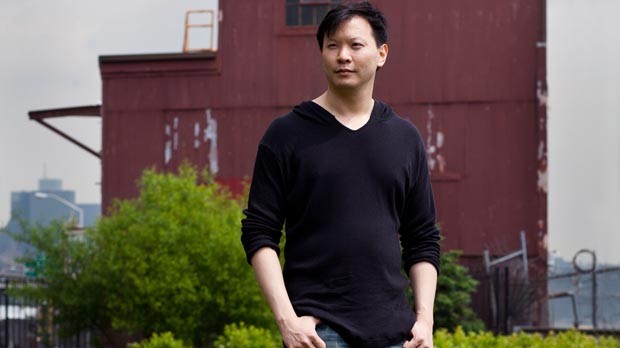 Patrick Wang
In the field of economics there's an idea known as "revealed preference," notes actor, writer and director Patrick Wang. "It's the concept that a lot of times you can't ask people why they did this or that. You can't do an experiment — you have to look at their life choices, their lives in all their messiness and see how that reveals something about them."
Wang, a Texas-bred New Yorker, earned a degree in economics from MIT and worked in the field for a decade before self-producing his debut film In the Family, a left-field independent sensation that still lives somewhat under the radar. And while "revealed preference" may sound like an abstract, almost clinical term, it holds a key to Wang's storytelling, which focuses a coolly compelling gaze on what might in other hands be conventional social-issue melodrama.
The Tennessee-set In the Family stars Wang as a working-class gay man, Cody, who, following the sudden death of his partner, is caught in a custody battle over his partner's biological son, a six-year-old the couple raised together since the boy was an infant. The kid calls Cody "Dad," but the deceased man's sister has all the legal rights. Suddenly alone, discovering himself an outsider in the Southern community he, perhaps naively, has thought of as home, Cody fights to get his son back. His struggle is enraging and heartbreaking. As an actor, Wang has an inviting, hypnotic cadence. As a director, he seems inspired a bit by the long-take style of Ozu and Edward Yang, while he illuminates key scenes with unexpected stylistic flourishes. "My favorite filmmakers are people of the theater," Yang admits. "Tony Richardson, John Cassavetes, Orson Welles, Ingmar Bergman." Wang also says In the Family was inspired by reading Evan Wolfson's 2004 book Why Marriage Matters. "Evan has a beautiful way of making you see why marriage equality and LGBT issues are [everyone's] issues."
Wang wrote In the Family intending to sell it to a producer, but he found meetings about the script's development painful. When his father fell ill, Wang decided to shoot the film with his own savings. "Fathers and family were topics on my mind, and I wanted to do something meaningful. He passed away a couple of weeks after we finished shooting, but he got to read it and we got to talk about it, and there was something special about that."
Wang completed the film in March 2011 and submitted it to festivals and distributors… to no response. "By the time we got to November, I was on 'Plan G,'" jokes Wang. Rather than wait for an acquisition or an A-list festival, Wang thought, "Let me get it in front of audiences and nominating committees." In the Family finally premiered in October at the San Diego Asian Film Festival, and then Wang four-walled New York's Quad Theater in December. Filmmaker Dave Boyle saw the film and became, says Wang, "an active champion," penning a rave for Filmmaker's Hammer to Nail review. The Quad run scored a great New York Times review and that month the film received a Film Independent Spirit Award nomination for Best First Feature.
Perhaps in keeping with the film's old-school charm, Wang didn't rush the film to VOD or iTunes. Instead, he brought on booker T.C. Rice and has been self-distributing to more than 30 cities. When I spoke to him he had just scored his first holdovers — in Irvine, Charlotte and Knoxville. Aided by a Roger Ebert rave, the film returned for a second run in Chicago. After months in theaters, its Rotten Tomatoes rating is 100%. Of the film's success, Wang says, sounding a bit like his character in the film, "half of it is from what you shape when you see things are happening, and half of it is from what life comes up with on its own."
Contact:  www.inthefamilythemovie.com; patrick@inthefamilythemovie.com
— Scott Macaulay
Photo By: Richard Koek
Links
www.inthefamilythemovie.com
patrick@inthefamilythemovie.com