Back to selection
Wizard Mode Filmmakers on Why They Went the Digital Distribution Route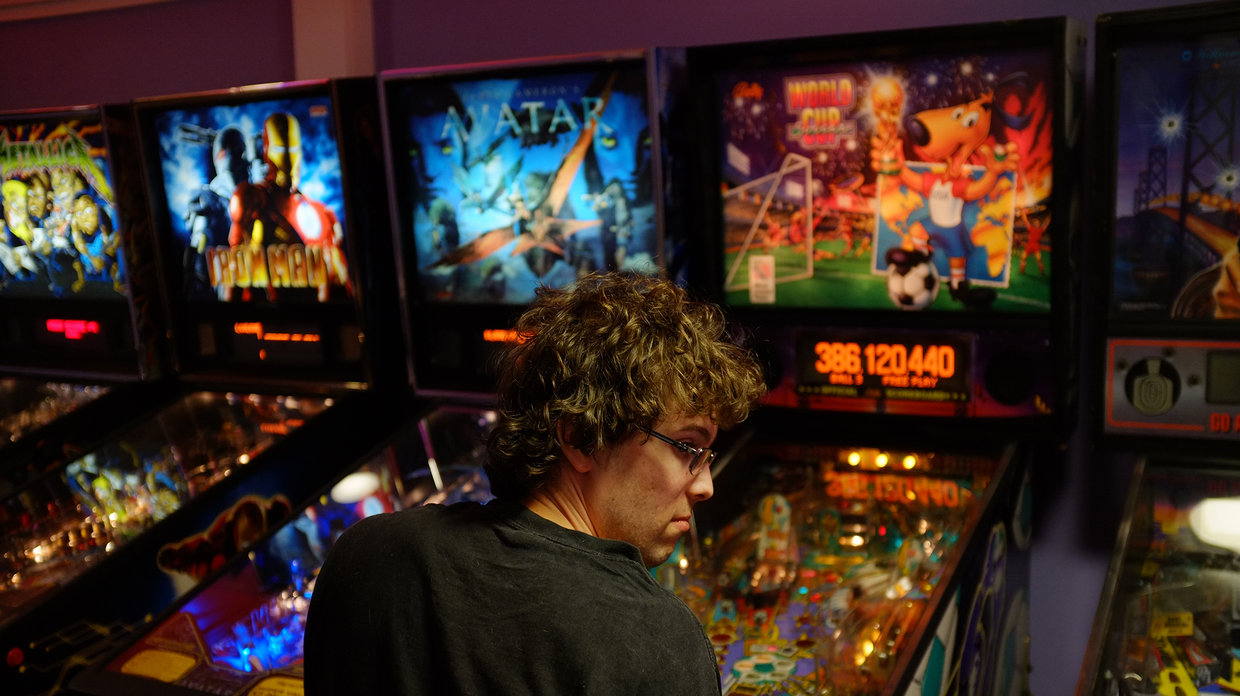 Wizard Mode
Directed by Salazar Film (Nathan Drillot and Jeff Petry), the documentary Wizard Mode relates the story of Robert Gagno, a young man with autism who is one of the world's highest ranking pinball players. Wizard Mode tracks Robert's rise on the international pinball circuit and his efforts to forge an independent life for himself.
The film, Vimeo's first-ever original feature, had its world premiere at Hot Docs earlier this year and is available now on Vimeo, VOD and iTunes.
Filmmaker recently asked the film's directors Nathan Drillot and Jeff Petry about working with a subject who has autism, getting the rights to The Who's iconic "Pinball Wizard," opting for digital distribution, and more.
Filmmaker: How did you initially approach the subject matter and how did your concept about the film change once you got to know Robert?
Drillot and Petry: When we first met Robert we were anxious about how to interact with him, always editing ourselves, wondering whether or not we could even say the word "autism" around him. Basically, we were experiencing Robert through the lens of his various labels. The turning point for us was a trip that we took together to shoot at the Stern Pinball factory in Chicago via a 52-hour train ride. It's a long story, but the short version is that Robert didn't want to fly, we thought it would be fun to go by train, we ended up stuck on this terrible Amtrak for days, but, we had all of this time together to just talk.
Before we knew it, we were talking about life and love and anxieties and hopes and aspirations. It was this bonding experience that allowed us to encounter Robert as Robert the human being, with all of the complexities and uniqueness he has to offer. It was at this point that we really discovered what the underlying mission of the film would be — to take the audience through the same journey we had with Robert, to be introduced a person with autism, get to know them and in the process shed the label of "disability," and in the end, realize an amazing individual and a close friend on the other side.
Filmmaker: I imagine it was difficult getting the rights to use the song "Pinball Wizard." Can you talk about how you got the rights and how and why the lyrics were changed for Wizard Mode?
Drillot and Petry: When would tell people about Robert and our film, inevitably they would say, "Oh so he's a real life Pinball Wizard," and this always made us a little uncomfortable. Robert is not deaf, dumb, nor is he blind, and this almost automatic association people make, while innocent, is in fact lumping disability into one big category, which is counter to our film's thesis. So we saw this great opportunity to flip that on people as a way of gently challenging this insensitivity. We were so excited when Dave Hartley (from Nightlands and War On Drugs), a pinball player himself, agreed to cover the song and change the lyrics to be specific to Robert.
As for getting the rights, we actually didn't find it all that difficult, beyond jumping through the usual hoops. We had a friend who is a music supervisor help us reach out to The Who with what we wanted to do. They liked the idea and gave us their blessing.
Filmmaker: This is your first feature documentary. What do you wish you had known before you began the project? What advice do you have for other first-time feature directors?
Drillot and Petry: The number one thing that we wish we had known was to start building our crowdfunding campaign (and in proxy our social media) from day one of filming. It's critical for all documentary filmmakers to understand the importance of crowdfunding as a way to build an audience for your film. Our crowdfunding campaign was a success, but we could have avoided a lot of long nights and intense hours if we had began building our audience and acquiring assets from the beginning of the project instead of a year into it. As filmmakers in 2016 it's more and more critical to identify the audience for your film before you even begin production and start engaging them as soon as possible. That's our biggest takeaway from the project and our number one piece of advice to anyone making an indie film in today's market.
Filmmaker: How did Robert's autism affect your relationship with him as a subject? Did you feel you had an even stronger responsibility to him? Did he have any creative say in the final film?
Drillot and Petry: One of the more typical characteristics of someone on the autism spectrum can be difficulty around social cues and emoting. Robert has this great smile, really warm, but as we got to know Robert better, we could see that this smile could mean many different things — everything from joy all the way to overwhelming anxiety. So we had to really be observant and conscientious, especially during tournaments when he was really focused or under pressure.
Early on in the filming, we realized that we were developing a real friendship with Robert and that our relationship was going to extend beyond the film, so I think this really shaped the way we approached shooting. A lot of this film is us just hanging out and talking about life. The other half is, of course, Robert the athlete, in competition and striving to become the best in the world. We tried to explain the filmmaking process to Robert as much as possible. When he did the interviews he was fully aware that he was making statements that would become public. Robert always said that he wanted to be apart of Wizard Mode to show people who might not know someone with autism what it was like to live on the spectrum. He was very motivated to have his story inspire other people.
There's a funny story that we like to tell at Q&As for the film regarding Robert seeing Wizard Mode for the first time. Maurizio, Robert's dad, chose to watch the film for the first time at the premiere in Toronto, so he and Robert didn't see it until the opening night at Hot Docs. We were really nervous to see their reaction since the film represents two years of their lives condensed into 100 minutes. After the screening, Maurizio was in tears and very emotionally told us that he loved the film. We turned to Robert to get his reaction, and he said, "I wish there were more shots of me doing backflips, but otherwise I liked it."
Filmmaker: Did you get traditional distribution offers? Why did you opt to go with a streaming service instead of a theatrical distributor?
Drillot and Petry: Almost all of our work to date has lived on the internet. We've done traditional commercials, and linear broadcast shows, which have been fun, but our favorite medium has always been online. Part of this is because a piece has a longer life span, can reach so many more people and can be whatever length it needs to be.
We've had such a great relationship with Vimeo from the very beginning of Salazar's existence, and Vimeo's community and audience has been so instrumental in helping us get our work out into the world. So when it came time to make the big step of releasing a first feature, it just kinda felt right that Wizard Mode be their first Vimeo's Originals feature film. Having said this, the experience of showing Wizard Mode in a theater has been very fulfilling. We kind of got to have our cake and eat it too because we signed a distribution deal in Canada with Blue Ice Docs and will be having a theatrical run towards the end of 2016. More and more it seems that VOD is being seen as a way to build an audience for a limited theatrical run instead of being a hindrance.
Watch an exclusive trailer from the film below:
Wizard Mode Exclusive Clip – "I was meant to play pinball" from Salazar on Vimeo.