Back to selection
The 24 Features of 2022 Shot on 35mm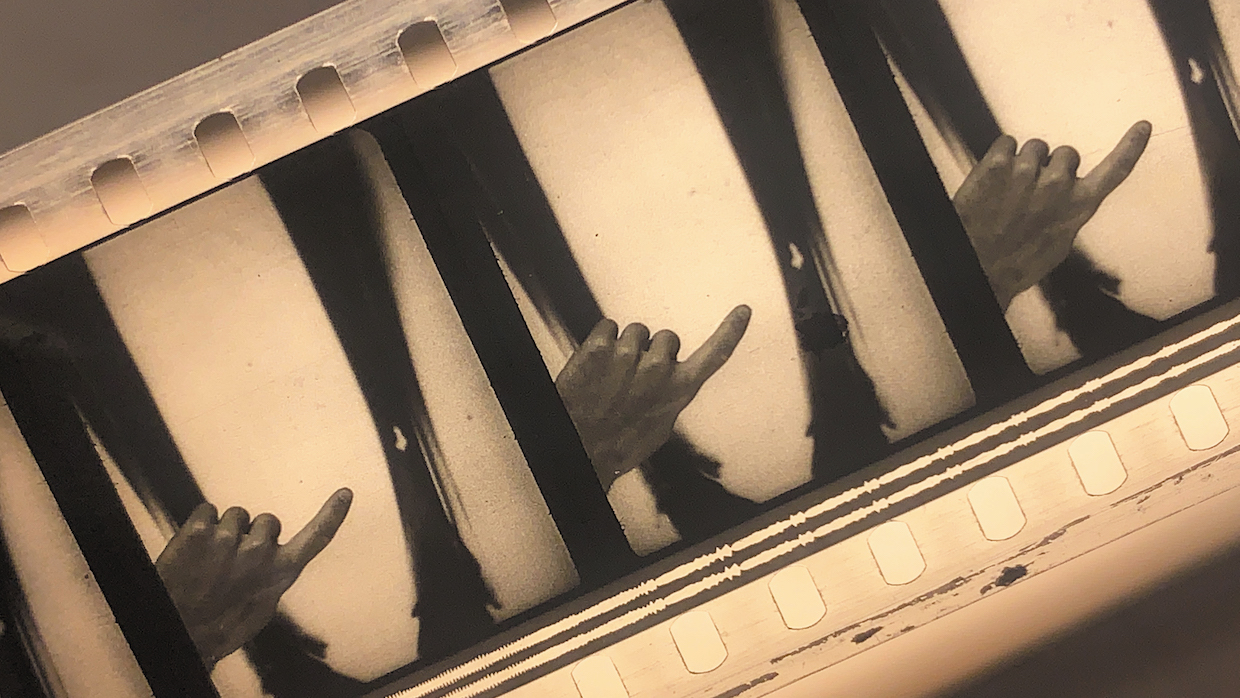 Image by Carolyn Funk
The main poster for Steven Spielberg's The Fabelmans displays its characters within the frames on three strips of celluloid: young Steven Spielberg stand-in Sammy Fabelman (Gabriel LaBelle) holding a 16mm camera, mom Mitzi (Michelle Williams) dancing in car headlights, etc. This makes sense for the "childhood of a 1970s filmmaker" plot, and it tracks technically as well. Like every Spielberg feature—save the digital-world portions of Ready Player One, the CG of The BFG and the mocap experiment of The Adventures of Tintin—The Fabelmans is shot on 35mm. But look closely and this key art doesn't make any sense: The vertical aspect ratio of the frames is closer to Instagram's 4:5 than any actual stock. It's film fetishism without format accuracy, which suits a movie shot on celluloid that can't be seen on that format anywhere and a moment when 35mm prints of digitally shot films like Decision to Leave or Glass Onion are shown as event screenings.
In some ways, my most meaningful interaction this year with a new 35mm work came from Scott Stark's live performance of his Love and the Epiphanists (Part 1), a mixed-media project whose most dominant component comes from 35mm trailers Stark repurposed, heavily altered with an optical printer, then outed back to their native format. These trailers largely came from my (pre-)teen years, flooding my eyes once again with snippets from Deep Impact and Angel Eyes. Why trailers from that era? Stark wrote in an email that he bought "large blocks of trailers on eBay that were reasonably priced and went through them to find sections that I might be able to work in with my theme and story. My choices were based on what was available, but also attuned to a period of cinema when 35mm (especially trailers) was on the way out and using them as artifacts of a dying medium—and the culture they reflect—to peek into the future."
Bleak, but possibly apt: The number of U.S.-released features in 2022 shot, in whole or in part, on 35mm is lower this year than in my previous eight round-ups [in order: 2014, 2015, 2016, 2017, 2018, 2019, 2020, 2021]—around 24, depending on how you count, below the usual roughly 30 total. This doesn't account for all celluloid productions. When I first started rounding up the year's U.S. theatrical releases shot on 35mm for this publication in 2014, the potential resurgence of large-format film wasn't on my mind. But, for externalizing sheer devotion to celluloid, this year's standout image is from Jordan Peele's Nope, his first film on film, whose press kit is accordingly detailed about the mix of formats: "Nearly 100 percent is shot on 65mm film. About 40 percent of the film is shot with IMAX cameras"—about 47 minutes—with most of the rest shot on 5-perf 65mm. Christopher Nolan's preferred format is explicitly valorized by Nope's narrative: To make sure an electricity-crippling alien life form can be captured for posterity, cinematographer Holst (Michael Wincott) primarily uses a hand-cranked IMAX camera that doesn't actually exist, built for the production by attaching a handle to the Mk II model. There are two pieces of 35mm alongside all the large-format images: excerpts from fake '90s sitcom Gordy's Home and, alongside the Mk II, images from "the hand-cranked 35mm camera that Holst uses in his abduction scene." Wincott shadowed DP Hoyte van Hoytema, making him one of two actors this year whose preparation involved literally learning how to shoot non-(once)-standard film. The other was LaBelle in The Fabelmans, as recreating Spielberg's childhood required him to master the lower-gauge 8mm and 16mm tech of the time. The Hollywood Reporter's Rebecca Keegan notes that Spielberg ensured those cameras "were loaded with real film and that what LaBelle shot was developed." The actor told The Playlist's Gregory Ellwood that "I've been told I'm going to be sent all that footage, so I can then start making my own movies." 
The year's primary digital production with a smattering of 35mm, Bullet Train, used celluloid primarily to differentiate the look of outside-locomotive flashbacks of one character's Mexican childhood, as DP Jonathan Self told lens company Hawk's website. I was unable to obtain comment on another hybrid production, the British golf comedy crowdpleaser The Phantom of the Open, this one a split of 16mm and 35mm. The year's oldest 35mm footage from an otherwise new feature came from Phil Tippett's multi-decade, stop-motion labor of love, Mad God. The f/x artist shot its first footage in the late '80s, then laid it aside. "Twenty years later, some of the guys at my studio were watching me archive about three minutes of Mad God footage," he told Fangoria's Brandon Weinerdi. "They looked over my shoulder, thought it was an old Czechoslovakian movie from the '40s and asked what it was. I told them that it was just a failed project, but they were very intrigued." That was a small portion of the final, predominantly digitally captured running time, but, as Tippett told Boston Hassle's Oscar Goff, he "used practically everything that I shot. It was on 35mm film, but we added film grain to the rest of the stuff we shot—I just liked that look better." 
Tippett's work was a key part of the original Jurassic Park, a franchise that ostensibly ended with Jurassic World Dominion, which returned to the series' celluloid roots after shifting to digital for the preceding Jurassic World: Fallen Kingdom. While a small portion of this chapter (most notably a dinosaur fight in low-light mines) was shot digitally, DP John Schwartzman told British Cinematographer's James Mottram that the production used the same 35mm and 65mm camera bodies as the first film. Testing was done to ensure the 65mm ones would survive the Canadian cold: "Both those bodies were on Lawrence of Arabia. So, we're talking about some equipment that's a little long in the tooth. Panavision has a cold room, basically a room that's like a freezer. We went in there, we set the temperature below what we thought it was going to be in Canada, ran all the gear." On IMDb, Noah Baumbach's White Noise has its formats listed as also a mix of 35mm and 65mm, though DP Lol Crawley clarified to The Film Stage's Nick Newman that "The second unit had VistaVision, I think. It's not actually 65, but 35mm film you're pulling through horizontally—so you're pulling through eight perfs at a time."
Dominion was one of Hollywood's first major pandemic productions; shooting in Russia during February and March 2020, Juho Kuosmanen's Compartment No. 6 encountered its own lockdown problems. The production had decided to shoot on two-perf 35mm because, as DP J-P Passi told British Cinematographer's Zoe Mutter, "It's only a little bit bigger than 16, so it's still intimate, but it's less grainy, and we could stabilize a bit more if needed. It's also a bit cheaper, which didn't harm us." But there were no two-perf 35mm cameras available to rent in Russia, so the production rented one from ARRI Berlin, and when it was time to develop footage that required push processing (about 30 percent of the material shot), it had to be, at least nominally, smuggled out of the country to Studio l'Equipe in Brussels. As Passi writes in an email, "We weren't that satisfied with the Mosfilm's push-process (worth mentioning that their normal process was great), so we felt we [had] to process the rest of the pushed material somewhere else. As the borders were suddenly closed due to pandemic, it wasn't possible to ship the material by the book, [so we had] to take it out of the country without the official procedure. I'm pretty sure that the Russian law regarding the transportation of audiovisual material over the border is more like a relic from the (previous) paranoid Cold War era than something that they take seriously nowadays. I'm sure that they know that there are—or at least were, before the borders were more or less closed again due to war in Ukraine—thousands of hours of material shot in Russia traveling over the border every day, namely in people's phones and memory sticks."
From its initial conception, Marie Kreutzer's historical biopic Corsage was intended to be shot on 35mm, a choice that DP Judith Kaufmann told François Reumont in an AFC interview was "neither faddish nor a gesture of opposition against the current prevalence [of] digital cinematography." For a scene where a fire is lit inside a castle, the levels of smoke were hard to control, and LED projectors were used to simulate its light instead. "I feel that smoke is a bit too much, especially when shooting on film," Kaufmann noted. "The texture of the grain gives enough life to the image, and adding smoke just seemed out of place." For her feature debut Aftersun, Charlotte Wells went the opposite way, leaning into grain-on-grain in a sequence where Paul Mescal's father character films his sleeping daughter on miniDV. "The camera's on this weird night mode, and there's this incredible, latticed pattern on the screen," Wells told Isaac Feldberg in an interview for The Playlist. "He puts the camera down, and it's just pointing into the sheet, and it's this pink texture. We reshot it with 35mm, so you have the grain of 35mm, on top of this weird digital noise. I would have played that shot for three minutes." 
Other debut features on 35mm include Jerrod Carmichael's On the Count of Three and veteran TV director Michael Morris's To Leslie, the latter shot by Larkin Seiple. "Shooting film is not a normal request on an independent project, so we knew we had to push for it from the beginning," Seiple wrote in an email. That said, before the 19 shooting days, "We actually did a shot-for-shot test with 16mm, 35mm and Alexa. We found that 16mm 200T is almost as good as 35mm 500T, also that the Alexa in certain light looks very, very close to film. But at night, film really stood apart. Headlights and brake lights were filled with rich colors, and the halation effect on practicals and street lights felt much closer to our references" of '70s and '90s street photography. "The other big advantage of film was its ability to work with neons. Our film is filled with bar scenes, and we let a lot of the practical neons do the lighting. When we tested neons against digital, the lights clipped the colors and the saturation felt over the top and a bit fake." 
Of The Box, a rare Mexican feature shot on 35mm, director Lorenzo Vigas wrote in an email that "Most of the films shot in digital video […] 'try to look' like if they were shot on film. During post-production, grain is added and other tricks applied to try to fool our eyes. Why is that? Film projection resembles the way our eye functions. It's an organic process that resembles our vision." In France, Bertrand Mandico shot After Blue in 35mm scope and designed the sets and effects for the format. "I neutralized all angles in the sets, and I worked [with] textures and materials that catch the light in a unique way," he wrote in an email. "We are careful with reds that can drool and with blues that can engulf the image." Regarding Kodak's inadvertent monopoly over celluloid, Mandico wrote, "I regret that there is no other film, because I don't like the idea of a monopoly, but Kodak is very good, if you can master it" and approvingly cited Polavision, Polaroid's 1977–79 experiment in a quick home development format: "I think this film would have been revolutionary, if it had been used on a large scale. I'm looking forward to the arrival of new hybrid and mutant films, the resurrection of Fuji or whatever."
In a Film Inquiry interview with Clement Tyler Obropta, John Andreas Andersen gave the novel reason for shooting the Norwegian oil-rig-sinking disaster film The Burning Sea on 35mm (not, note, former doc standard 16mm) that "we wanted to get more of that documentary 'real' feel, and I think the film just looks fantastically cool going into an industrial location." Luca Guadagnino had two features this year, but the vociferous 35mm advocate wasn't able to wrangle that format for his documentary Salvatore: Shoemaker of Dreams. He did, however, make Bones and All on his preferred format with DP Arseni Khachaturan, all of 28 when he shot it. "Although I do shoot digital projects, most of the features I've shot so far have actually been on film, which is perhaps a little strange because nobody ever taught me directly how to do that," Khachaturan told Kodak. "I moved to the States when I was 18. Rufus Burnham, at the Camera Division in Burbank, encouraged me to build and play around with the film cameras and lenses there, and I pretty much taught myself how to shoot tests, process the results and learn how to expose film negative correctly." After Guadagnino's film, he "worked on The Idol series on 35mm for Sam Levinson, where we got through millions of feet of film stock." Other returning, regular celluloid directors include Damien Chazelle with Babylon and Mia Hansen-Løve. "Shooting on film creates financial difficulties, but apart from Eden, I have always insisted on using 35mm," she told Louis Séguin in a press kit interview. "For One Fine Morning, I was all the more keen to do so because I was going to shoot in hospitals and nursing homes, which are unattractive settings. The film allowed me to give them an extra soul, a poetry difficult to detect otherwise." As DP Tony Slater Ling similarly told Kodak about his work on Cordelia, "In digital, we often use old lenses and diffusion in order to get the same pleasing skin tones and textures that you get naturally on film emulsion right from the start."
Getting that look, of course, takes work, as Sean Ellis said to Cinematography World when discussing The Cursed: "It's not an automatic given that if you shoot on film that the result is going to look like film, nor yield the look you want." His process was helped by the fact that "I had very nicely graded reference dailies back by teatime the following afternoon. Every day I selected circle takes and then, in good old-fashioned style, I watched them, along with the other heads of department, in a local cinema every weekend. It was great for everyone to come together and to see their week's work on the big screen. It helped to reinforce the bonds between the crew as well as their individual creative investment." Dailies were a challenge for Anna Rose Holmer and Saela Davis while shooting God's Creatures in rural Ireland. "There were no labs for developing film," Holmer told Charles Bramesco in an Inside Hook interview. "Every day, we'd drive many hours down to Dublin and ship the previous day's footage out to a facility somewhere else." "We had some concerns about how quickly we'd be able to get access to dailies," Davis added. "But everyone was supportive of this goal. Our line producer looked us in the eyes and said, 'I will figure out how to make this work.'" Shooting mostly 35mm on A Man Called Otto, DP Matthias Koenigswieser wrote in an email that the production was in Pittsburgh, while the lab was in NYC: "Dailies would arrive generally the next day, and the workflow was unproblematic." Of the film's mix of film and digital, the latter was used "in tight interiors like cars and the on-location apartments. All the exteriors are captured on film, and Panavision New York provided the film and fitted the digital bodies with a customized spherical lens set to help smooth over the multiformat approach."
For David Siegel and Scott McGehee's Montana Story, their regular cinematographer Giles Nuttgens wrote in an email, "We shot the film on 35mm and in anamorphic—the format we had used on all of the films with the exception of What Maisie Knew, shot on Super 35mm as we just couldn't get scope lenses in NYC due to a lack of availability at the time. We only had a 24-day schedule, and we all felt that the simplicity and familiarity of the filmmaking process would allow us to move quickly. By throwing away much of the technology—just one small monitor for the directors—we never exceeded 10 hours shooting on any one day. We now have the advantage of amazing anamorphic lenses that don't need the same amount of light as 20 years back to be sharp, but without doubt, having to maintain a reasonably dense negative, as I have always done in the past, made me put in a small amount more light than I would have liked to." As far as dailies processing and lab work, "The cascade of closing laboratories seems to now be controlled, with smaller labs dealing with less footage each day, thus making them financially viable. I do believe that at the beginning of the changeover to digital, film processing quality became a little lax (not having my first day of a shoot printed to confirm my negative exposure has been a great loss), but we had no issues in Montana except with the courier company sending half the dailies to Kodak in Burbank instead of the Kodak Laboratory in Atlanta. Took us a week to track it down. Our turnaround time was around five days, but we were in the middle of nowhere, with few scheduled flights due to the pandemic. We weren't in the position to have a dedicated person to take the dailies to the labs, as happens on many productions."
The last word this year goes to Jarin Blaschke, who shot Robert Eggers's The Northman on 35mm. "We tested 65mm, but ultimately the producers didn't go for it," he told British Cinematographer. "But after being seduced by the large format image, I just wanted everything to be smooth and as clean as I could present it on film, so I shot it on the slowest stock possible for a given situation. This required a lot of light and meant we couldn't use real fire unless it was roaring." Blaschke, as it happens, was in pre-production on Eggers's forthcoming remake of Nosferatu when I emailed him for further comment, and so was "updating my film infrastructure knowledge again. The lab here in Czech Republic passes the test so far, but we are bringing in a UK focus puller (Ashley Bond from The Northman) because even the best ACs here haven't dealt with film in the last two to six years." My thanks to him and to all the cinematographers who generously took the time to answer my questions this year.