Back to selection
Storm Song: Beasts of the Southern Wild and Tchoupitoulas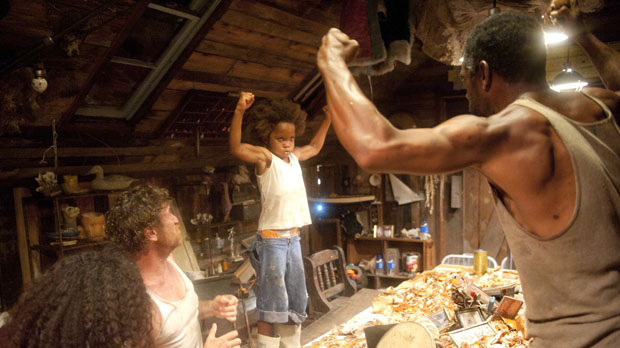 Beasts of the Southern Wild
After the recent BAMcinemaFest screening that marked the first time Benh Zeitlin's magical-realist Beasts of the Southern Wild screened alongside Bill and Turner Ross's immersive New Orleans documentary Tchoupitoulas—both South Louisiana-shot pictures produced by members of the film collective Court 13—there were two celebrations on either side of BAM. At the beautiful dive-bar Frank's, the Ross brothers and various doc and indie film bros were watching the NBA championships with loud exuberance and strong opinions. There was a rumor that there was a dance party across the street at the Fox Searchlight-hosted party for Beasts, which was flowing with delicious food and wine cocktails. Upon investigation, though, this was a dance party of one. The little eight-year-old star Quvenzhané (known as Nazie) Wallis held court in the center of the room busting moves like a baby Beyoncé, while the rest of the room looked on, basking in this moment of incredulous triumph that this little, impossible production had pulled off a popular success.
It's odd, yet fitting, that the first time these two Louisiana pictures shared a marquee was in New York City. While several of these filmmakers and producers now call New Orleans their home base, many of the Court 13 collective originally hailed from New York. And, for Zeitlin, New Orleans, not the competitive New York scene, has been what has stimulated his creativity. "You have a tremendous amount of freedom to try things and take risks [in New Orleans]," he told me while in New York for the screening. "There is a looseness and an acceptance, whereas in New York, everybody's like, 'What are you doing? Why do you have that camera? What are you working on?'"
New Orleans has been dubbed "Hollywood South" because of the vast amount of major film production work going on there. ("I don't have to pack up and actually move to Hollywood," said Dwight Henry, the baker-turned-actor and star of Beasts. "Hollywood is already out my backdoor in Louisiana.") Yet Zeitlin said that while his independent film work benefits from access to the infrastructure and crew base from that Hollywood world, he and his colleagues stand apart. "The [New Orleans] industry is these really big Hollywood productions, which come to town for tax incentives and then go back. It doesn't feel like the city is full of directors or film culture in any way. You know, sometimes it feels like me and Bill [Ross], hanging out at the bar and talking about football — that's sort of the extent of director culture." To hear Bill tell it, he prefers it that way. When asked if there is an independent film scene there, he said, "If there was, I'd avoid it. There's too many people with too many good stories to talk to to waste any time talking about film. I think the only film Benh and I ever discussed was Project X, which we both got a lot out of."
The Ross brothers came to New Orleans chasing memories of being there as boys and stayed for nine months filming nightly to make Tchoupitoulas, a music-filled portrait of one long night in the city through the eyes of three young residents of the West Bank. Court 13 producer Michael Gottwald had taken the Ohio brothers under the Wesleyan-born collective's wing, and in addition to making Tchoupitoulas, the two went down for 10 days to Pointe-aux-Chenes, where Beasts was filming, and befriended the locals while making "home movies" of the production. But despite all that filmmaking, Bill said that film has nothing to do with why New Orleans suits him. "It's a place where dancing in the middle of the street at noon on a Wednesday is not perceived as odd."
Like New Orleans, there is some chaos, much fun and a stubborn anti-intellectual streak to this small group of film-literate filmmakers trying to tell stories against the grain of today's independent film culture — the Ross brothers by making documentaries that avoid traditional narrative arcs, and Zeitin's crew by making epic fantasies on pennies. Ray Tintori, a founding member of Court 13 and 2nd Unit special effects director for Beasts, is a renowned filmmaker in his own right with a distinctly romantic sensibility. Tintori and Zeitlin have helped out on all of each other's projects since college, including Zeitlin's 2008 short Glory at Sea, the project that brought them to New Orleans. Zeitlin had received a grant to make the film in Greece, but changed his mind after crashing on the couch of Tintori's sister, who had come to New Orleans after Katrina for relief work. The city seemed like a more native fit for the imagination of this New York-raised son of a southern mother.
Tintori recalled, "Initially he said, 'I want to make this film called Glory at Sea. It's going to be eight minutes long. It's going to be a shipwreck so we're not going to have to build any sets. It's going to have no dialogue and everyone's going to be naked. And it's going to be the most fun, glamorous thing to make ever.'"
Zeitlin described the decision: "Well, I was sort of wandering. The reason why [Glory at Sea] took off in New Orleans was that it just had this synergy. Jimmy Lee [Moore], who plays the boat captain in Beasts, was a guy who showed up to audition after we put up notices in bars. We gave him the part, but two hours later he showed up with a pick-up truck full of Greek columns and stuff. And he said 'I know you're building the boat out of junk. You should probably use these.' That was what the story was about, people coming together around building this boat, a creative project. It became like a community art project for all these different actors who were going to be in the movie. They gave us stuff for the boat, helped us build the boat, were out there helping us tow the boat, rescuing the boat when it would fly away—people just got all in together to make the film, and whether I was looking for it or not, that was what the story was about. It was that kind of connection that made me think this is where I want to tell these types of stories. This type of story has the same personality as this place, where people want to get together and be part of something and do it for the adventure of it."
As Tintori recalled wryly, "It took six months to shoot and [Benh] had us crawling around on broken glass and rusty nails. So what was supposed to be this glamorous, easy, vacation shoot ended up being New Orleans post-Katrina."
Even though Beasts was filmed 60 miles south of the city, Zeitlin said that, once again, the spirit of New Orleans influenced the filmmaking style immensely. "For us, we're trying to make a film where the actual process of making the film reflects the culture of the film and the story. And I think we've sort of developed this method in New Orleans. The brushstroke is a New Orleans kind of brushstroke; it's not like a Los Angeles sort of brushstroke. It's just a more organic, more democratic, more egalitarian, more kind of reckless process behind how the film gets made, which I do think emerges from the city. And you know, I don't think that's only possible in New Orleans. I think people can make films that reflect the culture of where they're making the film, anywhere. I think right now, largely, film process is something that is reflective of Hollywood or New York, and that's just about it. The actual process of making films comes from those two places, so if there were more processes that were regional, then you'd have these films emerging from different ways that were organic to their cultures."
Zeitlin's filmmaking style is enabled by the low cost of living in New Orleans. "It's really cheap to live here, but it's not like living in a dingy, grey Philadelphia or Baltimore-type city," said Tintori. "Here you can live in this beautiful building that's 100 years old for pennies, so you can be a lot bolder in the artistic decisions that you make because you're not worrying about paying thousands of dollars of rent every month. In New York, you just can't go outside without spending 70 bucks."
And money saved buys time. Tintori said of the remarkable "How did they do that?" special effects, "We just tested the shit out of everything, went through every single shot. In any of those scenes involving the beasts or any of those effects, we went through at least nine physical effects. It was like having a science project, and the crew were more like DIY inventors, coming up with really weird loophole ways around projects." Often the right solution was the simplest, and the least costly. "Like instead of making a complicated system inside puppets to make [the beasts] shoulders roll, it was just, come on, let's just put a person inside there, and it will have more of an organic look." Tintori describes how another complicated problem of miniaturizing water for a storm scene was solved in a moment of revelation at the grocery store: a vegetable mister. "Instead of [adding] CG rain elements, it was just, let's go get that thing from the grocery store. And the thing cost $10."
Was there ever a point when Tintori thought they couldn't pull off the film's crazy ambition? He said of his method, "[In my filmmaking,] I have come up with a lot of really bad choices and then had to suffer with the consequences of my decision to do it that way, so I had learned a certain skill set of 'Okay, this was a really bad plan, now we gotta finish.' I told my crew, 'Look this is a suicide mission. We're gonna fail. The only thing we can do is refuse to blame each other, refuse to get angry.' Instead of blaming each other and saying, 'This is a stupid fucking idea!' the attitude was, come on, we ALL know this is a stupid idea. Let's try to get through it."
Tintori was brought on when Zeitlin realized that the script called for pre-historic beasts and exploding levees, and he had no budget to pull them off. And there was also the other production challenge of trying to get decent performances from pigs playing the Aurochs, the titular giant beasts. Tintori said, "When I first found out that they were going to use real pigs, before I knew it would be my job, I said, 'That's a great idea! What could possibly go wrong!?'"
He described the pioneering spirit of figuring this out. "I went through all the history of special effects, and just couldn't find anything else where someone was that stupid enough to think that this was the answer," he said. "So we spent a lot of time watching the pigs and seeing what they'd normally do and what we could get them to do, and then trying to write those scenes around performances that I knew I could get out of them. And then the first time we got one of those pigs and filmed it from the right angle and looked at it in slow motion, I realized, 'That is really mesmerizing.' If nothing else, we'll have that." He described that process as similar to the way Zeitlin approached all the film's elements. "You have something that, on it's own, is really special and really different, that no one else has. And you just have to invent new styles of filmmaking around that core element rather than finding a more malleable thing [to be] the center of your movie. You just have to build the world around your subject matter."
In both the Ross documentary and the Zeitlin fiction films about Louisiana, the filmmakers felt they were inventing new forms in part because there wasn't much of a cinematic history of the place to reckon with — except for the Louisiana films of Les Blank, whom they all claim as an influence. "Les is the inspiration for everything," said Bill. (Blank returns the esteem. "Most interesting," said the man of few words upon viewing Tchoupitoulas. "I immensely enjoyed following the characters around my favorite American city.")
"Oh we love him too," said Zeitlin. "We stole a lot from him." Mostly from the glorious scenes of gluttony, highlighting one of the peak reasons to love New Orleans: the food. Both Zeitlin and Wallis claim that the best day of the shoot was the scene of a crab and shrimp feast. "The food is so important to the culture; it's decadent. It's a place without a ton of money but it has an incredibly decadent eating culture, which is a wonderful thing," Zeitlin said. He also said the amazing Cajun lunches and the donuts and other treats that Dwight Henry would bring on to the set from his bakery, the Buttermilk Drop, were key for the production. "Food is currency," Zeitlin said. "When you don't have money to give people, food is the engine that keeps things going."
Blank's New Orleans films, such as Always for Pleasure, and his emphasis on food as key to understanding a culture, weren't the veteran documentarian's only influence on these younger filmmakers. As Bill hints at in his mysterious statement of all-around adulation for Blank, his work inspired not just specific shots but the approach and the lifestyle of both filmmaking teams, although in different ways. The two films could be compared to another pair of films about place and the boundaries of imagination — Herzog's Fitzcarraldo and Blank's documentary about the making of that film, Burden of Dreams. Tchoupitoulas is a little like Blank's sensuous, subtle documentary, which quietly observes while unobtrusively acknowledging the man behind the camera. And the epic and aggressive imagination of Beasts—the battling of impossible odds as technique—is pure Fitzcarraldo.
"Oh god, Herzog!" Tintori responded about this comparison. "We like Fitzcaraldo, but we really like Burden of Dreams. When we were making Glory at Sea, carrying that fucking boat over train tracks … it was crazy, but it was so much fun. It's hard to write an adventure film if you're not having an adventure as you're making it. It's a very specific catalog of feelings and moments you go through as you're making something, when you feel physically in danger but also inspired. Burden of Dreams and [the book] Herzog on Herzog, those were the specific things [that made us say], 'We want to go do THAT.'"
Producer Josh Penn described the importance of the films' production philosophies in making them feel alive and not overly controlled. "In the documentary, that's a little more natural, because it's actually not controlled. But in Beasts we set up this living, breathing production that was constantly changing and evolving by the day and tried to keep it really alive."
Tintori concurred, "In the effects stuff, even if we wanted to be filming fantastical stuff, we wanted to be filming natural things that were actually happening. We wanted to be filming things that actually had a physical reality, to have a look. It's the worst thing in effects stuff—or just movies in general—to watch spectacles that never actually happened [in real life]. Where no one actually did anything except sit in front of the computer. The thing that's cool with the beasts in this film is that people can't really tell … some people think they're CG, some people think they're animatronics, some people think they're animated. It's in that weird borderline, where people aren't really sure how big they are. Even if they know they're miniature, they're not really sure what size. You know you're seeing something happening, even if you know that they're magic tricks. If it's ambiguous, if you can't quite figure out what it is or how they did it, I feel like it is much more thrilling."
That spirit of mystery was a big part of the film they were trying to make, Tintori said. "A specific kind of kids movie that we had growing up that was a little bit too scary, and a little bit too emotionally complex to watch without getting kind of disturbed. Those movies where you couldn't stop watching them even though they were a little too adult for you. That's partially the reason for those kinds of special effects. We didn't want to use anything that's really that much more advanced than what's in The NeverEnding Story or Willow. We wanted it to feel sort of like one of those movies on a fantasy level."
___________________________
Eventually the two parties after the BAM screenings united at Frank's for a raucous, Rolling Stones- and whisky-fueled night until the crews closed out the bar and continued on, still on the New Orleans 24-hour clock. "Because of the harsh natural elements in New Orleans, there's just something crazy there," said producer Michael Gottwald, "And it makes people party really hard. But it also makes the endeavor of making a movie really, really great." And those natural elements add another, more subtle lure. Tintori said, "It's a beautiful place that's great for filming because the sky always looks so crazy." After the New York screening, Zeitlin was soon headed back to New Orleans for the home state premiere, and he couldn't wait. "I'm homesick as hell."