Back to selection
BAMcinemaFest Announces Its 2014 Lineup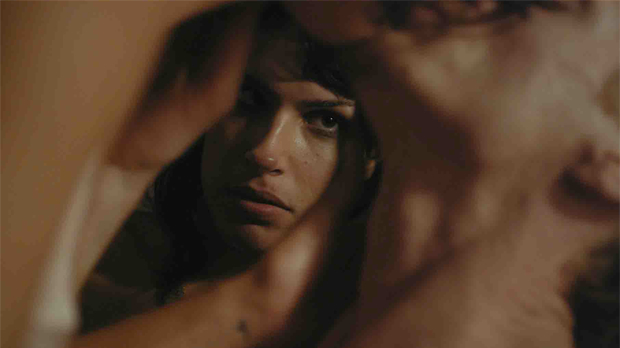 Appropriate Behavior
BAMcinemaFest has announced the lineup for its sixth annual edition. The Brooklyn festival opens with Boyhood and closes with a 25th anniversary screening of Do The Right Thing; in between, Bong Joon-ho's Snowpiercer will serve as a centerpiece, while David Wain's forthcoming romantic comedy satire They Came Together will be highlighted in a special screening. But the meat of the festival is in its overview of current festival circuit films, and this year there are 25. Below, the titles, brief synopses from BAM's press release and links to relevant material we've published on the movies in the past:
10,000KM (Carlos Marques-Marcet)
"In this groundbreaking and moving look at 21st-century relationships, long-term couple Alexandra and Sergi live together in Barcelona, where they're planning to start a family. But when she accepts a yearlong residency in LA, the pair decides to stay together despite the long distance. Using video chat to stay in touch — and attempt some awkward cybersex — they soon discover the limits of their digital connection, confronting a distance even the Internet can't diminish."
Approaching the Elephant (Amanda Rose Wilder)
"Without imposing traditional authority or structure, New Jersey's Teddy McArdle Free School allows children to set their own rules and choose whether or not to attend classes. The teachers struggle to create a learning environment that instills the values of democracy and critical thinking, but an ongoing clash between two students tests the limits of the system." We wrote about Amanda Rose Wilder's terrific debut when it premiered at True/False.
Appropriate Behavior (Desiree Akhavan)
"Writer-director-star Akhavan helms this deadpan comedy about a bisexual Iranian-American woman adrift after a break-up. Finding new digs in Bushwick and a daycare job at a kindergarten film school, 20-something Shirin oscillates from conservative family gatherings (where she remains closeted) to hip Brooklyn parties and cold sexual encounters—punctuated with flashbacks to simpler times with her ex." Danielle Lurie profiled Akhavan in advance of the film's Sundance premiere.
Concerning Violence (Göran Hugo Olsson)
"Set to the voice of Lauryn Hill reading Frantz Fanon's anti-colonialist call to arms, The Wretched of the Earth, this mesmerizing assemblage of rarely seen archival footage brings to light nine of the most pivotal episodes in the history of African revolution." Brandon Harris reviewed the film when it played at Sundance this year, while Ashley Clark interviewed Olsson at Berlin.
Ellie Lumme (Ignatiy Vishnevetsky)
"Film critic Ignatiy Vishnevetsky makes the leap to filmmaking with his debut narrative work, a self-described 'ghost story without a ghost.' When 22-year-old Ellie meets a slightly older, seemingly infatuated stranger, he soon becomes a constant — and unwelcome — presence in her life. As their relationship grows increasingly disturbed, this meticulously shot, subtly supernatural tale blossoms into a haunting psychological riddle."
Evolution of a Criminal (Darius Clark Monroe)
"In this unique, autobiographical documentary, filmmaker Darius Clark Monroe revisits his journey from honors student to convicted felon at the age of 16. Feeling the anxiety of his family's financial troubles, Monroe planned a bank heist that netted $140,000 in cash but landed him in jail for three years. Contemplating the ramifications of his crime, Monroe gathers interviews with relatives, accomplices, and victims, who react to his efforts to make amends in unpredictable ways." Monroe answered some questions about his film prior to his premiere at SXSW.
For the Plasma (Bingham Bryant & Kyle Molzan)
"In a remote house in Maine, two old friends analyze CCTV footage of the surrounding forest to predict shifts in global financial markets. From this cryptic premise grows a lo-fi mind-bender of intimate scale and startling relevance that flirts with sci-fi and horror conventions even as it subverts them. To the strains of an electronic score, For the Plasma juxtaposes pastoral imagery with surveillance technology, every shade and shadow captured in gorgeous 16mm."
The Foxy Merkins (Madeleine Olnek)
"Fresh off the bus in New York City, Margaret embarks on a career as a lesbian prostitute, servicing upper-class Manhattanites under the tutelage of Jo, a straight and streetwise grifter with a knack for picking up women. Olnek's raucous buddy comedy and Independent Spirit Award nominee (co-written with the two stars, Lisa Haas and Jackie Monahan) is an all-female riff on My Own Private Idaho by way of Midnight Cowboy." Danielle Lurie profiled Olnek in advance of her Sundance premiere.
Happy Christmas (Joe Swanberg)
"Post-break-up and without a plan, Jenny (Anna Kendrick) moves in with her brother (Swanberg) and his wife (Melanie Lynskey) for the holidays, but her arrival triggers a whirlwind of drunken hijinks and irresponsible behavior that upsets the family's balance. The ever-prolific Swanberg follows his indie hit Drinking Buddies with this charmingly relaxed comedy shot in 16mm." Swanberg briefly spoke about shooting the film during an interview about Drinking Buddies with Scott Macaulay last year.
Happy Valley (Amir Bar-Lev)
"In the wake of the Jerry Sandusky child molestation scandal, many Penn State fans reacted with outrage—not over Sandusky's actions, but to the dismissal of Joe Paterno, the popular head coach who shielded him from prosecution. Interviewing key parties, including Paterno's family and one of Sandusky's victims, director Bar-Lev (The Tillman Story) wades fearlessly into the controversy, probing the 'football first' culture to better understand whether Paterno, the university, and the community turned a blind eye to the unspeakable."
The Heart Machine (Zachary Wigon)
"Cody (John Gallagher Jr.) carries on a virtual relationship with Virginia (BAMcinemaFest regular Kate Lyn Sheil), who's in Berlin studying abroad for six months—or so she says. As Cody becomes convinced that Virginia may, in fact, be in New York, he develops an increasingly unhealthy fixation with tracking her down." A frequent contributor to Filmmaker Magazine, Wigon wrote earlier this year about how the publication helped get his debut feature made, while Scott Macaulay interviewed the director and his cast at SXSW this year.
I Origins (Mike Cahill)
"Director Cahill's luminous, Brooklyn-set follow-up to his acclaimed Another Earth (BAMcinemaFest 2011) further plumbs the romantic and metaphysical dimensions of science. A molecular biologist (Michael Pitt) studying the evolution of the eyes finds his romance with an enigmatic young woman inextricably linked to a potentially earth-shaking scientific breakthrough. Intelligent and provocative, I Origins is a lush sophomore effort from one of independent filmmaking's most intriguing voices."
Kumiko, the Treasure Hunter (David Zellner)
"In this absurdist adventure tale based on an urban legend, a Tokyo office assistant (Oscar nominee Rinko Kikuchi) becomes irrationally fixated on a scene in the Coen Brothers' Fargo in which a briefcase full of money is hidden beneath a blanket of snow. With stolen atlas in hand, she ditches her overbearing mother and dead-end job, taking off for the Midwest plains in search of the buried treasure." The Zellner brothers answered five questions about their work prior to the film's Sundance premiere.
L for Leisure (Lev Kalman & Whitney Horn)
"It's Baywatch meets Rohmer in this gauzy, sun-kissed paean to vacation. Shot on glorious 16mm, L for Leisure follows a group of quasi-intellectual grad students circa 1993 as they jet off to various international destinations (Baja, France, Iceland, and beyond) in search of adventure. This deliciously retro first feature from directing duo Kalman and Horn boasts impromptu Greco-Roman wrestling, a boogie-boarding dog, and extended discussions about everything from alternative universes to Michael Jordan—all set to a blissed-out synth-pop soundtrack."
Life After Death (Joe Callander)
"Having grown up in the shadow of war and genocide, charismatic but directionless Rwandan orphan Kwasa finds the guidance — and financial aid — he seemingly needs from a charity-minded Christian couple from the US. This multi-layered documentary begins with a wry examination of evangelical zeal, but slowly reveals that Kwasa's benefactors are turning a blind eye to his puckish scheming and unrepentant carousing."
Low Down (Jeff Preiss)
"Based on Amy Albany's (Elle Fanning) memoir of her turbulent adolescence with her father, legendary jazz pianist Joe Albany (John Hawkes), this richly evocative drama charts the pianist's crippling struggles with heroin addiction. This moving elegy to a bygone era by the multi-talented Preiss (cinematographer for the revered Chet Baker documentary Let's Get Lost) poetically captures the seedy romance of the 1970s LA jazz scene." Preiss wrote a https://filmmakermagazine.com/83109-low-down-director-jeff-preiss/">brief article about his film for Filmmaker in advance of his Sundance premiere.
Memphis (Tim Sutton)
"In a raw, seemingly autobiographical star turn, underground blues singer-poet Willis Earl Beal plays a musician who claims to have mystical powers but can't seem to finish his next album. Trying the patience of his girlfriend and his producer, he drifts from Baptist church to bar to recording studio in a struggle to regain his creative spark." Producer Alexandra Byer chronicled her experiences premiering the film at Sundance in two posts earlier this year.
The Mend (John Magary)
"Mat, a reckless drifter pushing 40, shows up unexpectedly at his gainfully employed brother Alan's Harlem apartment—and never leaves, turning his seemingly stable sibling's life upside down. In this deliriously unhinged, unpredictable debut feature, Magary steers this dark comic tale of brotherly love and hate into increasingly freewheeling, nihilistic territory, the sense of disorientation heightened by a modern classical score." On the occasion of his short film The Second Line, we interviewed Magary in 2008.
The Notorious Mr. Bout (Tony Gerber & Maxim Pozdorovkin)
"Known as the 'Merchant of Death,' Russian arms dealer Viktor Bout achieved international notoriety following his 2008 arrest for supplying weapons to terrorists. This riveting, often black-comic documentary shows two Viktor Bouts: the amiable, upbeat family man who viewed himself as an entrepreneur and the ruthless criminal mastermind who abetted murderers." Directors Gerber and Pozdorovkin wrote a brief post about their film for its Sundance premiere.
Other Months (Nick Singer)
"After returning home from college, Nash dabbles in plumbing and maintains vague aspirations of becoming a writer, reveling in the cheap thrills of sex, alcohol, and the dance floor to wade through his post-grad listlessness. Divided into three chapters (February, July, and November) and partly based on Singer's acclaimed short, Other Months traces the descent of its enigmatic protagonist in a rush of moody, surreal imagery."
Something, Anything (Paul Harrill)
"In the wake of a life-altering tragedy, Southern newlywed Peggy confronts a profound spiritual crisis and sets out on a quest to discover a higher purpose. Without knowing what she seeks, Peggy jeopardizes her marriage, career, and friendships to find fulfillment." Harrill wrote about developing his film at the IFP narrative lab last year.
Thou Wast Mild and Lovely (Josephine Decker)
"Psychosexual tensions boil over in this hair-raising erotic drama, set on an idyllic farm in the Kentucky countryside. When hired hand Akin (DIY staple Joe Swanberg) arrives to help out for the summer, he becomes increasingly entangled with the mysterious and emotionally manipulative relationship between farmer (Robert Longstreet) and daughter." Ashley Clark interviewed Decker about Lovely and her other "first feature," Butter On The Latch, at Berlin this year.
Wild Canaries (Lawrence Michael Levine)
"Brooklyn DIY meets classic screwball mystery in this witty whodunit. Husband and wife team Levine (Gabi on the Roof in July) and Takal (Green, BAMcinemaFest 2011) star as a perpetually bickering couple who suspect something's amiss when their elderly neighbor suddenly drops dead. Channeling The Thin Man's Nick and Nora, Levine and Takal recruit their roommate (Arrested Development's Alia Shawkat) to join the case, and the investigation that ensues takes them on a whirlwind tour of Kings County that yields both breezy comic delights and some sinister discoveries."