Back to selection
The Rasmussen Brothers on Shooting Their Microbudget Horror Film, The Inhabitants, Part Two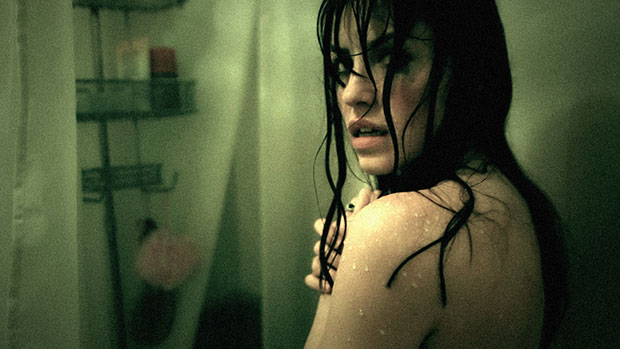 In this second part of the interview with brothers Michael and Shawn, they talk about directing their microbudget movie The Inhabitants, the music and sound mixing, and distribution for the movie.
Filmmaker: With one of you running the camera and the other doing sound, how did you manage to handle directing at the same time?
Michael: I think we've learned to multi-task, but it is hard. You are trying to make sure that everything is in focus and you're pulling focus yourself, you're doing all that stuff. The good thing is that Shawn is standing there with the boom, he can be talking to the actors. He and I are on the same page on what we want and he can be catching some of the things that I'm missing, so it really does help to have a second pair of eyes. [jokingly] But maybe that's why post-production was as long as it was.
Shawn: If somebody else was running the sound they may not have spoken up to say that we didn't quite get it.
Michael: I think that we picked these two actors because we knew that they were self-starters. We didn't need to be holding their hands and making sure they knew their lines. We didn't have to do a lot of direction; they had their chemistry all worked out. We also shot somewhat in order, so their relationship evolves over the film and they were able to stay in that. They knew where the arc was going because we were shooting it in an ordered fashion.
Filmmaker: What length of time is portrayed in the movie?
Michael: It's a couple of weeks. Dark Feed took place over one night, [which] meant one wardrobe. This was an issue that we hadn't had to deal with on Dark Feed. While we did shoot [The Inhabitants] in order, sometimes there were pickups. Keeping track of wardrobe over two weeks — what they were wearing during that day or this day — was something we hadn't had to worry about on Dark Feed.
Shawn: It was a challenge. We had a book with pictures of what people were wearing on given days and it was up to the actors to make sure that they had the right costume on for the scene. We ran into some confusion which, it was just natural, like "what scene are we in?" and so we did have to do some re-shoots because of wardrobe continuity issues.
Filmmaker: What did you do for music?
Shawn: We worked with the same team that we did on Dark Feed, John Kusiak and Andrew Willis. They are fabulous to work with. This was a little bit different in that on Dark Feed we hadn't put a lot of thought into what kind of music we wanted on the film. We let John and Andrew come at it completely fresh, and we were ecstatic with what they came up with. This time around it was a little bit different in that we had something that we were really looking for in terms of tone.
Michael: We were definitely trying to emulate some of the older ghost stories that we had seen growing up in the '70s; The Changeling and Burnt Offerings. They all had very distinctive scores – at least as I remembered them – and we really wanted to get that, so we kept going back to them and trying to get it just how we wanted it.
Shawn: We've been checking out a bunch of the reviews and there's been a lot of discussion about how great the sound design and the score are. What was nice was that John Kusiak's son Kenny Kusiak did the sound design with Andrew, so it was a joint effort to create a sound design. There's a lot of mixing of sounds and music on both sides.
Michael: There was good synergy there, where there are normally two distinct people, so sometimes the score would go into the room tone and then come out and it was really much more organic.
Filmmaker: How is distribution being handled for this movie?
Shawn: Our movie is being distributed by Gravitas Ventures on VOD. It's on all the major VOD platforms like iTunes, Amazon and Hulu, and then we're going to have a DVD and Blu-ray release from a different company early next year. It is interesting, just a couple of years removed from Dark Feed, that DVD and Blu-ray is now being released a few months after the digital release of the movie, but I think that's what we are moving towards.
Michael: We're much more involved in the promotion too, but it means we're spending a lot of time doing promotion, whereas with Dark Feed they had a marketing machine that they sort of plugged it into. It's nice to be involved and have some input in it, but it is different.
Filmmaker: In what format did you have to deliver the movie?
Michael: With Dark Feed we had to deliver multiple tape formats. Here, all they wanted was a ProRes 4:2:2 HQ file. That's it. So you didn't have to have all those different outputs. Now that might change as we go into foreign, but for Gravitas and even the DVD company, all they wanted was the ProRes file, which was very different.
Filmmaker: What comes after this?
Shawn: When we talked last time about Dark Feed, that was very much a micro-budget movie and we certainly didn't think that the next time we'd be talking that we would have done a movie that slashed that micro budget by 20 times. This was truly a micro-budget movie.
Michael: I will say that this is probably the last time – for a while – that we are going to write, direct, produce, hang lights, do craft services, do all that stuff. I think there's only so many times that you can do that. On the next one I'd much rather be able to focus on directing and on performances.
Part One: The Rasmussen Brothers on Shooting Their Microbudget Horror Film, The Inhabitants, Part One.
The Inhabitants on iTunes
See also: The Rasmussen Brothers on Shooting the Low-Budget Horror Movie Dark Feed, Part One