Back to selection
Home Screen: The Made in NY Media Center by IFP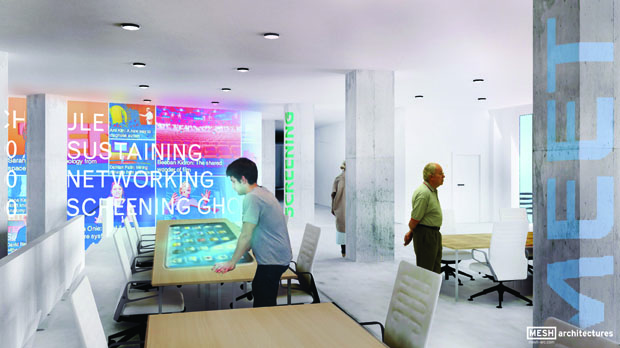 An architect's sketch of the IFP "Made in NY" Media Center
Editor's Note: The subject of this article, the Made in NY Media Center by IFP, is developed and operated by IFP, also the publisher of Filmmaker.
Cantankerousness is a disease that can affect even the smartest among us — back in the day, Socrates protested his ideas shouldn't be written down, fearing that there was no way the written word could capture the meaning and emotion of the human voice. But instead of honoring the wise old man's wishes, his young pupil Plato recorded his inspiration's objections, using the very medium that Socrates was so set on strangling at its birth.
The end result for Socrates? Immortality.
Today's digital world waits for no one, not even someone as smart as Socrates. The choice for media makers is clear: either get on board with what's happening or end up forgotten in the dustbin of history. And for those who don't just want to tell their stories but also shape culture? Well, they'll not just tell tales, but design the platforms we use to tell them.
In an effort to develop this next generation, the City of New York and IFP have joined to build the "Made in NY" Media Center, opening this fall. An 18,000-square foot facility at 20 Jay Street in DUMBO, Brooklyn, the Media Center will be an incubator for new artists, entrepreneurs and companies working in software development, mobile, gaming and multiplatform storytelling. It will offer educational classes in media and technology, exhibit work in a gallery and screening room and be a hub for new media in New York's growing DUMBO district. And, significantly, the center will offer residencies for selected transmedia artists, an opportunity that will give the artists "a stamp of approval in quality, as well as access to mentors, classes and angel investors," says IFP Executive Director Joana Vicente.
For Vicente, the Media Center's mission is an outgrowth of the goals of IFP itself. She remembers the day she received an RFP (request for proposals) last March, issued by the NYC Economic Development Corporation in connection with the Mayor's Office of Media and Entertainment. "It was like a light bulb went off," she says. "Historically, IFP has supported independent filmmakers, but the question is increasingly becoming, 'Who is an independent filmmaker?' So many people are creating media, games, apps and so on…." The Media Center, she says, "is the next step for IFP. This is the way for us to grow — finding storytellers and connecting them to resources."
The hope, however, is that the Media Center will be a stimulant to not just individual creators, but to New York City's broader start-up tech economy — an economy that produced companies such as Tumblr, Foursquare and Kickstarter and houses significant presences from Google, Spotify and many others. At the press launch of the Media Center, Mayor Michael Bloomberg stated, "New York City's technology and entertainment industries have never been more exciting than they are today, and our new "Made in NY" Media Center will help bring developers, entrepreneurs and artists together to continue this growth." (In June, while giving the Stanford University commencement address, Bloomberg made his pitch to the college's techies in plainer terms: "I believe that more and more Stanford graduates will find themselves moving to Silicon Alley, not only because we're the hottest new tech scene in the country, but also because there's more to do on a Friday night than go to the Pizza Hut in Sunnyvale.")
What are the particular advantages of such a center based in New York as opposed to somewhere like San Francisco? Author Frank Rose (The Art of Immersion), who frequently speaks on digital culture, says, "New York remains pretty much the media center of the country, if not the world. It's the center of the media industry, the advertising industry, independent film and the art world, and it's quite important in terms of gaming. It makes sense that [the Media Center] can leverage these communities."
Another advantage of New York: its closer proximity to Europe and to European culture. New York-based immersive storyteller, branded content producer and transmedia artist Sparrow Hall comments in an email, "There's a huge European expat community in New York, especially in Brooklyn. The Europeans are light years ahead of the U.S. in terms of adopting new media — on all levels. You go somewhere like Sweden, Denmark, Germany, and these new formats of storytelling that we talk about — transmedia, cross-platform — they're engrained in the everyday. You take that level of understanding and combine it with the raw energy of a Brooklyn arts community, and I think you have something there."
Set to open near the end of the Bloomberg's third and final term, the Center is a rejoinder to critics who charge that New York isn't providing enough support to the tech industry. This spring, six New York City mayoral candidates took part in a forum titled "Start-Up City" in which they decried everything from the lack of city-wide high-speed Internet to reasonably priced office space. When it comes to start-up culture, charged Public Advocate Bill de Blasio, the city is dealing with an "affordability crisis."
To this end, the Media Center has two different price tiers for its tenants. To ensure the center is open to individual makers and not just start-ups, it plans to offer "a monthly membership, kind of like a gym membership," says Vicente. "With a membership, you can take classes and be part of events that take place at the center." One hundred of these memberships will be priced around $125 a month and will include rights to work at one of 40 desks, as well as access to the lounge, flex spaces and a cafe. The next tier will be the incubator, which will house small companies (one to three persons) for terms of six months to a year. Incubators — prevalent in the tech world and beginning to spring up in the film space as well — support the development of entrepreneurial companies through an array of services, including low-cost office space, instruction and mentoring, networking facilitation and creating a sense of community. These teams will be curated, says Vicente, with the idea being to "strike a good balance between different disciplines and skill sets." Prospective tenants will have to demonstrate that they have some funding in place for their ventures, and desks in the incubator will be priced around $450/month and include discounted classes, as well as entry to curated programs featuring guest speakers and experts in residence. Classes for the public in the areas of technology, design, coding and business will be offered by partner General Assembly, and classes in film and media will be taught by IFP with additional organizations.
But the Media Center incubator's target audience isn't just artists and start-ups. It also intends to connect "legacy media" (aka, the old way of doing things) with the smartest young people working on the cutting edge. Notes Jon Miller, former CEO of Digital Media of News Corps, CEO of America Online from 2002-2006 and current chairman of the advisory board for the center, the sharpest people working in media are far more entrepreneurial than they once were, and for more traditional companies, "recruiting that kind of talent can be quite difficult." Prospective tenants for the Media Center include established companies desiring proximity to these new energies. Incubators, Miller says, are one way of putting "more traditional media companies in touch with that talent pool." They also give businesses "a lens into the new things being developed so they are able to see them early enough to be able to take advantage of them."
In a world of digital bits and teleconferencing, why a physical space? That's perhaps the biggest question looming over the Media Center. Comments Hall, "Some creators may find it helpful, but I don't think it's necessary to the work. Operating in the digital space, we've made an art of making something out of nothing…. I don't know if we need four permanent walls. Maybe. We might not know what to do with them."
To that point Miller answers, "A real world sense of place only becomes more important as the virtual world becomes more prevalent. Look at music. More music is available than ever before virtually, and rock festivals grow more and more popular because they crave the community around that music." Lance Weiler, a member of the IFP board as well as a filmmaker and transmedia artist, points out that "having a space to come and talk about your work from every point of view, whether it be critical or technical or entrepreneurial, is incredible. What the media center does is provide help for the creative entrepreneur to have an open conversation about creative sustainability, which is an important conversation." It's also a chance, he argues, for more traditional media makers to learn from people who are used to working the start-up space, a world where "you fail quickly and you learn from that failure." Adds Rose, "It's not for nothing that Marissa Mayer instituted that policy at Yahoo of ending remote workplace situations. End of the day, I think humans are still animals, and there is incredible value in getting together face to face to share ideas in a more or less spontaneous fashion."
The Media Center is funded by a $3-million grant from the New York City Economic Development Corporation. Of the project's genesis, the New York City Mayor's Office of Film, Theatre and Television's Entertainment Commissioner, Katherine Oliver, says she noticed "a lot of filmmakers were working with the tech center because the way people are consuming content is changing. So we thought the best way to help these creators was to create an incubator. People who are starting new businesses really need [to know] how to run a business, how to pitch a venture capitalist, how to market, how to train their employees." Adds Vicente, "We live in a world where those barriers between art and commerce are really breaking down. People really need to have sustainable careers, and we need to be able to enable them. Those worlds cannot be separate anymore."
IFP's road to the Media Center began in March 2012 when it received that call from Oliver to imagine a space that would "foster innovation and content creation, strengthen community and promote economic growth." When putting the grant together, Vicente charged her Deputy Director, Finance and Operations Mitchell Micich with researching how such a center would support needs of their membership, which mainly consisted of independent filmmakers. Says Vicente, "We have a community of people. We know how to choose filmmakers. Let's take the things we know how to do and apply it to the center. We met transmedia producers and people who are developing apps, developing games." After these conversations, Vicente decided that the Center fit well within IFP's mission to support independent media. "People are going to learn how to speak to other people who are doing different things. A writer can talk to an app developer and start doing branded content. It's a place of convergence."
Once Vicente decided to pursue the grant, its crafting became "a collective effort" among the staff, including Micich, Deputy Director Amy Dotson and Senior Director of Programming Milton Tabbot. "We sat down and went through a 10-page description of what the completed grant proposal would look like," Vicente says. "Everyone from programming to business to marketing contributed. Mitch did a first big draft, which included a lot of research, including interviews with stakeholders, and then we had our program, business and market people help shape it. We had a great group of advisors, including Ted Hope, Jeff Gomez, Margaret Wallace, Lance Weiler, Stephan Paternot and Jason Kliot, who helped us think through the overall plan."
An original group of 15 organizations submitted proposals to the city, with IFP's joining two or three others in a final round. "Those rounds were important because they made [our proposal] more concrete," Vicente says. "We had to come in two or three times and address some of the issues they had." Those issues included ones of long-term sustainability. "The first business plan relied a bit too much on corporate sponsorship and grants," Vicente says. "[The City said], 'Show us how you are going to come up with revenue. How are you going to figure out the business model for the projects that are being incubated?'" IFP revised the proposal, addressing the issue of "why the Media Center would be appealing to businesses, and why businesses should be partnering with [IFP]."
Vicente notes that in the long run, being a smaller organization may have helped IFP land what will be its largest project to date. "We did real research and engaged the community, and we made the argument that this is just an extension of what we do already," Vicente says. "Because we came from a very humble place, we didn't say, 'Trust us and we'll figure it out.' We had to earn their trust by putting a lot of thought into it."
What also helped was IFP's long history supporting New York filmmakers and productions. According to Oliver, "The essence of digital media is an ability to tell a story, and we were very passionate that we had to teach people to tell stories. That's where the great strength of the indie film community comes from, storytelling." IFP's emphasis on storytelling, education and embracing new technology, "really resonated with us," she says, and was the reason the organization was awarded the proposal.
But with great opportunity comes great risk, something Vicente acknowledges. "It's a huge grant for us. At the same time, you never have enough money when you start building a facility. We need to deliver on this decision, make it worthwhile and fill it with people." The goal is to make the Media Center self-sustaining — requiring no further funding from the city — after three years. The city grant includes a portion applied to capital improvements and renovation, with the rest supporting operations and programming. But already, says Vicente, additional funding has been raised, including $750,000 in in-kind capital improvements from landlord Two Trees and private contributions of $500,000.
The Media Center's gallery space and a screening room — along with the programs designed for members of the incubator — will be the responsibility of the Media Center's newest hire, Brent Hoff. Hoff, a screenwriter, filmmaker and one of this publication's 2011 "25 New Faces," recently co-created the acclaimed transmedia work Robots in Residence, which was exhibited at the 2012 IDFA Doc Lab, as well as the 2013 Tribeca Storyscapes. A Bay Area transplant, Hoff is also the co-founder of Wholphin, the McSweeney's-sponsored DVD magazine. Hired only days before Filmmaker went to press, Hoff says he has already "talked to a bunch of different artists and companies to find out what's out there. I feel that this type of endeavor can really benefit from having good stories and good artists. And that's going to be my job — keeping the focus on artists and stories."
On a tour of the unfinished space — "a New York City Landmark designed by William Higginson for the Arbuckle Brothers in 1909 as America's largest coffee roaster and packager" — it was easy to envision the center as what it was supposed to be: a place Miller describes as very much like the city of New York, "a lively 24 hour melting pot." The bottom level of the concrete floor had recently been poured, the walls of the screening room — which sits cantilevered in the middle of the space — had been erected, and along one wall there was a mysterious line of shallow recesses. What were they for? "Phone booths," Vicente said. Befitting a 21st-century workspace, the Media Center will not provide landlines for its tenants but will give them a private space to step into with their own cell phones.
What effect will the Media Center have on IFP and its more traditional programs, the ones that support emerging filmmakers? Vicente says that for now, "Media Center programs will be informed by IFP but will have room to define themselves and will be shaped by the multiple disciplines converging in the space." She notes that IFP will keep its offices just up the street, while "some of IFP's program will move into the Media Center."
But for all the talk of construction plans, office space, galleries and theaters, when it comes to the New York tech and digital arts community, the Media Center may also wind up fulfilling one intangible, but highly important, other function. Says Hall, "I think the biggest,, and maybe the most important, thing Media Center could do is serve as a symbol. A stake in the ground. It's like Silvercup Studios. We've always known movies are made in New York, but it wasn't until you could see that giant building with the words 'SILVERCUP STUDIOS' did people start thinking of New York as a legitimate movie-making city. Creators are a scrappy lot, and places like this show that we mean business. I hope they have a good sign."
Photos courtesy of IFP and New York City Mayor's Office