Back to selection
Filmmaker's Top 20 Posts of 2013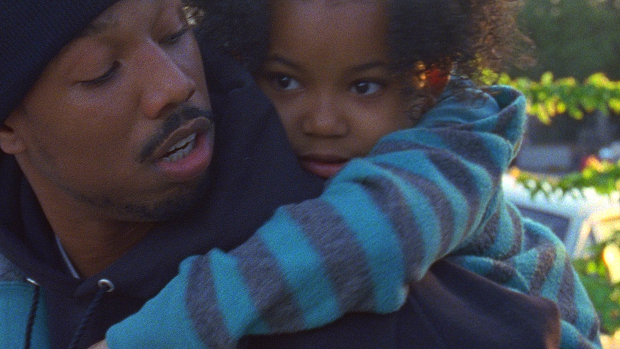 Fruitvale Station by 25 New Face Ryan Coogler
This list of 2013 top posts is broken in two — the first contains the top ten posts here at Filmmaker published during this calendar year. The second are the top ten older posts, the ones that keep on bubbling to the top of our Google Analytics. (A true 2013 top ten would be a mixture of these two lists.) So, to close out the year, here is what you read most at our site.
10. 13 Steps to Directing Famous Actors on a Microbudget Film. Director and Slamdance co-founder Dan Mirvish has two articles on this year's list. In our #10 slot is a sequel to his first, which you can find further down. Mirvish offers great advice on a subject we don't cover enough at Filmmaker: directing actors. There's Mirvish's usual irreverence mixed in with real-world tips on scoring free rehearsal time and how to make your actors feel valued.
9. Banksy's Rebel Rocket Attack Video is Genius. Nick Dawson jumped on this Syrian rebels/Disney satirical video by British artist Banksy, released at the beginning of his month-long New York residency.
8. 10 Lessons on Filmmaking from Director Alejandro Jodorowsky. Probably the most singular filmmaking advice published here this year came from director Alejandro Jodorowsky, who opened up to Ariston Anderson in Cannes. Among his tips is to have a routine. His? "My writing routine is everyday I put a record on, the same one since 20 years. Then I burn a stick of incense, I put perfume here on the insides of my soles, I paint my left testicle red, and I write."
7. 15 Tips for Producers from the Cannes Film Festival. Next on the list is another post from Cannes — mine collecting the various producing wisdom I collected there this year. Here is my favorite:
Generate good news. Something he and Knudsen try to do at Parts and Labor, said Van Hoy, is "generate good news going into the weekend." When looking over that whiteboard of projects, think of what you can engineer to give you and your team a boost on Friday afternoon. What good news can you reel in — word from potential cast, positive word from a financier, or some positive creative development — to keep spirits high even as the overall process remains tough?
6. Shooting Angels with the Panasonic GH3 in Mexico. Joey Daoud shot and produced the independent picture Angels at War in Mexico using the newly-released Panasonic GH3. He filed this informative take on the camera's strengths and limitations.
5. 10 Lessons on Filmmaking from Director Ken Loach. Here's another in Ariston Anderson's great "10 Lessons" series, perhaps the most useful, actually. Click on the link for Loach's tips for directors on screenplays, production and collaborators.
4. "Directors These Days Really Have to Understand the Business of Film: Christine Vachon in Wroclaw." More useful advice from veteran independent producer Christine Vachon as Ashley Clark reports from her master class at the American Film Festival in Wroclaw, Poland.
3. 13 Ways to Cast A-List Actors in Microbudget Films. Filmmaker and Slamdance co-founder Dan Mirvish wrote a series of rebellious how-to's for us this year, and this one, offering tips on casting actors based on his experience with the film Between Us, was widely read, shared, commented upon and challenged.
2. 25 New Faces of 2013. Every year Filmmaker's 25 New Faces is near the top of our list, if not in the top spot. I'm happy to see it so high this year, and not only because we put a lot of effort into it. Last year we redesigned our site, and the links to these pages busted and our traffic dipped. This year, despite server crashes on the day we published (thanks, site5!), the 25 crept back to the top.
1. 8K: The Final Frontier. Kaleem Aftab's visit to the Tokyo International Film Festival, where he spoke with NHK engineers working on broadcast 8K, inspired fascination and fear among filmmakers who haven't even grappled with 4K yet. Lots of sharing and pick-ups from Gizmodo made this our most-read piece of the year.
And here are the top ten archival pieces of the year.
10. Damon Russell and Curtis Snow talk Snow on the Bluff. Out of all the films we have covered here at the site, Damon Russell's Snow on tha Bluff is the one that people keep coming here to read about. And 95% of you have never heard of it! One person who was fascinated by the film is 25 New Face Hannah Fidell, and she interviewed its director and star for us.
9. Warning! This Budget Could be Hazardous to Your Health. This piece dates from 1998, an article published in our print magazine by Liane Bonin on common mistakes made by independent filmmakers, from bad sound to poor script development. I dug it up from the archives, posted it on a weekend, and, fueled by Facebook, it took off, proof that its wisdom hasn't dated.
8. 7 Recommended No-Budget Post-production Tools. Craig Bergonzoni's round-up of seven free or very inexpensive post-production tools continues to be read by budget-strapped filmmakers.
7. 10 Tips on Shooting Low-Budget Movies from SXSW. I wrote this piece based on a panel at the 2012 SXSW Film Festival, distilling useful and sometimes contradictory tips from several cinematographers.
6. Dan Schoenbrun's 10 Best TV Shows of 2012. Perhaps because of its controversial top pick, Dan Schoenbrun's 2012 television round-up keeps drawing in readers. (Check out his 2013 picks here.)
5. 25 Recommended Films to Watch on Amazon Prime. I feel a little bad about the traffic this post continues to generate because it's dated, and some of these films are no longer available on Amazon's service. Well, they are good picks anyway, and soon, I hope, I'll update the list with a set of fresh ones.
4. 15 Steps to Take After you Finish your Script. Here's another 2012 post, and this one ranks in the top posts every month. Like my "How to Find a Producer" piece (subscribers only) in the current print issue, this article was written in response to the simplest of questions from a filmmaker: "I just finished my script. What do I do next?" I wrote down 15 ways to proceed, and thoughtful commenters keep adding more.
3. First Impressions: How to Cut a Trailer. Critic and ace trailer cutter Stephen Garrett wrote this piece for our print magazine, and it's a detailed and thoughtful instructional on not only how to cut a trailer but what to put in it. Like most of the articles on this list, it has no expiration date.
2. 25 New Face Ryan Coogler. Every 25 New Face gets a separate page here at Filmmaker, and this year Ryan Coogler's, with my pre-Fruitvale Station profile of the writer/director. was our second most-visited page.
1. Canon C100 or C300 — Which One to Get? Marry an inexpensive camera with great picture quality, two competing models and a to-the-point headline and you get our top-rated archival post of the year. With this piece from his "The Week in Cameras" column, Michael Murie answers the question Canon shoppers keep asking.