Back to selection
A Five-Second Guide to This Year's "25 New Faces"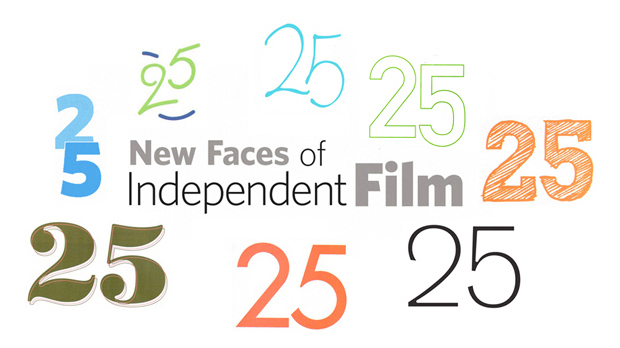 I'm flying to Tacoma, Wa. tomorrow for the annual 25 New Faces event at the Grand Cinema, but before I depart I'm posting here a quick, video-driven guide to the talented people I'll be hanging out with over the coming days. (Thanks to Nathan Jones and Dante Pilkington for helping to put this post together.) There's a lot to dig into below, so enjoy.
Anahita Ghazvinizadeh
Below is the trailer for Ghazvinizadeh's most recent Cannes-winning short, Needle, and you can watch her 2011 short When the Kid was a Kid here.
Rodrigo Reyes
Here's the trailer for Purgatorio; you can check out more of Reyes' work on his Vimeo page.
Chloé Zhao
Chloé Zhao talks about her upcoming feature Lee in this recent Kickstarter video. Check out her
Michael Tyburski & Ben Nabors
Below are the trailers for Palimpsest, the 2013 Sundance screened short about a "house tuner," and William and The Windmill, the SXSW Grand Jury Documentary prize winning documentary feature. For more of their work, visit Tyburski's Vimeo page.
Anna Sandilands & Ewan McNicol
Here's Sandilands and McNicol's documentary short The Roper, which recently played at Sundance, True/False and SXSW 2013. Check out more of their videos at Lucid Inc's Vimeo page.
Josephine Decker
Here's the Kickstarter video for Decker's sensual thriller Thou Wast Mild and Lovely. Go here for more of her videos.
Andrew Droz Palermo
Andrew Droz Palermo made his first film as a director with the 2011 short A Face Fixed, which he also wrote, shot and edited. Check out his website for more much more.
Elaine McMillion
Elaine McMillion recently produced for the New York Times this Op-Doc stemming from her acclaimed interactive documentary Hollow. To experience Hollow in full, click here.

Mohammad Gorjestani
Gorjestani's Refuge, an immigration-focused, science-fiction short, was featured on ITVS' Future States earlier this year. Watch it below, and check out the "making of" featurette here.
Boyd Holbrook
Watch Boyd Holbrook's performance in the 2011 short Moving Takahashi below.
Lyric R. Cabral & David Felix Sutcliffe
Cabral and Sutcliffe's (T)ERROR is still in production, but you can check out the trailer for Adama — which Sutcliffe directed, and on which Cabral was a still photographer — below.
Lauren Wolkstein
Below is Wolkstein's Sundance and SXSW featured short film Social Butterfly. Check out her Vimeo to see more.
Daniel Hart
Ain't Them Bodies Saints featured Daniel Hart's gorgeous score. For more of Hart's musical work visit his Bandcamp page.
Leah Shore
Here's a sample of Leah Shore's brain-warping animation. Visit her website for more of her work.
Jeremy Teicher
Below is the trailer for Jeremy Teicher's first feature, Tall as the Baobab Tree. Click here to watch more at his Vimeo page.

Jason Osder
There's no trailer yet for Osder's Tribeca-winning Let the Fire Burn, which comes out via Zeitgeist Films on October 2, but below is the director talking during a Q&A at Hot Docs.
Emily Carmichael
Here are the two parts of Carmichael's charming retro video-game animation on dating, RPG OKC. Visit Emily's website to view more of her work.
Scott Blake
Blake's excellent anti-Western short Surveyor is on Vimeo in its entirety, and embedded below.
Nandan Rao
See the trailer for Rao's directorial debut feature film The Men of Dodge City below, and watch the full film here.
Iva Radivojevic
Watch this portion of Radivojevic's Evaporating Borders, an innovative documentary on refugees in Cyprus. More of her work is at Iva Asks.
Ben Sinclair & Katja Blichfeld
Below is an episode of Sinclair and Blichfeld's web series High Maintenance. For links to all the episodes, click here.

Lou Howe
Lou Howe's debut feature Gabriel is still in post and without a trailer, but here's a taste of his AFI thesis film, My First Claire.
Andrew Thomas Huang
Watch Huang's mesmerizing 2012 film Solipsist below. For more of Huang's animations, see his recent music video collaborations with Björk and Sigur Ros, as well as some of his earlier work.
Eliza Hittman
Here's the trailer for Hittman's awesome coming-of-age drama It Felt Like Love.

Andrea Sisson & Pete Ohs
Here's the trailer for Sisson and Ohs' personal, Iceland-set documentary I Send You This Place, and check out their Lauren Edward website to see the diversity of their work.