Back to selection
The 2023 Sundance Question: What Was an Unforeseen Obstacle, Crisis, or Simply Unpredictable Event You Had to Respond To?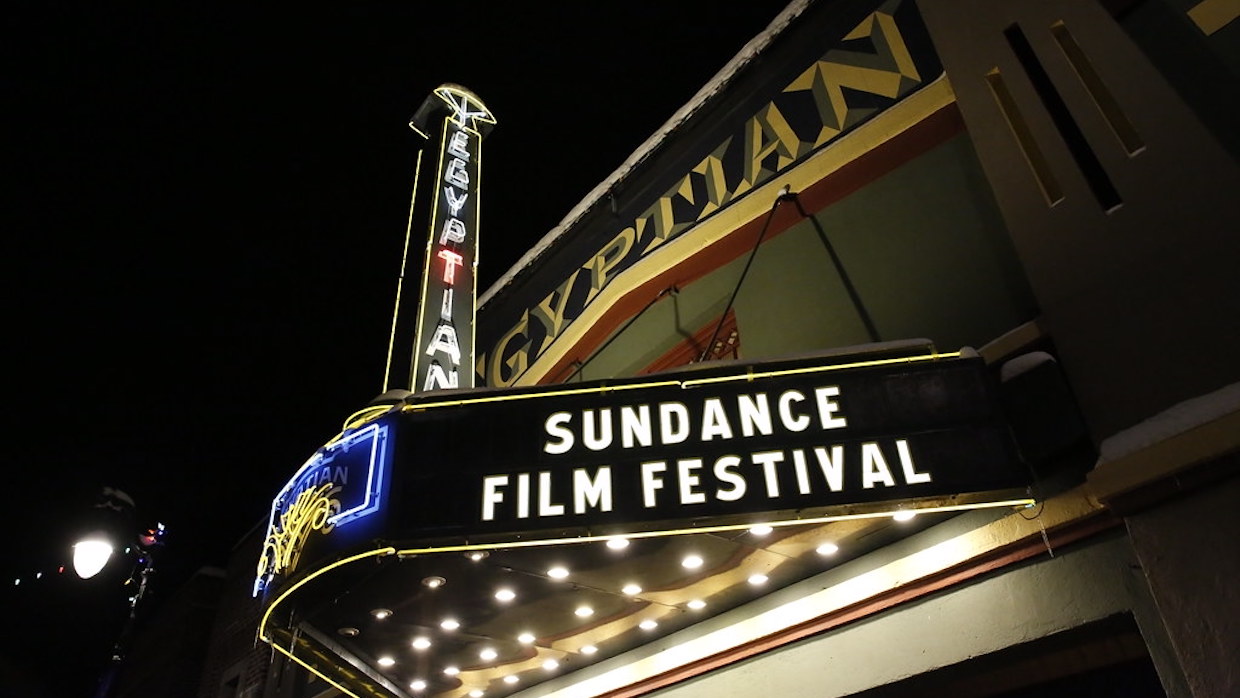 Photo by Weston Bury, courtesy of the Sundance Institute.
Each year, Filmmaker asks all the incoming feature directors at Sundance one question. (To see last year's question and responses, click here.) We also send out cinematographer and editor questionnaires.
This year's question:
Every production faces unexpected obstructions that require creative solutions and conceptual rethinking. What was an unforeseen obstacle, crisis, or simply unpredictable event you had to respond to, and how did this event impact or cause you to rethink your film?
Below, find links to each director's individual response to the prompt. Keep checking back here during the festival, as more responses will be posted daily!
"Do Everything You Can and Then Trust What Happens" | Alice Englert, Bad Behavior
"One of Our Biggest Obstacles Was Time" | Andrew Durham, Fairyland
"Vodka Is Very Good for You" | Justin Chon, Jamojaya
"One of Our Sets Burned Down" | Chloe Domont, Fair Play
"Nothing Is Harder To Shoot Than a Dinner Party" | Ira Sachs, Passages
"Oklahoma Hit a Spike in COVID Cases" | Erica Tremblay, Fancy Dance
"We Saw This Actor Completely Detach From the Project" | Felix van Groeningen and Charlotte Vandermeersch, The Eight Mountains
"We Began To See the Zoom Calls as a Kind of 'Virtual Vérité'" | Laura Gabbert, Food and Country
"It Was a Blessing in Disguise To Have More Time" | Thembi Banks, Young. Wild. Free.
"I Wanted To Face History So That I Could Understand It" | Milisuthando Bongela, Milisuthando
"I Had Always Wanted To Cast Someone Who Had No Filming Experience" | Charlotte Regan, Scrapper
"When We Lost Those Two Weeks, We Came up With an Alternative Solution" | Danny and Michael Philippou, Talk To Me
"I Wanted the Atmosphere To Feel as if the Light Was Slipping Away" | Sing J. Lee, The Accidental Getaway Driver
"Augusto Was No Longer Communicating as Before" | Maite Alberdi, The Eternal Memory
"Our Equipment Partner Pulled Out of the Project With No Explanation" | C.J. Obasi, Mami Wata
"Losing That Location Was a Blessing in Disguise" | Andrew Bowser, Onyx the Fortuitous and the Talisman of Souls
"I Became Unexpectedly Pregnant!" | Ella Glendining, Is There Anybody Out There?
"Pregnancy Became Integrated as a Storyline" | Alison O'Daniel, The Tuba Thieves
"We Had To Shoot the African Scenes in Greece" | Anthony Chen, Drift
"Getting Out of My Own Way Was the Objective" | Bethann Hardison and Frédéric Tcheng, Invisible Beauty
"Judy's Books Allowed Us to Travel Back to Our Own Childhoods" | Leah Wolchok and Davina Pardo, Judy Blume Forever
"Offering Participants the Option to Request Changes or Even Remove Themselves Entirely" | Luke Lorentzen, A Still Small Voice
"COVID Hit and the Movie Fell Apart" | Laurel Parmet, The Starling Girl
"The Arrival of a Massive Pod of Dolphins Mid-Shot" | Robert Connolly, Blueback
"Little Editorial Magic Tricks Happen in the Cutting Room" | Elijah Bynum, Magazine Dreams
"The Need for More Available and Affordable Editors" | Michèle Stephenson and Joe Brewster, Going to Mars: The Nikki Giovanni Project
"We Had To Have All Hands on Deck To Finish the Film in Time for the Festival" | Laura Moss, birth/rebirth
"I Had to Start From Scratch and Find the Financing in Europe" | Sophie Barthes, The Pod Generation
"I Had To Be Very Vigilant With My Self-Care" | Noora Niasari, Shayda
"Initially, I Didn't Intend to Film or Record My Efforts" | David Redmon and Ashley Sabin, Kim's Video
"The Weather Compelling Us to Pivot and Create Something New" | Rachel Lambert, Sometimes I Think About Dying
"I Found Out That the Interview Was to Be Broadcast on NASA TV" | Ido Mizrahy, The Longest Goodbye
"Luckily, the Actor Tested Negative" | Molly Gordon and Nick Lieberman, Theater Camp
"We Could Have Easily Ended Up Without Any Protagonists" | Jakub Piątek, Pianoforte