Back to selection
The Sundance Question: What Is Your Film's Secret Story?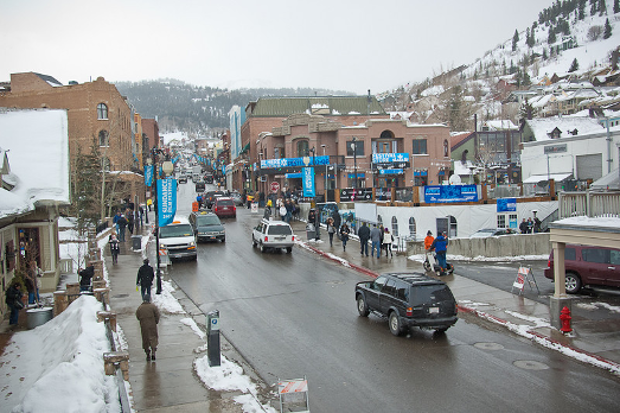 Each year Filmmaker asks all the incoming feature directors at Sundance one question. This year, our question regards the secret story behind each film. (To see past years' questions and responses, click here.) This year's question:
In every film, there is the story that you knew you were telling, the story the audience perceives. But there is always some other story, a secret story. It might be the result of your hidden motivations for making the film, or, instead, the result of themes that only became clear to you after you made the movie. It might be something very personal, or it might be a story you didn't even know you were telling. What is your film's secret story?
We'll upload the responses individually over the course of the festival. So, as the festival progresses, click the links below. The Sundance Film Festival is being held in Park City, Utah from January 21st to 31st.
"Something Fun and Totally Indulgent": Director Jim Hosking | The Greasy Strangler
"I Never Expected to Be Attacked by Screaming Mobs": Director Nanfu Wang | Hooligan Sparrow
"The Secret Ingredient Was Institutionalized Love and Compassion": Director James Redford | Resilience
"The Film Conjured Up Many Forgotten Memories": Director Babak Anvari | Under the Shadow
"In My World, Hatred Only Begets Hatred": Director Martin Zandvliet | Land of Mine
"A Narrative Investigation of Masculinity": Director Andrew Neel | Goat
"A Secret World of Doppelgängers and Demons": Director Stephen Kijak | We Are X
"From the Other Side of Reality": Director Ciro Guerra | Embrace of the Serpent
"To Portray Life as Joyful and Dynamic Amid the Horror": Director Anna Rose Holmer | The Fits
"Targeting Women of Color": Director Dawn Porter | Trapped
"A Film Reveals Itself As You Go Along": Director Kelly Reichardt | Certain Women
"Swap Skywalker Out With a Black Kid": Director JD Dillard | Sleight
"Fate Managed to Bring Us Back Together": Director Andrew Ahn | Spa Night
"I Came Back Many Times Without My Camera": Director Maya Goded | Plaza de la Soledad
"Behind the Story of Social Injustice and Abuse": Director Alejandro Fernández Almendras | Much Ado About Nothing
"I Had a Lot of Growing Up to Do": Director Tahir Jetter | How to Tell You're a Douchebag
"One Last Leap Towards Independence": Director Richard Tanne | Southside With You
"For Three More Years, I Rewrote and Rewrote": Director Elite Zexer | Sand Storm
"Every Film Is an Opportunity to Plunge into Another World": Director Joshua Marston | Complete Unknown
"Shame Is the New Black": Director Jessie Kahnweiler | The Skinny
"You Have Very Little Control Over So Much of the Process": Director Clea DuVall | The Intervention
"The First Filmmakers to Tell Her Full Story": Co-Director Bob Hercules | Maya Angelou and Still I Rise
"They Used Faith as a Fuel for Hope": Director Anne Fontaine | Agnus Dei
"Discovering New Parallels and Personal Inlets": Director Jason Lew | The Free World
"The Perfect Parallel for the Director's Loneliness": Director Bernardo Britto | Jacqueline (Argentine)
"It's a Very Exposing Process, and Oftentimes Quite a Lonely One": Director Matthew Ross | Frank & Lola
"No Secret Is Without Complications": Director Jon Shenk | Audrie & Daisy
"He Existed Quietly Orbiting Stars": Directors JJ Garvine and Tai Parquet | Film Hawk
"Finding Depth and Detail in the Sound of Falling Rain": Director Peter Middleton | Notes on Blindness
"Why Not Just Try to Shoot an Entire Feature Film in Four Days?": Director Andrew Hyland | The 4th
"That Feeling of Director's Guilt": Director Diego Luna | Mr. Pig
"Acceptance Remains Elusive for Gender Non-Conforming People": Director Jason Benjamin | Suited
"A Beloved Charming Guy with a Dark Side": Director Steven Caple Jr. | The Land
"Why Is This Film So Angry?": Director J.T. Mollner | Outlaws and Angels
"The Strength and Drive of Female Ambition": Director Meera Menon | Equity
"The Idea of the Mother Who Leaves": Rebecca Daly | Mammal