Back to selection
The Sundance Question: What Specific Challenge of Communication Has Your Film Faced?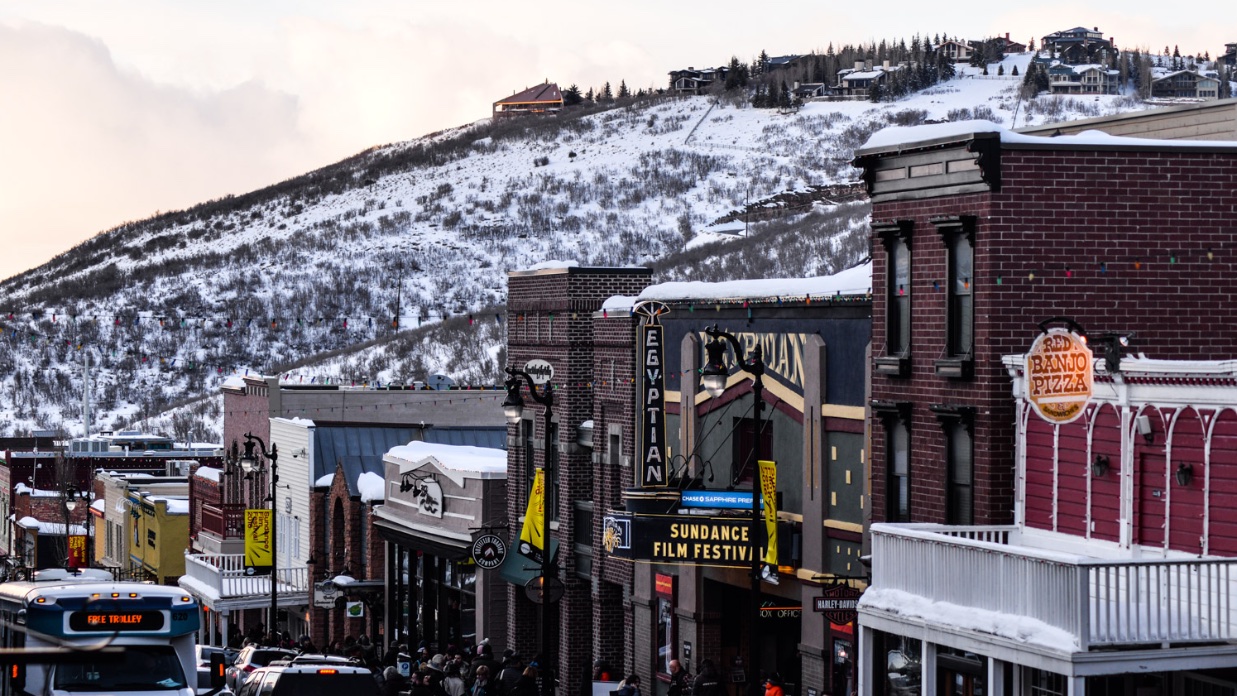 Photo: Kelsey Doyle
Each year Filmmaker asks all the incoming feature directors at Sundance one question. (To see past years' questions and responses, click here.) This year, our question involves an issue cutting across all the political drama of the last year: communication. How do we really communicate to one another, to converse despite our differences? How do we step outside of our echo chambers so we're not just trading slogans among our friends? On a filmmaking level, how do we make sure that problems of communication don't cripple our visions or limit their reach?
This year's question:
During its development, production or eventual distribution, what specific challenge of communication did, or will your film, face? How did you deal with it, or how are you planning to deal with it?
We'll upload the responses individually over the course of the festival. So, as the festival progresses, click the link for new responses entered daily. The Sundance Film Festival is being held in Park City, Utah from January 19th to 29th.
"Film Has a Unique Ability to Transcend Barriers": Director Amman Abbasi | Dayveon
"How Can You Make an Elephant Communicate Different Emotions?": Director Kristen Tan | Pop Aye
"Mistakes Are What Make Life Interesting": Director Helene Hegemann | Axolotl Roadkill
"It's about Populism and the Reactions of Europeans toward Asylum Seekers": Director Tonislav Hristov | The Good Postman
"A Nuanced Understanding of War": Director Greg Barker | Legion of Brothers
"Character, as Always, Proved to Be King": Directors Susan Froemke and John Hoffman | Rancher, Farmer, Fisherman
"Bad Taste Done with Good Taste": Director Teemu Niukkanen | Fucking Bunnies
"Simple, Effortless and Full of Hope": Director Lone Scherfig | Their Finest
"A Story about the Very Challenge of Communication": Director Christine Turner | Hold On
"I Knew it Would Cause Problems": Director Justin Chon | Gook
"Every Work of Art Is Political": Director Cory Finley | Thoroughbred
"Film Is Such a Universal Language": Director Tarik Saleh | The Nile Hilton Incident
"We're All to Blame if We Don't Do Anything": Director Michelle Latimer | RISE
"Might There Be a Desire to Cross Party Lines?": Director Laura Dunn | Look and See: A Portrait of Wendell Berry
"A Show about a Family Going Through a Transformation": Co-creators/Co-Writers Giles Andrew & Dan Marshall | Playdates
"Unexpected, Beautiful Things Began to Happen": Director John Trengove | The Wound
"A Fiction Film about a Forgotten Region": Director Felipe Bragança | Don't Swallow My Heart, Alligator Girl!
"We Must Continually Declare What Our Film Is About": Directors Nana Ekvtimishvili and Simon Gross | My Happy Family
"I Found that Less Was a Lot More": Director Brett Haley | The Hero
"We Really Wanted to Do His Story Justice": Director Matt Ruskin | Crown Heights
"The Story of Ferguson through the Eyes of the People Who Lived it": Director Sabaah Folayan | Whose Streets
"Communication Is Where a Film Lives and Dies": Director Zoe Lister-Jones | Band Aid
"Profound Communication Only Happens When There Is Persistence": Director Pamela Yates | 500 YEARS
"The Challenge Is Balancing Tone": Director Mark Pellington | The Last Word
"We Are Living through a Very Divisive Time": Director Barbara Kopple | This Is Everything: Gigi Gorgeous
"I Stopped Talking and Started Making the Film": Director Pascale Lamche | Winnie
"We Don't Use Words to Tell a Story": Directors Lily Baldwin and Saschka Unseld | Through You
"Communicating with Respect and Openness": Director José María Cabral | Woodpeckers
"I Want the Viewer to Feel Totally Immersed in My World": Director Francis Lee | God's Own Country
"Cate Outstripped Us All with Her Immeasurable Enthusiasm": Director Julian Rosefeldt | Manifesto
"An Interactive and Realistic Amazon Environment": Directors Milica Zec and Winslow Porter | Tree
"Hiring All Women Isn't a Gimmick; It's Progress": Director Jovanka Vuckovic | XX
"Basically What You're Asking for Is Faith": Director Michelle Morgan | L.A. Times
"A Prerequisite for Good Filmmaking in China": Director Jun Geng | Free and Easy
"A Different Kind of Surf Movie": Director Rory Kennedy | Take Every Wave: The Life of Laird Hamilton
"An Uplifting and Life-Affirming Experience": Director Frankie Fenton | It's Not Yet Dark
"Our Intent Was Never to Make Viewers Laugh": Directors Jonathan Milott and Cary Murnion | Bushwick
"As Crazy and Unpredictable as Real Life": Director Matt Spicer | Ingrid Goes West
"Directing in Stereo": Directors Alicia Scherson and Cristian Jimenez | Family Life
"The Deep Angst and Disenfranchisement that Many People Feel": Director Kyoko Miyake | Tokyo Idols
"A Historical Document for Hopefully Decades to Come": Director Peter Bratt | Dolores
"A Survival Thriller Set in the Remote Bush": Director Damien Power | Killing Ground
"We Reduce Entire Groups to Monoliths": Screenwriter Damon Davis | Whose Streets?
"Elegant, Meaningful and Fun": Director Kriv Stenders | Red Dog: True Blue
"To Self-Destruct as We Cannibalize All Resources": Director Miguel Arteta | Beatriz at Dinner
"An Incredible Learning Experience": Director Michael Larnell | Roxanne Roxanne
"The Notion of Truth Is Being Challenged": Director Peter Nicks | The Force
"Crying on the Inside and Nodding on the Outside": Director Janicza Bravo | Lemon
"A Challenge for Some in the Audience": Director Yance Ford | Strong Island
"I Was Exposed to Very Dangerous Situations": Director José María Cabral | Woodpeckers
"The Moment I Knew We Had Something Special": Director Joe Piscatella | Joshua: Teenager vs. Superpower
"Anthologies Are All about Communication": Director Roxanne Benjamin | XX